dpHue's Glossy Glaze Is The Only Reason I've Been Able to Go Six Months Without Coloring My Hair
I'm not a DIY girl, but this color-enhancer is game changing.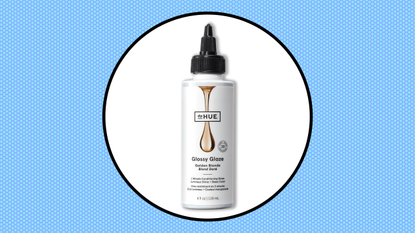 (Image credit: Future)
I'm nothing if not loyal to my hair colorist. I've been going to the same guy (hi Matt!) since I decided to embark on my fake blonde journey seven years ago. Sure, I may live a good two and a half hours away from him now, but I'll be damned if I'm not willing to travel in the name of good hair. Unfortunately, that means that my balayage refreshes are scarce and my tone can start to look a little rough around the edges circa the five-month mark. I know I have options—plenty of phenomenal colorists have a residence in New York City and at-home glosses, glazes, and semi-permanent dyes are at-my disposal. But I'm not a DIY girl—never have been, never will be.
So you can imagine my surprise when I found myself standing in the shower dousing my hair with the dpHue Glossy Glaze sans a care or fear in the world. I'm not brave and I'm by no means a pro. I just have unwavering blind faith in whatever dpHue co-founder Justin Anderson, who has colored Jennifer Aniston, Gwyneth Paltrow, and Margot Robbie (to name a few), tells me to use. Lucky for me, my little at-home hair experiment went as planned, and I've been hooked on the wash-out conditioning glaze for weeks. The results are three-fold: I get a slight, sheer color tint. I see added shine. And, I get a boost of softness. To get all the details on the newly-launched color-boosting product, and read my full review, keep reading.
The Formula
I haven't met a dpHue product I didn't like, and this one is no exception. The thing is: It just works. It accomplishes what it sets out to do, delivers on its promises, and finishes the job in the given time frame. How? Chalk it up to the formula. The primary ingredient is a patented 3D Sheer Pigment Technology, which is responsible for a subtle tint designed to last through three hair shampoos. Unlike temporary hair colors that physically penetrate the cuticle, these pigments are intentionally large so they can attach themselves only to the surface layer and sideswipe chemical damage.
The pigment won't be able to get into the hair cuticle, but thanks to something called lamellar technology, hydrating and shine-boosting ingredients like ceramides are able to shimmy in and repair damage, effectively creating healthier hair. Then there's the mullein flower extract of it all. It's commonly used in hair care because it has soothing properties that calm down inflammation on the scalp—and provides UV protection, which is particularly important for color-treated hair. The final two standout ingredients are lemon zest and sugar cane, which work in tandem to give shine and softness to the hair.
How to Use
When I say simple, I mean simple. This is quite literally foolproof—you can't mess it up, you won't use too much, and your hair won't turn an odd shade of orange no matter what the heck you do. Alas, I'll still provide you with wildly detailed instructions. Step number one: Shampoo as per usual. Work up your lather, get rid of all that dry shampoo buildup—you know the drill. Once that's rinsed out, ring your hair with your hands. It's important to get all the excess water out of your hair. Content? Great, now grab the Glossy Glaze shade of your choosing. Twist open the top and gently squeeze product on the mid-shaft of your hair down to your roots. Ideally, you'll want to go through one-fourth of the bottle, but I recommend using as much product as you need until your hair feels evenly coated and saturated. Massage the tinted liquid in and swing your ends up to your roots to give the upper layer some TLC.
The treatment will be complete in approximately two minutes. So wash your body, shave your legs—you do you. No need to set a timer; the world isn't ending if the formula sits in for an extra minute. To wrap up the process, just wash out the Glossy Glaze with some warm water and you're good to go. The formula is hydrating enough to double as a conditioner, but if you have particularly dry hair feel free to condition as normal.
My Review
I'm notoriously not a fan of at-home treatments; for me, they're typically a recipe for disaster. I paint my nails, and my whole hand ends up polish-stained. I attempt an at-home wax strip, I burn my skin. That in mind, you can imagine my hesitation to use an at-home hair gloss. My blonde has been meticulously painted on and lightened over the course of a few years, so who am I to go messing that up?
When I first met with the dpHue team, they assured me that Glossy Glaze was different. That's what they all say. But, Anderson, the brand's co-founder, insisted it to be true. He knocked my skepticism to the side by explaining that the pigment would not stain my hair or alter my color. If I wasn't pleased with the result, it would wash out completely in just three shampoos.
So slightly terrified and very brassy, I brought home my Golden Blonde shade and had an internal dialog with myself that all would be well in the world following my testing session. I stepped into the shower, shampooed, and grabbed the bottle—it was go time. I applied the watery formula willy-nilly. They said it was foolproof, right? I worked it into my hair, covered my roots, and let it work some mysterious, voodoo magic. Once I rinsed it out, I was shocked at how soft my hair felt. I completely skipped my conditioner and jumped out of the shower.
Next up? Styling, aka the moment of truth. As I began to blow dry my hair, I noticed that my hair had that just-dyed, salon smell that regardless of what products I use, I can never achieve in the comfort of my own home. I worked my way through my layers and quickly realized that my orange-esque brassiness was completely gone. My color was still my color, but the glaze took the abrasive tone out. I had soft shine that complimented my skin tone and the silkiness that comes from a salon-grade glaze. I felt fresh. And the feeling lasted—for three washes, just like packaging promised.
When I reached that fourth wash, I wasted no time reaching for the Glossy Glaze bottle. And I did the same thing a week later, and a week later. I've completely finished the jar—and have a full intention of scooping up a refill. I suppose this is the one DIY treatment I can actually get behind.
Celebrity news, beauty, fashion advice, and fascinating features, delivered straight to your inbox!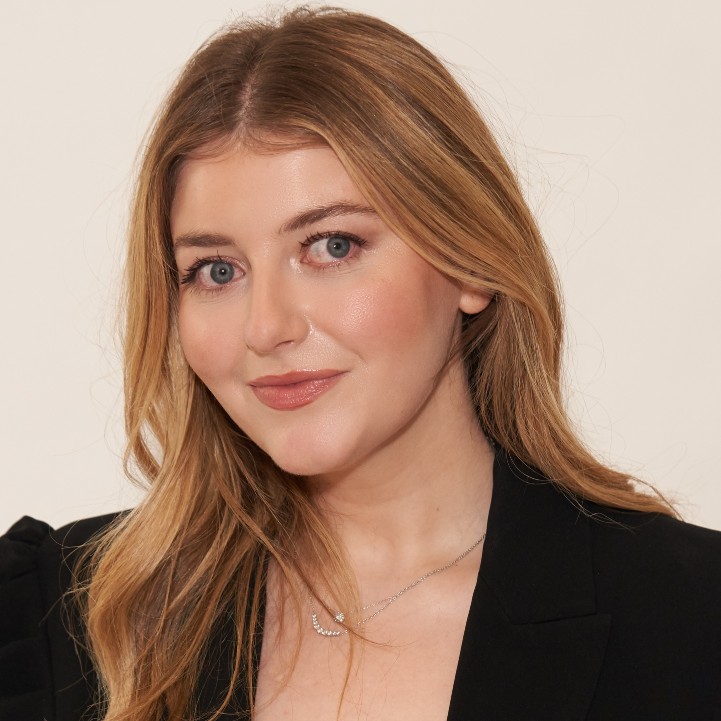 Samantha Holender is the Beauty Editor at Marie Claire, where she reports on the best new launches, dives into the science behind skincare, and keeps up with the latest trends in the beauty space. She has previously written for Us Weekly, Popsugar, Makeup.com, Skincare.com, and Philadelphia Wedding. Follow her on Instagram @samholender.