Editors handpick every product that we feature. We may earn commission from the links on this page.
I Tested the 6 Best Drugstore Mascaras, and This Is the Winner
I present to you the only mascara you'll ever need again.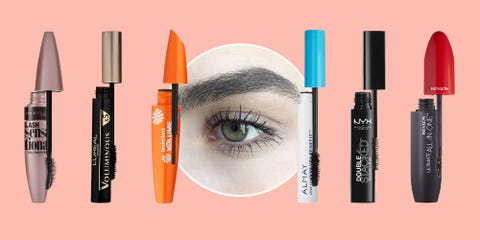 Courtesy of Brands/Design by Travis McHenry
There are only three commonly recognized mysteries of the universe: 1. The meaning of life, 2. The existence of alien lifeforms, and 3. The best drugstore mascara that really, truly works. Because let's face it: Not all drugstore MVPs are created equal, or even slightly equal, and blowing all your cash in the makeup aisle in search of the best one straight-up sucks.
So I set out to answer at least one great mystery by traversing the beauty landscape in hunt of the best formulas that are not only totally affordable, but also check off every lengthening, thickening, volumizing, and non-flaking box on my list. And here they are, the six tried-and-true winners (with one that beats out all the rest) that blow their department-store counterparts away. Maybe this is the meaning of life? I'll get back to you.
This content is created and maintained by a third party, and imported onto this page to help users provide their email addresses. You may be able to find more information about this and similar content at piano.io