I Tested the 6 Best Drugstore Mascaras, and This Is the Winner
I present to you the only mascara you'll ever need again.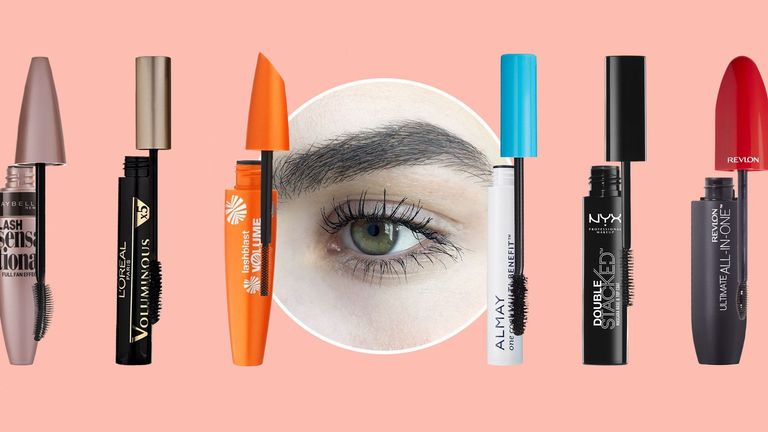 (Image credit: Almay/Revlon/Maybelline/Covergirl/Nyx/Loreal/Design by Travis McHenry)
There are only three commonly recognized mysteries of the universe: 1. The meaning of life, 2. The existence of alien lifeforms, and 3. The best drugstore mascara that really, truly works. Because let's face it: Not all drugstore MVPs are created equal, or even slightly equal, and blowing all your cash in the makeup aisle in search of the best one straight-up sucks.
So I set out to answer at least one great mystery by traversing the beauty landscape in hunt of the best formulas that are not only totally affordable, but also check off every lengthening, thickening, volumizing, and non-flaking box on my list. And here they are, the six tried-and-true winners (with one that beats out all the rest) that blow their department-store counterparts away. Maybe this is the meaning of life? I'll get back to you.
1. Almay One Coat Multi-Benefit Mascara
Almay One Coat Multi-Benefit Mascara, $8
This was a first-time try, and I was pretty stoked about the length it gave me. The flaking was minimal, and it really did do the job in one coat. I typically prefer formulas that give me a more feathery, full effect, so I wasn't crazy about the separation the brush gave me, but if you're into natural-looking definition, this one's your guy.
(Hot tip: I tried the waterproof formula by accident the first time around and that. Shit. Doesn't. Budge. I'm talking DAYS. If you're a high diver who happens to have a photoshoot scheduled for the second you leave the pool, please use this.)
2. Revlon All-In-One Mascara
Revlon All-In-One Mascara, $9
I've got friends that swear by this OG formula, and I can see why: It gives the just the right amount of thickness and length for day, and the flaking was minimal for the sixteen hours I had it on. My one complaint is the brush. I usually gravitate towards brushes so fat they barely fit in the tube (they're better for building up length and volume, in my experience), and this brush is pretty skinny, with just a tiny, eyelet-shaped head covered in short, plastic bristles. Which would be awesome for anyone with small or almond-shaped eyes, since it allows for more precision, but it just didn't give me the thick look I was going for.
3. ​Maybelline New York Lash Sensational Mascara
Maybelline New York Lash Sensational Mascara, $6
This is the pick for anyone who wants to ditch their lash eyelash curlers forever, thanks to its dual-sided curved brush that has a mix of long, fat bristles for volume and bend, plus short, comb-like bristles to smooth out clumps.
While this formula didn't give me the eyebrow-skimming length I'm used to with other Maybelline mascaras, it did leave me with a fluttery little bend at my roots that made my eyes look more open (I like to wiggle the tip of the brush between my water line and the base of the lashes for extra definition). Just make sure to apply your second coat immediately after the first to avoid that spidery look, since this one dries fast.
4. CoverGirl LashBlast Volume Mascara
CoverGirl LashBlast Volume Mascara, $9
If you've ever worn mascara, then you've definitely heard of this drugstore legend. And thankfully, it did not disappoint. I swiped it on for a Friday night out and was legitimately surprised by the crazy curling effect I got after just two coats. And even when I went to the bathroom in the wee hours of the morning for a quick touch-up, fully expecting to see black smudges beneath my eyes, I found exactly nothing—the formula hadn't moved at all.
I'm also very partial to fat, fluffy applicators, and this was the thickest of the bunch, making it perfect for anyone who wants a super thick and curly lash look without teetering into spider-legs territory, even on the lower lashes (seriously; it defined my sparse hairs without making me look like a '50s porcelain doll).
5. NYX Professional Double Stacked Mascara
NYX Professional Double Stacked Mascara, $15
At first glance, I assumed this was a typical primer-and-mascara combo, but I was totally wrong: The black tube is the actual mascara, while the white tube is full of fibers that stick to your lashes for a feathery, super-thick look. I tried the three-step process on a speeding subway, because I'm reckless with my corneas, which requires applying one coat of the mascara to prep the lashes, then gently swiping on the fibers—which almost look like tiny tufts of kitten fur before I combed them through—and then adding one final coat of mascara.
I was a little concerned with what I was seeing in my tiny compact mirror, because the fibers were totally white, and my lashes looked more chunky than sexy. But when I finished off with the second coat of mascara, the white disappeared, and I was left with an ultra-thick, fanned out situation. If you have naturally long lashes, this could actually be TOO much volume, but if your setup is on the skimpier side, I highly recommend this one.
6. L'Oréal Voluminous Carbon Black Mascara
L'Oréal Voluminous Carbon Black Mascara, $6
I might be biased, because this bad boy has been in my rotation since high school, but only because it really, truly works. And even after testing a zillion of the "best" drugstore brands, I was surprised to find that this $6 tube still came out on top.
Usually, one of my biggest mascara deal breakers is when an ink-black formula ends up drying down to some underwhelming, ashy shade of black, but this one not only dries down to deep-space levels of dark, but it also leaves zero signs of midday flaking or smudging under my eyes. I swiped it on during a workday, and thanks to its fat, stiff-bristled brush, it only required one coat to get noticeable definition and volume, without the clumps. I guess high-school me really did have good taste. 10/10 would recommend to everyone and anyone forever.