The 15 Best Moisturizers for Sensitive Skin, Tested and Reviewed
Consider yourself safe from irritation, stinging, and burning.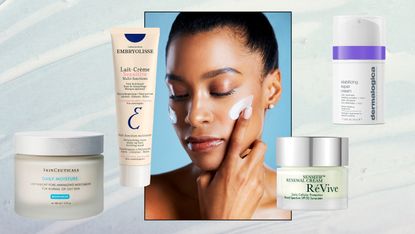 (Image credit: Future )
I'm the self-appointed president of the Sensitive Skin Club. If there's burning, breakouts, or stinging to be had, I'll know it. My face can be overarchingly be defined as highly reactive and irritable, which pretty much makes me the ideal tester for sensitive skin-approved moisturizers. In my experience, creams trump lotions, ceramides and squalane reign supreme, and fragrance is notoriously a foe, not friend. I've learned my lessons the hard way, but in the end, I've been able to determine the best moisturizers for sensitive skin.
Now, with more people having sensitive skin than ever before (nearly 70 percent of people self-identify as having sensitive skin), incorporating one of these non-irritating, reparative options into your routine is a no-brainer. While you won't find intense resurfacing acids in the options below, you will spot redness-reducing properties, anti-inflammatory ingredients, and skin barrier-boosting actives. To set your skin up for success, shop for the best moisturizers for sensitive skin ahead.
Do I Have Sensitive Skin?
Determining if your skin is acne-prone, oily, or dry is a little more cut and dry than determining if your skin is sensitive. "Typically people know that they have sensitive skin when they try different products and are quick to get irritation, flaking, or sensitivity on their skin," explains board-certified dermatologist Dr. Robert Finney. "I always tell patients, one of the first signs that your skin is getting sensitive is that it feels tight or you get a burning stinging sensation when you put on lotions, even those that are considered moisturizers. Use those symptoms as a caution sign that dry, flaky, red skin is right around the bend if they don't change course."
What to Look For
Texture
"First off, skip lotions and look for a cream," advises Dr. Finney. "Creams are way better at hydrating and restoring the barrier of your skin." That means thicker is likely going to be your friends—especially in the winter.
Ingredients
"I look for important ingredients that help to repair and hydrate, such as ceramides, glycerin, and squalene," says Dr. Finney. "Avoid words like anti-aging, exfoliating. Those products are likely to contain potentially irritating ingredients such as alpha-/beta-hydroxy acids or retinols."
Just as important as the ingredients you want to actively seek out, are the ingredients you want to avoid. "Look for moisturizers that avoid including any harsh ingredients and preservatives, leave out strong fragrances, alcohol, and ingredients known to cause allergic and irritant reactions," advises board-certified dermatologist Dr. Nava Greenfield.
The Best Moisturizers for Sensitive Skin
The Best Moisturizer for Sensitive Skin Overall
Embryolisse Lait Creme Sensitive
"This has been my morning moisturizer for the past two years, and regardless of what other formulas I try, this comes out on top. It's a fragrance-free cream specially formulated to soothe reactive skin, infuse hydration, and double as a makeup base. It feels incredibly lightweight, which makes the deep hydration all the much more surprising. With a quarter-sized amount, I notice my skin looks less red (I have rosacea so that's saying a lot), feels incredibly supple, and has a great glow. I truly can't live without it." — Samantha Holender, Beauty Editor
Pros: Editor-approved; Safe for babies
Cons: Hard to get everything out of the tube
The Best Lightweight Cream for Sensitive Skin
Ultra Facial Refillable Moisturizing Cream with Squalane
"Kiehl's Ultra Facial Cream is the very first cream moisturizer I ever loved and the only protective layer I let near my sensitive, doesn't-want-to-be-touched teenage skin (seriously, I couldn't stand the feeling of anything on my face besides gels and serums). Fragrance free and extremely silky, this stuff is ultra-lightweight while still providing a level of hydration that rivals the heavier balms I learned to covet later in life." — Sophia Vilensky, Freelance Beauty Writer
Pros: Lightweight texture; Fragrance-free
Cons: None
The Best Drugstore Moisturizer for Sensitive Skin
Lipikar AP+M Triple Repair Body Moisturizing Cream for Dry Skin
"My favorite cheap and easily accessible moisturizer for sensitive skin is La Roche Posay Lipikar AP+M Triple Repair Moisturizing Cream. It is thick and hydrating, but will not clog your pores and contribute to breakouts. It also contains ceramides, glycerin, shea butter and niacinamide, the latter of which is great for soothing skin and fighting off pigmentation." — Dr. Robert Finney, Board-Certified Dermatologist
Pros: Dermatologist-recommended; Affordable
Cons: Might pill for some
The Best Drugstore Moisturizer for Sensitive Skin
CeraVe Daily Moisturizing Lotion
"I have had sensitive skin for years, and the only moisturizer that has never failed me has been the CeraVe daily moisturizing lotion. It is super lightweight, but hydrating so you can wear it in both winter and summer. If your skin is a little irritated from retinoids or dryness it also helps soothe the area, and as an extra plus it is very budget friendly." — Sophie Cookson, E-Commerce Analyst
Pros: Affordable; Dermatologist-approved
Cons: There are more multi-beneficial formulas
The Best Moisturizer for Redness and Sensitive Skin
Skin Barrier Strengthening Moisturizer with Peptides and Niacinamide
"This is the only moisturizer I've finished multiple bottles of. The weather recently turned cold and dry here in New York and this is the moisturizer I turned to so that my skin could be protected. It instantly calms redness and soothes irritation (especially after I use an exfoliating mask). The texture is like icing—thick and smooth and it instantly melts into my skin without leaving a residue behind. It also plays nicely with the rest of my products" — Julia Marzovilla, E-Commerce Editor
Pros: Good for redness; Works well under makeup
Cons: Too thick for some
The Best Moisturizer for Eczema-Prone, Sensitive Skin
Ultra Repair® Cream Intense Hydration
"When I've been too ambitious with my retinol or AHAs and my sensitive skin is flaring up, I swear by First Aid Beauty's line of face moisturizers. They're the only moisturizers I've ever found (aside from Aquaphor, which doesn't really count? Does it?) that actually soothe my skin when it's dry and flaky and annoyed. Every other moisturizer make my skin sting even more, at best, and at worst make my skin more annoyed than ever, so I immediately switch to this moisturizer when needed. I'm not sure what colloidal oatmeal is, to be honest with you, but it feels great." – Jenny Hollander, Digital Director
Pros: Contains colloidal oatmeal for soothing; Very calming
Cons: Smell isn't for everyone
The Best Soothing Moisturizer for Sensitive Skin
"With a seal from the National Eczema Association, you can be confident this fragrance and essential oil-free moisturizer is suitable for even the most irritable skin. Lipids and ceramides take center stage and work to strengthen the skin's barrier so it's less likely to have a reaction. It's the inclusion of centella asiatica (one of my favorite ingredients) that puts it on my radar. The ingredient is known to soothe redness, reduce fine lines, and plump up the complexion." — Samantha Holender, Beauty Editor
Pros: Good for eczema
Cons: Too thick for acne prone skin (contains shea-butter)
The Best Luxury Moisturizer for Sensitive Skin
ReVive Sensitif Renewal Daily Cellular Protection Broad Spectrum Sunscreen SPF 30
"I love ReVive's classic Moisturizing Renewal Cream, but it contains a handful of resurfacing acids that occasionally cause some irritation. Still, I toughed it out because I couldn't bare the thought of parting with the moisturizer's anti-aging, firming benefits. Then, I realized I could have the best of both worlds with a little help from their Sensitif line. This contains all the amazing, fine-line reducing benefits, with the addition of soothing properties, SPF, and calming agents." — Samantha Holender, Beauty Editor
Pros: Anti-aging; Soothing; Slightly cooling
Cons: Expensive
The Best Moisturizer for Acne-Prone, Sensitive Skin
Barrier+ Triple Lipid-Peptide Refillable Face Cream
"I love Skinfix Barrier + Triple Lipid Peptide Cream. It is also non-comedogenic, so great for those with sensitive, yet breakout prone skin. It contains great ingredients to restore your barrier and hydrate, such as ceramides, peptides and hyaluronic acid." — Dr. Robert Finney, Board Certified Dermatologist
Pros: Dermatologist-recommended; Non-comedogenic
Cons: Dispenser can get clogged
The Best Moisturizer for Sensitive, Oily Skin
SkinCeuticals Daily Moisture (2 fl. oz.)
"Contrary to popular belief, you can have oily skin that is also sensitive. If that's your case, allow me to direct your attention to SkinCeuticals' Daily Moisturizer. It's lightweight and non-comedogenic, has pore-shrinking properties thanks to the inclusion of carefully curated botanical extracts, and is packed with enough vitamins and nutrients to bring compromised skin to a healthy state." — Samantha Holender, Beauty Editor
Pros: Lightweight; Pore shrinking
Cons: Not hydrating enough for dry skin types
The Best Nighttime Moisturizer for Sensitive Skin
Ceramidin™ Skin Barrier Moisturizing Cream
"You know when you use one hyped up product and realize it's worth it? That's how i felt using this cream from Dr. Jart. It's so thick (perfect for my dry, dehydrated skin) and instantly cools it down after I use a deep-cleaning face mask for exfoliating serum. I use it day or night because it layers well under makeup or under my favorite face oil. Plus, a little goes a long way and the tube lasts forever." — Julia Marzovilla, E-Commerce Editor
Pros: Deeply hydrating; Long-lasting
Cons: Might pill if used under makeup
The Best Moisturizer for Dry, Sensitive Skin
"It's colder out now (le sigh), which means my skin is entering its extra-dry phase of life. Historically, flakes and peeling are par for the course, but thanks to Shani Darden's recent-ish launch, I've been able to stay in the clear. With a formula heavily focused on hydration and nourishment, my skin stays looking plumped and balanced despite the temperamental weather. Typical hydrators like peptides and squalane are at the forefront, in addition to an ingredient called hydrosella, which is clinically proven to provide 72 hours of hydration." — Samantha Holender, Beauty Editor
Pros: Deeply hydrating; Non-comedogenic; Good for large pores
Cons: Might pill