You Need to Witness Meghan Markle's Post-2006 Hair Evolution
I deeply relate to early aughts Meghan.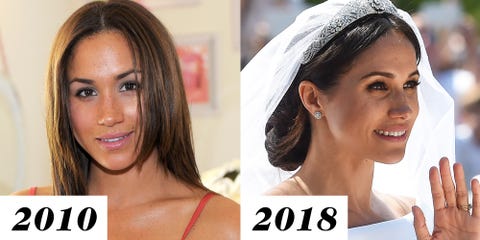 Guys, Meghan Markle is living out all of my hair fantasies. The actress-turned-royal (yes! It has officially happened!) has spent the last 12 years attempting every beachy wave, messy updo, and voluminous curl that I've ever dreamed of trying. But unlike me circa 2006—just a girl who had yet to discover curl cream and heat tools—Meghan actually looked freaking good in her hair youth.
And to prove it to you, I've rounded up the best Meghan Markle hair looks from the last decade of her celebrity life, all the way up to the classic (GORGEOUS) chignon she chose for her wedding day. How relieved are you that your Myspace pics no longer exist?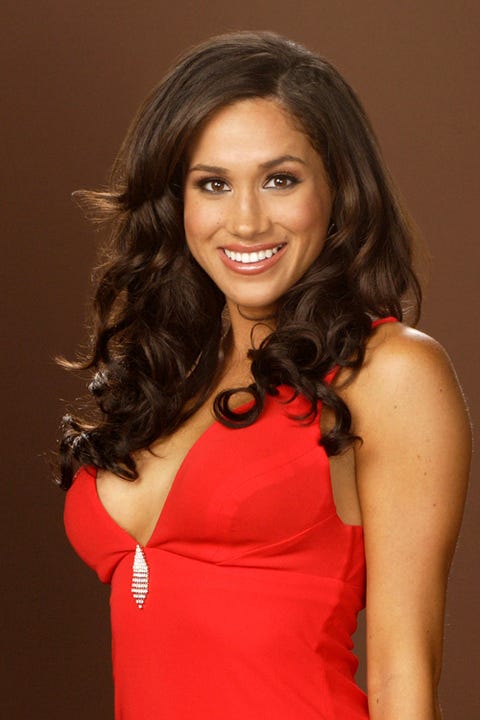 Before (way, way before) Meghan was a soon-to-be royal, she was a briefcase girl on the gameshow Deal or No Deal, where she had insanely voluminous, extensions-filled curls.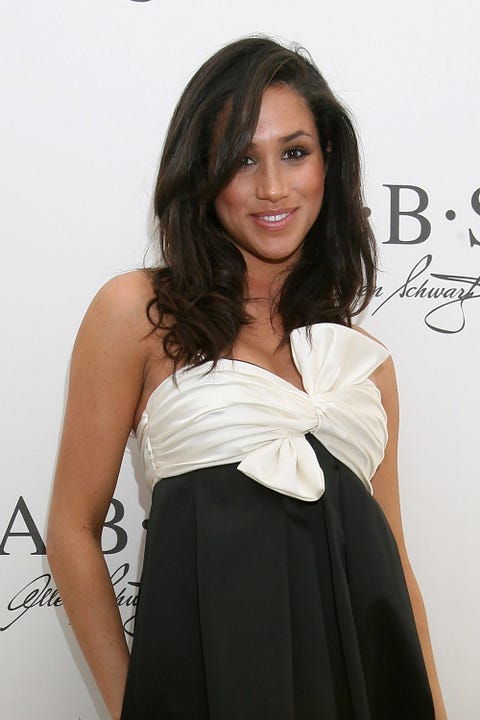 Soft, smooth, and lightly curled, Meghan's side-swooping blowout was the ultimate red-carpet hairstyle of the late aughts.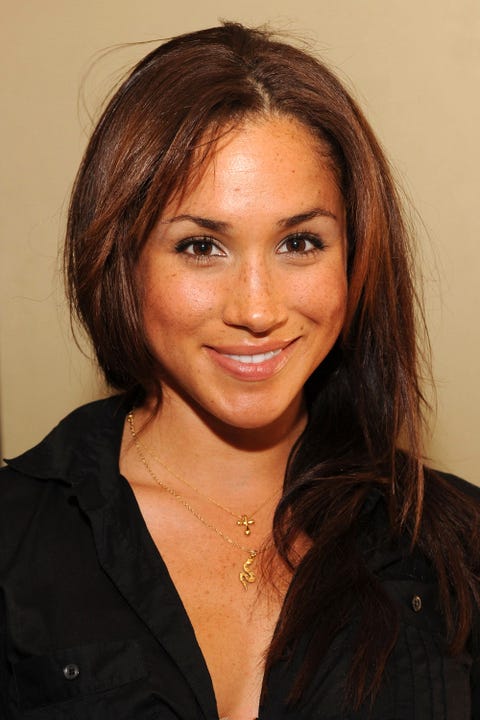 One of the first times Meghan experimented with a drastic color change was in 2009, when she added copper and cinnamon highlights to her dark brown hair—a change that highlighted her bronze skin.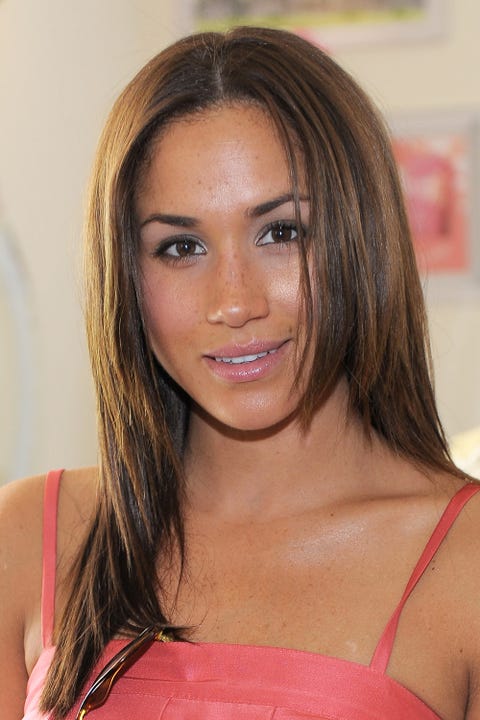 In a last-ditch attempt at reviving straight hair of the early '00s, Meghan wore her chestnut-hued hair flat-ironed and center parted. Yes, this photo is basically you.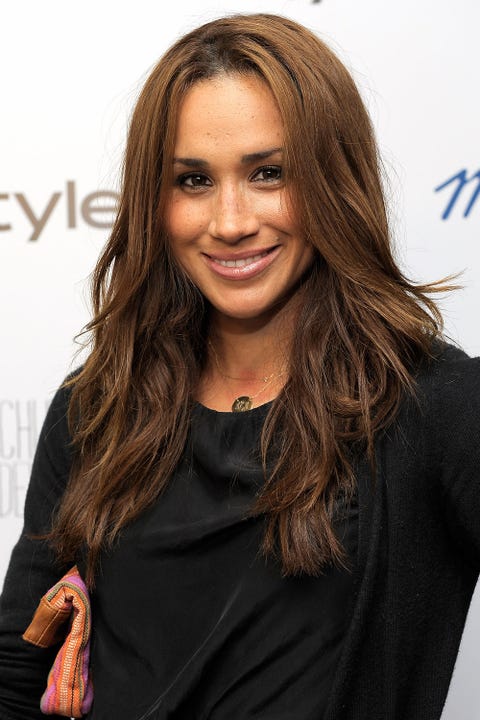 2011 was the year of beachy, undone texture, making Meghan's face-framing layers and piece-y waves a thing of Pinterest-board dreams.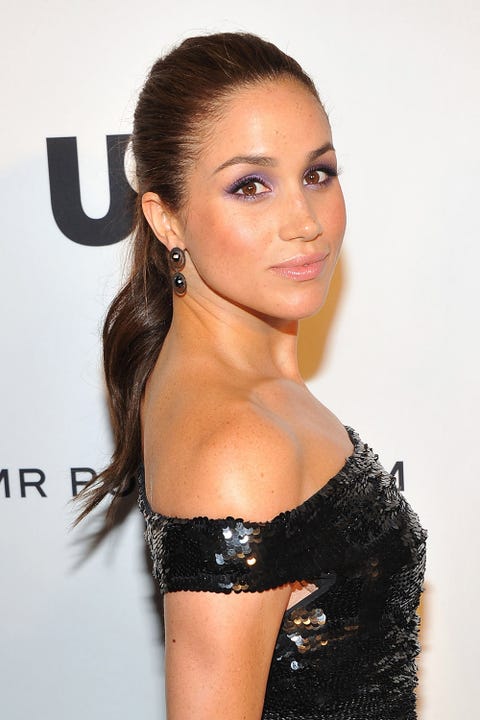 A ponytail on anybody else is still, well, a ponytail, but on Meghan Markle, it's a slicked-back work of (hair) art that rightfully belongs at a gala, not a gym.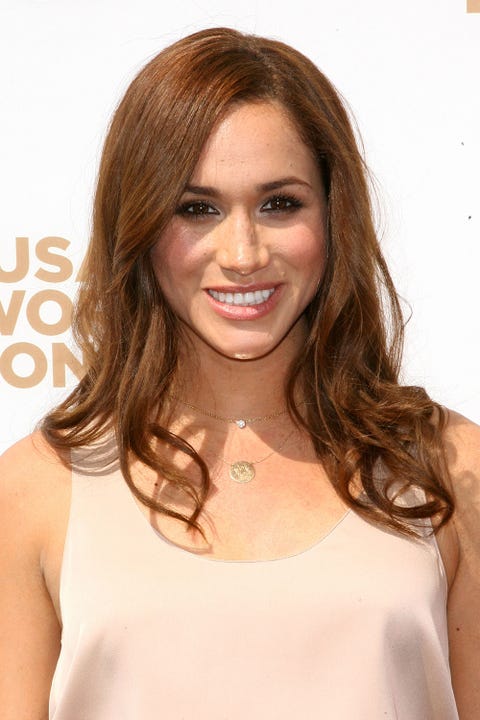 Behold: The first—and last—time Meghan underwent a total hair transformation, taking her deep-brown hair to a light, single-processed auburn that completely brightened her face.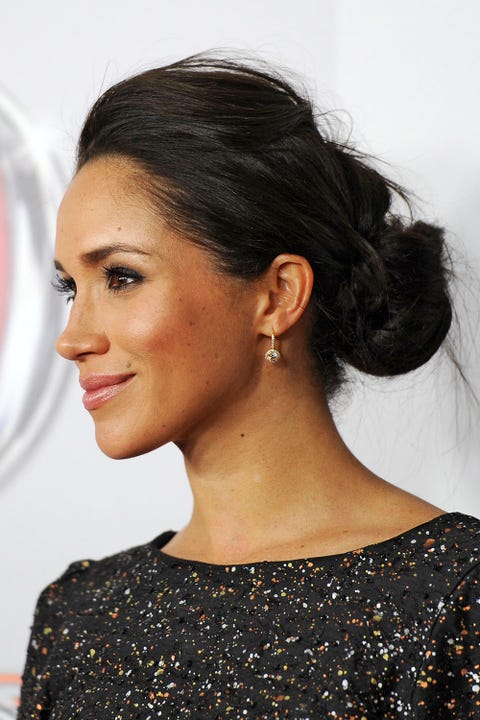 Up until 2013, Meghan's go-to hairstyle was a non-style (i.e. down and wavy). Then, she stepped out with multiple major updos in one year, like this sophisticated messy twisted bun...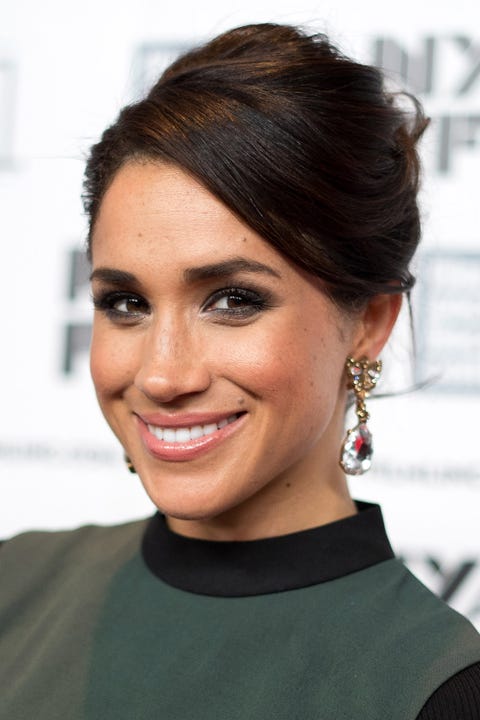 ...and this sleek, retro bouffant, with plenty of volume.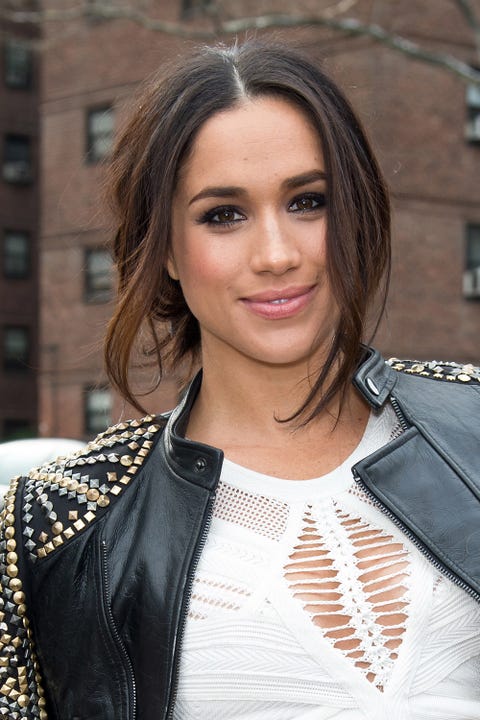 Riding the end of the updo train was this windswept bun in 2014, which had almost enough face-framing layers and loose pieces to make it a down-do (yes, that's a thing, okay?).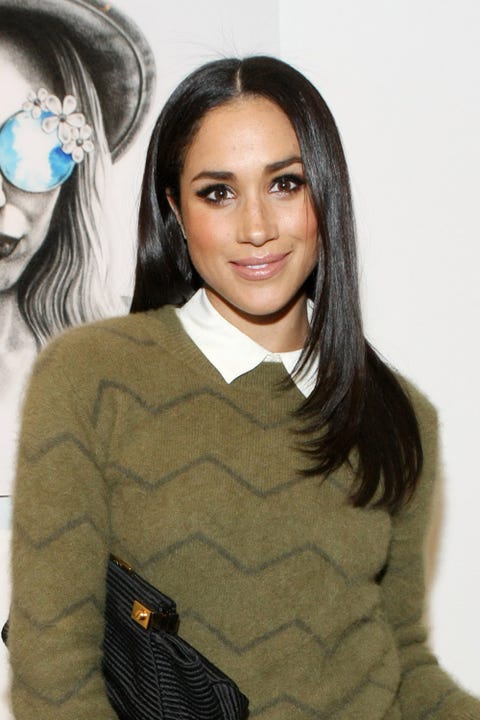 The raven hair trend of 2014 didn't escape Meghan, who debuted her ink-black color with an incredibly sleek and glossy blowout.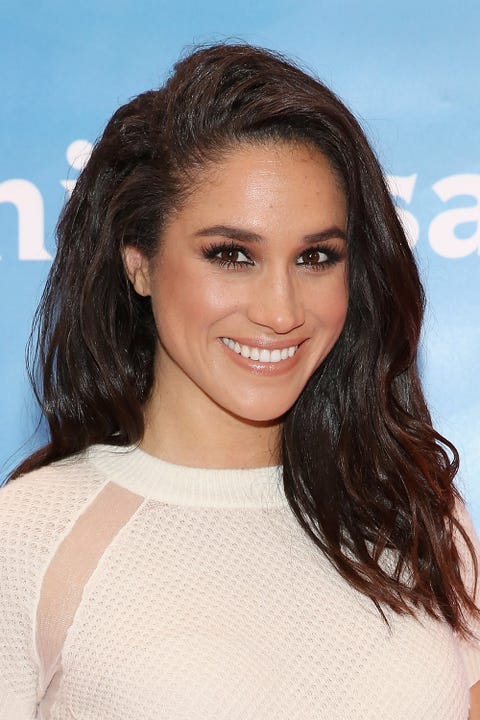 Meghan gave us the tiniest of nostalgic glimpses into her curly-haired past when she wore her auburn-tinted waves thick and intensely textured.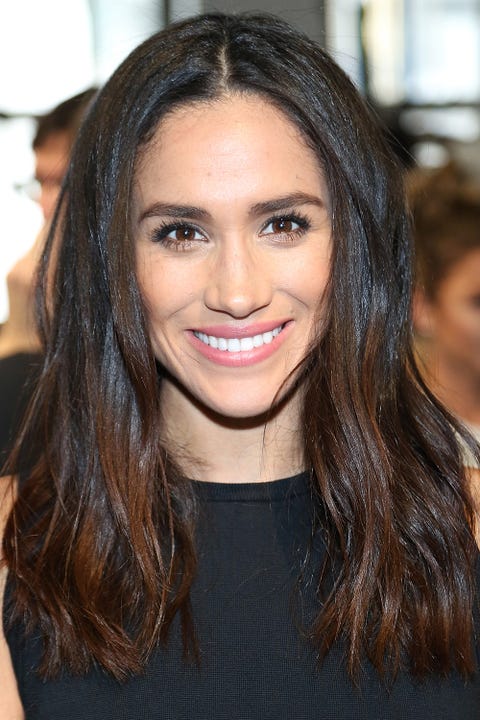 After years of having long layers, Meghan chopped off her hair into blunt, chest-length waves in 2015.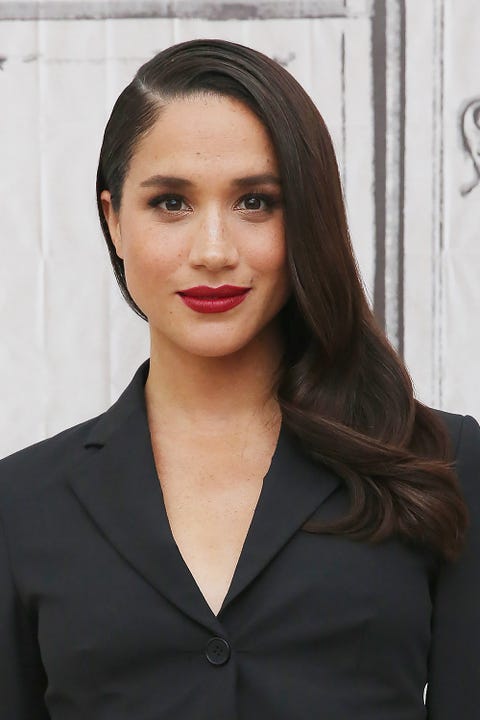 Softly curled ends and sleek roots made for proper Hollywood waves—the perfect hairstyle for a proper Hollywood star.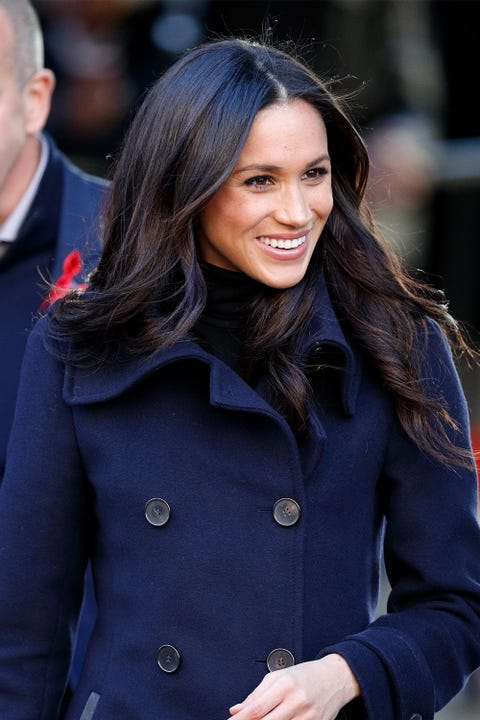 Enter Meghan's ultra-polished, cheek-hugging waves we've come to know, love, and screenshot.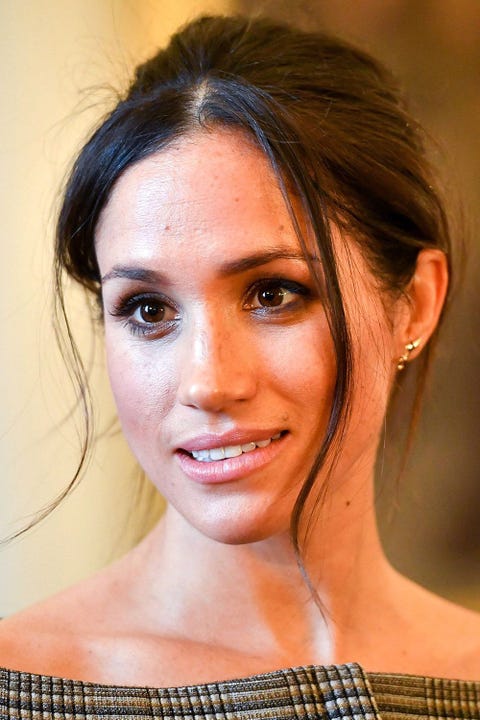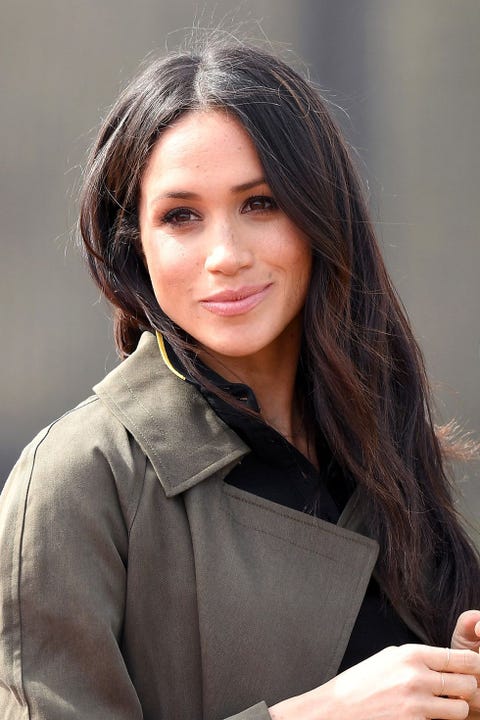 12 years after her first red-carpet photo with va-va-voom curls, Meghan has settled into a hairstyle that's definitively more understated: soft waves with subtle chocolate highlights.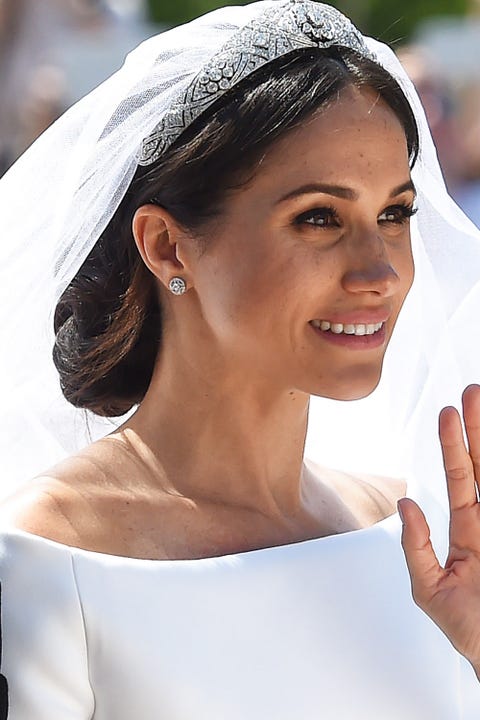 After months of speculation, the world finally got to see Meghan's official wedding hair: A twisted and coiled chignon that snaked down the nape of her neck. Her face-framing layers were, as always, center-parted and tucked behind her ears, giving her a polished, yet still casual, finish.
This content is created and maintained by a third party, and imported onto this page to help users provide their email addresses. You may be able to find more information about this and similar content at piano.io