Meghan Markle Just Broke Another Royal Beauty Rule
She is officially my spirit animal.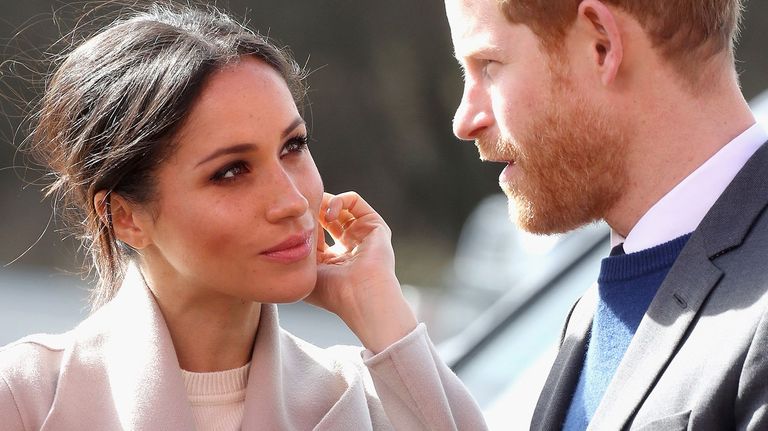 (Image credit: Getty Images)
If seasoned royal Kate Middleton had a guide titled "How to Dress Like a Royal," Meghan Markle probably wouldn't take one damn page out of it.
At this point, the bride-to-be has probably broken more social norms than she has followed, like the time she got subtle red highlights, or the time—okay, every single day—when she attended an event in an unconventionally modern wardrobe. And now, she's at it again with a hairstyle that's anything but prim and proper.
While accompanying Prince Harry on his day of engagements in Belfast Northern, Ireland, Meghan wore a casual outfit of a sweater, skirt, and a messy low bun. Nothing out of the ordinary, right? Wrong. Because according to commonly accepted royal protocol, the messy chignon should have been, well, anything but messy, and also cinched with a hairnet.
I know, I know—not exactly an earth-shattering scandal, because Markle is human, and hair is unpredictable, and oh, my god, it's just a messy bun. But that's the thing with the royal family: appearances and tradition are everything (which is why future sister-in-law Kate is always spotted with a hairnet around her updos).
Thankfully, Markle isn't joining the royal family circa 1950, when there was a strict rule that prohibited royal women from showing their hair at all—thus explaining why the women were always wearing hats, and probably why the Queen still consistently wears a hat today.
Still, Markle definitely pushes the rules on what's standard for a royal, and honestly, I love it. So here's your friendly reminder that the royal wedding is 57 days away, in case you weren't already keeping a countdown. Get ready for even more rule breaking, I'm sure.
RELATED STORIES
Shop Every One of Meghan Markle's Best Looks