Okay, Mary-Kate and Ashley's Beauty Evolution Is Actually Insane
There are the Olsens, and then there are the Olsens 2.0, and I love them both.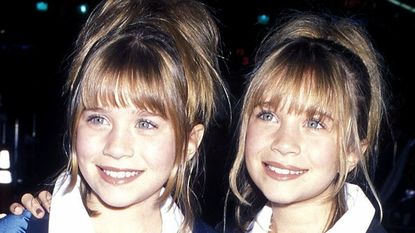 (Image credit: Getty Images)
Ready to feel extremely old? Today is Mary-Kate and Ashley Olsen's 32nd birthday. Yes, they are thirty-freaking-two, which means we've been blessed with over three decades of the ultimate twin content.
And since the Olsens have served as A-1 beauty inspiration throughout their entire career, I've decided that there's no better way to honor the duo than by rounding up their best hair and makeup moments of all time. Ahead, the epic beauty evolution of Mary-Kate and Ashley.
1991
When the twins were just a couple of little nuggets, their hair game was defined by a signature high ponytail with straight-across bangs. And since this was the '90s, that meant scrunchies and ribbons were always in tow.
1993
If updos weren't on the table, Mary-Kate and Ashley relied on their all-time favorite beauty accessory: hats on hats on hats. Here they are showing off a pair of nautical bows, because why not?
1994
What's cuter than the Olsen twins in pigtail braids and messy bangs? Nothing.
1997
The late '90s marked the beginning of Mary-Kate and Ashley's "serious" phase. The twins chopped their hair into a couple of chin-grazing bobs, saying goodbye to the high-ponytails of their past.
1998
Psyche! The twins showed up to the Spice World premiere (#tbt) with their hair pulled into fountain ponytails. Their look was completed with a pair of black-velvet headbands and a few loose, wispy, face-framing layers.
1999
The girls opted for the ultimate '90s style towards the end of the decade: middle-parted lobs (with flipped-up ends, of course) and barely there black eyeliner. If you look closely, you'll notice a slight variation in their lengths—this marked the onset of their departure from identical-ness.
2001
In the early aughts, the Olsens channeled Avril Lavigne with long, stick-straight hair with ashy highlights. Their look was topped off with black eyeliner (rimming their waterlines, no less) and a few coats of shiny, clear lipgloss.
2003
After a couple years of going hard on the flat iron, the twins were introduced to the world of curling irons, showing up to the 2003 MTV Video Music Awards with beachy waves. At this point, the twins had graduated from Makeup 101 and started experimenting with smoky eyes.
2005
Coming off hot from their introduction to loose curls, the twins embraced volume and body at their first Met Gala red carpet. Although Ashley showed up with her signature blonde hair, Mary-Kate took a leap into independence with a warmer, chestnut shade.
2007
At the 2007 CFDA Fashion Awards, new style icons Mary-Kate and Ashley walked the red carpet with totally different hairstyles—Mary-Kate chose mermaid-length extensions, while Ashley went for a sleek, center-parted bun. But never fear—their thick, inky-black smoky eyes were a near-identical match.
2009
The twins went back to their matching ways at the Nine premiere in 2009: yellow-blonde waves falling over their grungy makeup.
2011
In 2011, Mary-Kate paid homage to the twin's pigtail phase with a single, side-parted braid. Ashley, on the other hand, swept her hair into a slow bun with a few loose pieces framing her face. Crimson eyeshadow lined both of their eyes, giving them an other-worldly look.
2014
At the 2014 CFDA Fashion Awards, the duo walked the red carpet in matching buns—their signature I-woke-up-like-this texture on display against fresh, no-makeup makeup.
2017
Three years later, Mary-Kate and Ashley went even more minimal with their CFDA Awards beauty. Mary-Kate, again, experimented with a different hue—this time a strawberry blonde shade with amber lowlights.
2018
And now, behold the Olsen twins as we know and love them today, with long, textured waves, neutral makeup, and thick brows.
Celebrity news, beauty, fashion advice, and fascinating features, delivered straight to your inbox!
Ruby was the beauty editor at Cosmopolitan, where she covered beauty across print and digital. Her work has appeared on The Zoe Report, Fashionista, and StyleCaster. Follow her on Instagram.