Editors handpick every product that we feature. We may earn commission from the links on this page.
11 Facial Cleansing Brushes Your Skin Will Absolutely Love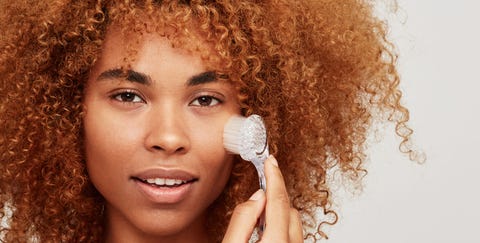 I know it's my job to be pro-skincare all the time, but I'm also human, and I'm not going to act like washing your face doesn't feel like a chore. When you walk through the door after a long day, the last thing you want to do is lift another damn finger. But cleansing every day is the most important thing to do for healthy skin, so you kind of have to. Thankfully, the beauty world's got our back and has birthed innovative devices designed to do most of the work for us—like facial cleansing brushes. On those extra-tired days when you can't depend on your hands to get the job done—like, remove 100 percent of your makeup, wash the dirt and grime off, and provide gentle exfoliation when you need it—reach for a cleansing brush.
All you have to do is wet your skin, apply your go-to cleanser, and sweep the brush over your skin in soft, upward strokes. This will help your cleanser deeply penetrate your pores, remove every trace of gunk, shed dead skin cells, enhance the absorption of topical products, and give you a mini massage. It's standard to do it for a minute, but you won't want to stop because it feels like an at-home facial.
There are a few rules: If you have sensitive skin, be sure to ease in by using your cleansing brush every other day. Over-usage of the wrong brush for your skin type (like bristles that are too firm) can lead to excessive exfoliation and irritation. And, I know I sound like a mom saying this, but clean your brush after every wash and replace the brush head every three months (!!!). If you don't, it will do the complete opposite of cleansing your skin because it's full of dirt. Not cute.
Now that you know what to do, it's time to up your cleansing game. These are the 10 best brushes, at every price point.
This content is created and maintained by a third party, and imported onto this page to help users provide their email addresses. You may be able to find more information about this and similar content at piano.io