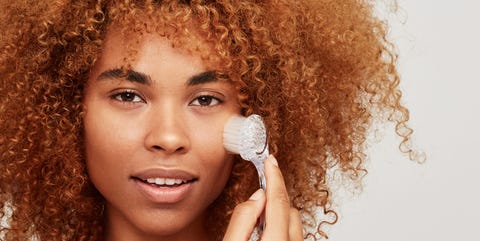 I know it's my job to be pro-skincare all the time, but I'm also human, and I'm not going to act like washing your face doesn't feel like a chore. When you walk through the door after a long day, the last thing you want to do is lift another damn finger. But cleansing every day is the most important thing to do for healthy skin, so you kind of have to. Thankfully, the beauty world's got our back and has birthed innovative devices designed to do most of the work for us. Like facial cleansing brushes. On those extra-tired days when you can't depend on your hands to get the job done—like, remove 100 percent of your makeup, wash the dirt and grime off, and provide gentle exfoliation when you need it—reach for a cleansing brush.
All you have to do is wet your skin, apply your go-to cleanser, and sweep the brush over your skin in soft, upward strokes. This will help your cleanser deeply penetrate your pores, remove every trace of gunk, shed dead skin cells, enhance the absorption of topical products, and give you a mini massage. It's standard to do it for a minute, but you won't want to stop because it feels like an at-home facial.
There are a few rules: If you have sensitive skin, be sure to ease in by using your cleansing brush every other day. Over-usage of the wrong brush for your skin type (like bristles that are too firm) can lead to excessive exfoliation and irritation. And, I know I sound like a mom saying this, but clean your brush after every wash and replace the brush head every three months (!!!). If you don't, it will do the complete opposite of cleansing your skin because it's full of dirt. Not cute.
Now that you know what to do, it's time to up your cleansing game. These are the five best brushes, at every price point.
1
The Bacteria-Fighting Massager
Meet my holy grail cleansing brush: the Foreo, also known as the facial massager that puts me right to sleep. Its soft vibration feels like a million pulsations a minute and signals deep-cleaning is happening, unclogging pores and retexturizing dull, rough patches. The soft bristles are made of silicone, which is ideal for sensitive skin, and fights bacteria. (You still should clean this, though, to make sure it stays in excellent condition.)
2
The Futuristic Facial Device
Clarisonic
Sephora
$199.00
You can't talk about cleansing brushes without mentioning Clarisonic, one of the originators of the category. The cool thing about this brush—besides doing the norm of removing makeup and massaging your skin—is that it's customizable to your skin type. All you have to do is download the Clarisonic app and complete your skin type guide. Then, the smart brush syncs with your profile to create a personalized pattern for optimal results.
3
The Charcoal-Infused Brush
Want brighter, glowier skin? You need this brush. Its charcoal-coated bristles rotate 360-degrees. And, listen, charcoal + a cleansing brush = a genius combination. Here's why: Charcoal is an ingredient that ensures a gentle exfoliation to unclog and visibly reduce the size of your pores. Charcoal also helps keep your skin silky-soft and lifts away dull cells for a brighter complexion.
4
The Pore-Purifying Brush
The head on this waterproof brush is egg-shaped for a reason: The light green area at the angled tip features a gentle bristle type to target your T-zone, and reach the creases and crevices of your skin that are the hardest to get to (which happen to be the most sensitive). The white bristles are for the rest of your gorgeous face. After you use it, your skin will feel brand new.
5
The Skin Pampering Brush
For just $25 bucks, this finely-tapered bristle brush will bless your skin with the perfect wind-down moment. The cushion-y bristles work especially well to enhance the benefits of foaming cleansers, using microcirculation for ultimate penetration. And it's simply a feel-good product you need for self-care.
•••
For more celebrity news, beauty and fashion advice, savvy political commentary, and fascinating features, sign up for the Marie Claire newsletter.