Easy Designs for Almond-Shaped Nails You Can Do at Home
Get ready for your nail close-up.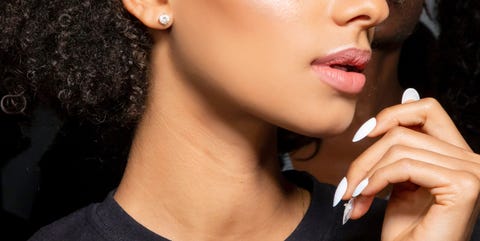 The almond-shaped nail, inspired by none other than an actual almond, is best known for its finger slimming and lengthening silhouette. It's the sleek and slender version of the oval shape, and the softer, less dramatic version of its pointy stiletto-shaped counterpart. The refined shape is perfect for nail lovers that prefer lengthy yet manageable nails. And it's a classic go-to for celebrities like Beyoncé and J.Lo .
Of course, a classic French manicure or nude polish pair beautifully with an almond-shaped nail. However, the wide rounded base and elongated tip also serves as the perfect canvas to experiment with fun and fashionable nail art if you're in the mood to get creative at home. From ombré to gold-foiled nails, the design options are endless. Want to start simple first? We've got you covered as well with an at-home manicure guide for beginners.
If you're still not convinced of the possibilities of this universally flattering shape, then continue scrolling for some mood board-worthy inspiration to challenge yourself with trying out yourself. Or, to covet when you're bored for your next manicure...whenever that will be. Ahead, are 20 of the coolest designs that'll be sure to turn heads and instantly elevate your nail game. You're welcome!
This content is created and maintained by a third party, and imported onto this page to help users provide their email addresses. You may be able to find more information about this and similar content at piano.io