The 32 Best New Perfumes of 2021 (So Far)
No matter what 2021 has in store, you'll smell incredible.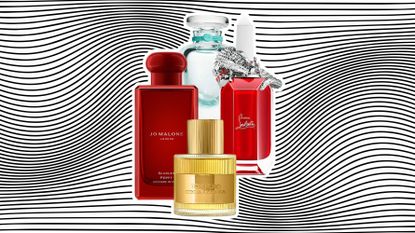 (Image credit: Design by Morgan McMullen)
Marie Claire newsletter
Celebrity news, beauty, fashion advice, and fascinating features, delivered straight to your inbox!
Thank you for signing up to . You will receive a verification email shortly.
There was a problem. Please refresh the page and try again.
They say scent is the strongest tie to memory, and excuse me if I don't want to spritz bad 2020 memories (opens in new tab)on my décolletage every morning. In the spirit of rebirth, it's time to revamp our signature scent—and with that in mind, perfume companies have started the process of delivering us new fragrances that will color our memories of this time. So what do you want your 2021 to smell like? Perhaps some fresh citrus? A hint of some florals? A dark and moody wood-based scent? How about some champagne (opens in new tab)? All those notes and more are featured in the below fragrances. As we move further into 2021, you can be sure of one thing: There's a lot more coming your way. So ring in the new year with some spritzes in your inner wrist and neck. Because isn't it everyone's New Year's resolution to smell good?
1/32
diptyque Orphéon Eau de Parfum
The Parisian Bar
In an ode to a long-gone Parisian bar, Orphéon, this creation from diptyque tries to capture its essence. With notes of tonka beans, cedar wood, and juniper berries, it's possible to transport yourself to Paris with just a whiff. Gin and tonic sold separately.
2/32
Jimmy Choo I Want Choo Eau de Parfum
The Peach Spritz
The name of this fragrance makes me smile, which means it's already doing half its job. This scent mixes florals, peach, and vanilla for the classic summertime fragrance.
3/32
Chris Collins African Rooibos
The Deep Comfort
For fans of intense, warm fragrances, this perfume might do the trick. It has calming notes of bergamot and rooibos, juxtaposed with woody cedarwood and spicy black pepper. This scent is perfect for a sultry date night.
4/32
Valentino Donna Born In Roma Yellow Dream Eau de Parfum
Craving an Italian getaway? Sit on your couch, spritz this perfume on, and boom, you're in Rome. Inspired by the Italian capital, Valentino wanted to create a fragrance that could encapsulate the city to anyone who smelled this scent. With florals, lemon, and some heavier musk, consider this perfume a stamp on your passport.
5/32
BYREDO Mixed Emotions Eau de Parfum
The Bottled 2020
It's no secret that 2020 was subpar, which is why the genius minds at Byredo wanted to put all those emotions in a bottle. It's aptly named Mixed Emotions, and smells like something dark yet comforting, and even sometimes a little unsettling. Sound familiar?
6/32
Sol de Janeiro Cheirosa 71 Body Fragrance Mist
The All-Over Aroma
Why should your neck get all the fun? This mist is meant to be spritzed on your body, your hair, or even on your musty sheets. With vanilla and macadamia nuts, this scent is so yummy you'll want to smell it all over your apartment.
7/32
Kilian Love, Don't Be Shy
The Dessert Scent
If you were looking to bottle summer, it would probably smell something like this. With orange blossom, vanilla, and even a hint of marshmallow, this scent is delicious enough to eat.
8/32
Vitruvi Move Diffuser
The Moveable Diffuser
Though not a perfume per se, this diffuser definitely brings beautiful scents wherever it goes. Which is…everywhere. Unlike traditional diffusers that sit in one corner of your apartment forever, Vitruvi created a portable version that has a charging deck but can be moved to wherever you are. Simply choose your favorite essential oils and breathe in those calming scents.
9/32
Jo Malone London Blossoms Frangipani Flower Cologne
The Lightweight Floral
Jo Malone does subtle well, and this floral perfume is light enough for even the perfume-averse. With jasmine and sandalwood, it's not overwhelming, but will still make people come up to you and say, "Wow, you smell good!"
10/32
The Nue Co. Forest Lungs
The Outdoors Inside
Missing those jaunts in nature? This fragrance is designed to take those outdoor scents into our homes to relieve some of the cabin fever we are no doubt suffering from. The goal is to reduce anxiety and to restore calm in our lives. And take it from me, it actually works.
11/32
Mugler Cologne Angel Nova by Mugler Eau de Parfum
The Shooting Star
If the bottle wasn't enough to convince you that this fragrance means business, maybe these scent notes will. With raspberry, rose, and wood come from three different scent families yet come together to create something as unique and delectable as you can possibly imagine.
12/32
Sisley Paris Izia La Nuit Eau de Parfum
The Art Piece
With a bottle so beautiful, this fragrance didn't have to smell good. And yet it does. This perfume is a tribute to a mysterious rose that only blooms once a year. The notes include that special flower found in the D'Ornano garden, along with freesia, mandarin, and cardamon.
13/32
MCM Eau de Parfum
The Mini Backpack
For the fashion obsessed, why not get a perfume that's housed in MCM's classic backpack? Just as the logo and hardware is iconic, the scent inside is just as lovable. With hints of apricot, raspberry, vanilla, and jasmine, this perfume is the best accessory for Fashion Week.
14/32
Boy Smells Tantrum Cologne de Parfum Fragrance
The Genderless Fragrance
Boy Smells has launched a line of genderless, high-end perfumes, and we are all thankful. A standout in the collection is Tantrum, which has notes of bergamot, mint, vetiver, and cedarwood. Plus, the design of the bottle will make it the perfect adornment for any shelf.
15/32
Versace Dylan Turquoise Pour Femme Eau de Toilette
The Medusa Bottle
Versace isn't known for playing it coy, which is why this perfume and its bottle should come as no surprise. Housed in a turquoise and gold bottle that will improve any vanity, this perfume contains notes of lemon, cedarwood, and guava.
16/32
Nest Madagascar Vanilla Perfume Oil
The Sweet Oil
Nest is known for their swoon-worthy candles and reed diffusers, but they also have a line of perfume oils that are just as wonderful. The Madagascar Vanilla is a clear standout in the line, combining the classic scent with hints of coconuts and orchids for a tropical fragrance.
17/32
BVLGARI Dolce Estasi Eau de Parfum
The Vanity Ornament
This bottle may look like a piece of candy just waiting to be unwrapped, but what's inside is actually better than you're imagining. With musk, florals, and citrus, this is the perfect scent for anyone who wants to smell fresh and sweet all night long.
18/32
TOM FORD Soleil Brûlant Eau de Parfum
The Spicy Scent
Tom Ford never misses when it comes to perfume, and that is exemplified with this new fragrance. It's warm and contains ample spice, which will set you apart from the crowd in the summer. With amber and orange flower, it's a callback to those chilly winter nights where you warmed yourself with a cup of spiked apple cider.
19/32
Dolce & Gabbana Dolce Rose Eau de Toilette
The New Rose
Rose has been a classic scent note for centuries, but Dolce & Gabbana is giving it a revamp. With additional notes of mandarin, green apple, and sandalwood, this isn't the been-there-done-that floral perfume you might be expecting. A combination of woody undertones and bright citrus at the head makes this entirely unexpected.
20/32
Aesop. Hwyl Eau de Parfum
The Forest Affair
This is the ideal going-out fragrance if there ever was one. With smoke, spice, and everything nice (A.K.A. earthy accords), this perfume pays homage to hinoki forests. Plus, like all of Aesop's creations, the aesthetic of the bottle is timeless and classic.
21/32
MARC JACOBS Daisy Eau So Intense Eau de Parfum
The Updated Daisy
The world is obsessed with Marc Jacobs' Daisy perfume, and with good reason. But if you're someone who wants to stand out from the crowd, this version of the classic has been upgraded for top-notch intensity. If subtle isn't your style, give this one a try.
22/32
Pink Moon Drops of Sunshine Perfume Oil
23/32
Ralph Lauren Romance Parfum
The Ooh La La
Let's be honest, we could all do with some extra romance in our lives. It's a good thing Ralph Lauren is there to make sure that all potential suitors who get a good whiff passing by will be impressed by our fragrance. This floral perfume contains notes of patchouli and blackcurrant, to balance out the sweetness of the flowers.
24/32
TOM FORD Costa Azzura
The Ray Of Sunshine
If the bottle weren't enough to convince you, this fragrance is everything you want in the early days of the new year. Warmth comes in with notes of oak, combined with crisp citrus and juniper. Think of this fragrance as walking through a forest near the ocean: Fresh, woodsy, and timeless.
25/32
Atelier Cologne Lemon Island Cologne Absolue Pure Perfume
The Summer Island
Atelier Cologne believes in finding the most intense and powerful ingredients to create fragrances that smell like the real thing. With lemons from the Indian Ocean, jasmine from India, and vanilla from Madagascar, this perfume is an island vacation in a bottle. Fresh, light, and thoroughly yummy, this fragrance is beautiful enough to cut through the dreary winter months.
26/32
CHANEL LE LION DE CHANEL Eau de Parfum
The Lioness Fragrance
As if you needed one more reason to be obsessed with Chanel, their new fragrance embodies the passion and intensity of its founder, Coco Chanel. With notes of patchouli, bergamot, lemon, and sandalwood, this scent is the best accessory of the new year. And as a fun fact, Coco herself is a Leo, which the brand drew inspiration from for this new perfume.
27/32
Bond No. 9 New York My New York
The Star Scent
For the individualist obsessed with standing out from the crowd, this perfume is the perfect new scent to become obsessed with. Its star-shaped bottle and eye-catching design perfectly captures the essence of New York. With notes of ginger, pepper, sandalwood, and rose, this mix of spicy, sweet, and mellow is basically Fifth Avenue in spritz form.
28/32
Christian Louboutin Loubicroc Eau de Parfum
The Crocodile Huntress
As if the bottle wasn't beautiful enough, this perfume is as iconic as the brand's signature red bottoms. If crocodiles don't bring spicy, sexy mystery to mind, this fragrance will change your mind. With myrrh, cypriol, and sandalwood, this perfume is warm yet bright, and timelessly classic. An added bonus? It will instantly elevate your vanity thanks to Louboutin's creative genius.
29/32
Juicy Couture Viva La Juicy Le Bubbly Eau de Parfum
The Early Naughts
Let's be honest: the Juicy Couture Renaissance has begun. Matching sweatsuits? Check. Perfumes that smell like champagne and berries? Triple check. This new launch from the iconic early '00s brand is all you could ever want from a brand named "Juicy." Freesia, praline, and champagne-soaked berries make up the scent notes. Has anything ever sounded so perfect before?
30/32
ST. ROSE Vigilante
The Sexy Newcomer
Even at first glance, there's something alluring about this fragrance. The devious name. The simplicity of the bottle. Take a whiff, and you'll probably fall in love. With hints of bergamot, ylang ylang, tobacco, and cedarwood, there's nothing about this perfume that isn't sexy. Spritz it on to carry that mysterious energy into 2021.
31/32
Tiffany & Co. Wild Iris Parfum
The Girl's Best Friend
As if Tiffany's didn't already scream "luxury," this fragrance will elevate your perception of what that even means. With a white gold funnel and hand-blown glass bottle, this pricey item doesn't skimp when it comes to details. The fragrance inside is just as beautiful: With notes of green mandarin, iris, and rose, this perfume is a new kind of floral. And don't worry, it comes encased in a classic Tiffany-blue box.
32/32
Jo Malone London Scarlet Poppy Cologne Intense
The Scarlet Fragrance
If you've been dying for a little British beauty in your life, this gorgeously monochromatic fragrance is what you've been missing. With notes of poppy and tonka beans, figs, and iris, it's a scent that's warm enough to combat the rough winter ahead of us. None of that barely-there fragrance: This perfume is as intense and luxurious as you are.