36 Sparkly, Celebratory New Year's Eve Nail Ideas
If you can't really party, at least your nails can!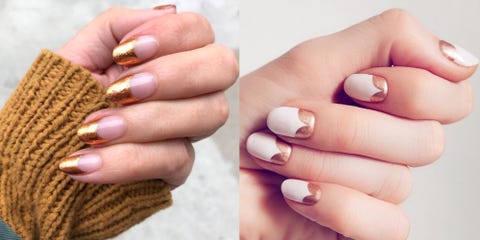 New Year's just might be the holiday that lends itself the least to a quick pandemic pivot. You're literally supposed to be elbow-to-elbow in a dark room smooching strangers and swilling champagne. Whoops. MAYBE NEXT YEAR LOLz NOT LOLz?? This year, festive nails just might have to be a stand-in for sequined minis, ball-dropping, and general end-of-the-year debauchery. Because the truth is, I'm sure we can all agree that the end of 2020 and the dawn of a new year is something deeply worth celebrating—virtually, figuratively, or well, on our fingertips.
What's great about truly 90 percent of the lewks on this list is that you absolutely can try them at home. (No need to venture to the salon.) A masked-run to the drugstore or a novel look at your existing at-home polishes and you could have a sparkly, celebratory mani that will absolutely lift your mood. Think glitter, gold, sequins, confetti and everything else you probably wouldn't rock the rest of the calendar year.
And no matter if you're Zooming into Times Square or cruising to your Netflix next-up, there's no better accessory than a really great manicure. For the beauty-obsessed, December 31 is the perfect excuse for ridiculously cool nail art. This year, we're going with chic, minimalist designs with that little something extra, like speckled glitter and (tastefully) bejeweled cuticles. Below, we rounded up the 36 prettiest nail designs that will make ringing in New Year's Eve feel like a party.
This content is created and maintained by a third party, and imported onto this page to help users provide their email addresses. You may be able to find more information about this and similar content at piano.io