Meet the Tiny Brooklyn Business Behind Those Dreamy Hair Accessories You Keep Seeing on Instagram
All handmade, and all weirdly affordable.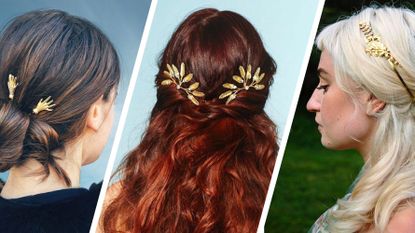 (Image credit: Epona Valley)
Rachel Gittler does not create hair accessories—she creates art. And if you think that sounds like something a douche-y art major would say with a strained glance, then you're right. But it also means that you haven't seen any of Gittler's creations up close, because to describe her gilded headpieces and intricately crafted clips and barrettes as anything other than art would be, well, straight-up false.
RELATED STORY
Gittler, who is the founder, creative director, and all-around magical muse behind Epona Valley, the insanely ethereal (and Instagrammable) hair accessories brand, is pretty much a time-torn artist from another era—one before the existence of fast fashion, mass production, and cheap materials.
"I'm trying to bring that romantic, old-world, handmade feeling back into style, which was the norm of what you'd find in department stores in, say, the '40s," says Gittler. "But now, we're losing that art form to fast fashion, and it only exists in completely unattainable and unrelatable places, like expensive couture that an average person can't afford."
So Gittler began creating her own original pieces just five years ago, designing intricate bird headpieces and silk-wrapped headbands out of her house in Brooklyn. "My grandma and mother were artists," she says, "and I studied acting and theater, so I've always been very exposed to the romance of decades past, and I wanted to figure out a way to wear accessories from other eras, but modernize them for today."
RELATED STORIES
And after being approached and photographed while wearing one of her headpieces during New York Fashion Week a few years ago, she officially launched Epona Valley, and began slowly, but steadily, crafting a line of accessories, all by hand. "It's all handmade with brass, gold and silver plating, Swarovski crystals, the works, and it's also all locally sourced, since I want to support the garment community that we do have in the US," says Gittler.
"At first, all of my pieces were done by myself in my house studio in Brooklyn, which somewhat limited my designs, but I now have a master solderer on my team who creates all of the intricate leaves, buds, faces, birds, etc., you see on the headpieces, plus a few molds for some of our bigger pieces," says Gittler. "But we still have hands touching every single accessory, placing individual crystals into settings and assembling pieces."
The result? Gorgeous, vintage-looking accessories that really do look like art. Expensive art. But that's the beauty of Gittler's creation—it's actually completely obtainable for regular folks who have the tastes of a Renaissance aristocrat but the budget of a Zara sales sifter. Because dozens of Epona Valley's pieces, like its hand-shaped bobby pins, or gold-tipped bird clip, or heart-shaped ponytail holders, are under $100.
RELATED STORIES
And no, I'm not saying that that's as affordable as what you'd find on the accessories table at Forever 21, but they're also not as cheap, or disposable, or unlovingly made, either. And to many people, that actually matters. "All of these things are obviously materialistic, but when you look into the art of them, whether you're looking at a piece of jewelry, or a painting, or a film, it runs deeper than that," says Gittler. "And if you can bring someone joy with something you create out of your daydreams, then I'd like to think I'm doing the right thing."
To see more of Gittler's pieces, check out her entire lineup on Epona Valley, and grab what you can before they inundate your social feeds. After all, it's only a matter of time before a Kardashian is photographed wearing something of Gittler's, and then you'll be relegated to a decade-long waitlist. You've been warned.
Chloe Metzger is the deputy beauty director at Cosmopolitan, overseeing the editorial content and growth strategy of the hair, makeup, and skin space on digital, while also obsessively writing about the best hair products for every hair type (curly girl here; whattup), and the skincare routines that really, truly work (follow her on Instagram to see behind-the-scenes pics of that magazine life). She brings nearly a decade of writing and editing expertise, and her work has appeared in Allure, Health, Fitness, Marie Claire, StyleCaster, and Parents. She also has an unhealthy adoration for Tom Hanks and would like to please meet him one day, if you could arrange that. Thanks.