Color Your Hair? Four Things You Should Never Do in the Shower
Totally guilty of mistake #3.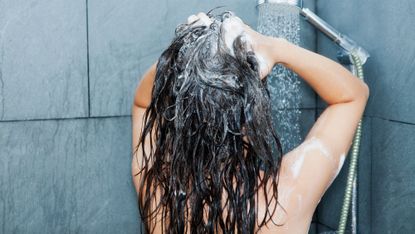 (Image credit: esp2k)
There's a real time and money investment to coloring your hair, both of which make the owner of said head of hair none too keen on stripping it all away. The good news is that specifically formulated products and easy showertime choices make caring for it easy. Below, four things to avoid.
Mistake #1: Washing your hair with the wrong shampoo.
If you're not using a shampoo and conditioner created specifically for colored hair, erm, don't tell anyone that and rectify the problem immediately. Look for products labeled sulfate-free, like L'Oréal Paris' EverPure pair. It's free of ingredients that strip dull and damage hair, but packed with the good stuff (like hydrating rosemary!) that helps keep your dye job pure for up to four weeks.
Mistake #2: Washing your hair too much.
"The more you wash your hair, the quicker your color fades," explains Erika Szabo, senior colorist at The Arsen Gurgov Salon in New York City. Instead of daily washes, aim for two to three days a week. If that's an order you just can't follow, meet her halfway. Skip the shampoo every day, rinsing and applying conditioner to the ends of hair instead.
Mistake #3: Washing your hair at the end of your shower.
Max out the amount of time conditioner can do its work by shampooing early and getting right to business.
"It's best to wash your hair when you first get in the shower, so the cuticle is still closed. Follow that by leaving in your conditioner on for as long as you can." Healthy hair retains color better than damaged hair, so dedicating yourself to a routine will pay off with gorgeous color.
Mistake #4: Washing your hair with lukewarm water.

Blasting your hair with boiling hot water on the daily isn't a recipe for healthy strands, but keeping the dial firmly in the center means you're missing out on the power of steam.
New products are designed to harness the cuticle-opening power of high temperatures and deliver rich moisture. L'Oréal Paris' EverPure sheet masks (opens in new tab) are packed with hydrating ingredients meant for colored hair. Turn up the dial post-shampoo and pre-mask and relax, letting hair soak up as much of the good stuff as possible. Leave on for five minutes, then rinse.
Leah Melby Clinton is a writer, editor, and serious shopper who loves discovering new labels, detailing the best ways to build a wardrobe, and interviewing interesting people.