Is Your Hairstyle Stale?
Ever enter a salon shrieking: "Just re-'do it!"? We hear ya. We invited celebrity stylist Erin Anderson to update the hair of three very-ready MC readers.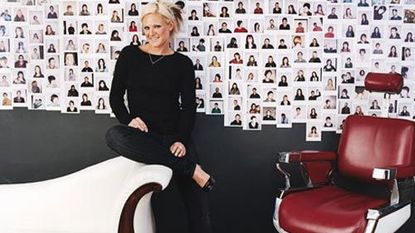 (Image credit: Jesse Frohman)
Marie Claire Newsletter
Celebrity news, beauty, fashion advice, and fascinating features, delivered straight to your inbox!
Thank you for signing up to Marie Claire. You will receive a verification email shortly.
There was a problem. Please refresh the page and try again.
We've all had a change of heart that results in, well, a change of hair. We outgrow the style, lose weight, or change careers, and it suddenly feels wrong. Hot young celeb stylist Erin Anderson, who has recently been snapped up by VO5 as a style consultant, knows how hair can reflect true character — from sexpots to serious actresses like client Rachel Weisz. She never advises regular clients to "copy" anyone else, but rather to "work a trend" so it enhances their personal style. She also stresses having a heart-to-heart with the person cutting or coloring your hair before making a change: "You must make it perfectly clear to your stylist how far you're willing to go. Otherwise, someone will end up in tears." Here's what went down when the Marie Claire team — including three new-cut candidates — visited her Brooklyn, NY, salon, Woodley & Bunny.
How to Tame Frizzy Hair


Tiny Tweaks

Tress fatigued: ELENA LEE, 22

How long she's sported this look: "My whole life. Before I moved to New York, I'd lived in Panama, where surfing was a much higher priority than my hairstyle. I was seriously low maintenance."

Why she's ready for a change: "A chic cut will probably help as I apply for jobs in fashion merchandising
Erin's style strategy: "Elena's long layers work for her face shape, and as a runner, she needs an easy style she can throw up in a ponytail. We sliced in long, sideswept bangs, took off some length to give the hair body, and cut the layers shorter so she can wear it wavy. The result is a pulled-together look that's still a cinch to style. To finish, we applied a brown glaze to mask the drying effects of daily shampooing."
"I am ecstatic about the results and have been receiving compliments nonstop. This was just the small change I needed." -ELENA
Moderate Move

Tress fatigued: COURTNEY ROUTT, 25

How long she's sported this look: "Since my sophomore year in college-it's so sorority girl."

Why she's ready for a change: "I'm a publicist and have to interface with celebrities and their high-powered agents. If I want to be taken seriously, I need to look like a grown-up, not a party girl."
Erin's style strategy: "The best way to clean up overly thinned-out layers like Courtney's is to lose them, so we chopped her hair into a shoulder-length bob and gave her a long, sweeping bang. Adding caramel highlights thickens the hair and adds body. The effect is smart but still sexy."
"Since my bob is simple, my getting-ready time has been cut in half! Now, not only do I look more put-together, I feel more professional because I'm not running late to everything!" -COURTNEY
Bold Choice

Tress fatigued: JULIA DORFF, 26

How long she's sported her look: Except for the two times she was coiffed for a cause (she donated to Locks of Love, a charity that creates wigs for critically ill children), she's had this look her entire life.

Why she's ready for a change: By day she is a social worker who counsels at-risk teens in some of NYC's toughest neighborhoods; by night, she's immersed in the music scene, and cheerleader hair doesn't cut it.
Erin's style strategy: "What Julia needs is versatility — an edgy look for night that can still be pulled back into a casual knot for daytime. We toned down the brassy color first, then added layers and heavy bangs. The new look rocks on her."
"This was such a major change for me, but I really love it. It's very versatile, and when I'm out at night, people keep asking me where I got it done." -JULIA
Celebrity news, beauty, fashion advice, and fascinating features, delivered straight to your inbox!