The 15 Best Hair Straightening Brushes Ever
Marsha Brady could never.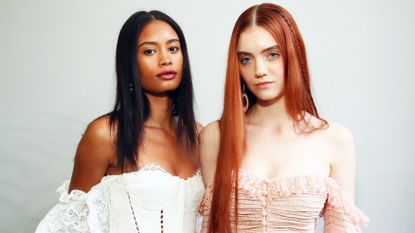 (Image credit: Getty Images ¦ Astrid Stawiarz)
What if I told you that there's a styling product that dropped from the heavens to save you time and money on blowouts? Get ready to love me forever, my friend, because after reading this I have faith you'll make the right decision and choose to own a hair straightening brush. It's a hair dryer that can do both. A lady in the streets but a freak in the sheets, but it's a hair tool.
How do hair straightening brushes work?
Like a flat iron, a hair straightening brush makes use of heated ceramic plates to gently lay lifted hair cuticles flat, creating smoother and sleeker strands. Unlike a flat iron, though, a hair straightening brush is somewhat less damaging—you're just using one plate instead of two—and creates a breezier sort of finish, not a fried and overly stiff vibe. Basically, hair straightening brushes detangle and straighten your hair at the same damn time. Plus, these two-in-one stylers are made with different heat settings and bristle heads to suit all hair textures. (And no matter what, you should always be using a heat protectant!)
If you're questioning the legitimacy of a hair straightener brush, I get it, I really do—but once you try one of these game-changers, you'll never go back to skepticism again.
1/15
Amika Polished Perfection Straightening Brush 2.0
The Moisture-Inducing Brush
I'm in love with the way Amika's Silk Wrap Styler transforms my course curls into silky smooth strands in seconds. So it's only right that this straightening brush follows suit. Using iRed beam technology, which allows heat to penetrate deeper into the hair cuticle to preserve moisture, these ceramic bristles keep dryness at bay.
2/15
TYMO Ring Hair Straightener Comb
The Crowd Favorite
This top-rated straightening brush has earned over 16,000 five-star reviews on Amazon. Users say that that it's super easy to use, leaves their hair straight in minutes, and that it works on fragile or very curly hair without leaving it fried.
3/15
DryBar The Baby Brush Crush Mini Heated Straightening Brush
The Mini Secret Weapon
This baby packs a powerful punch. You can keep this mini brush in your bag whenever you need a touch-up real fast. The iconic bristles seal hair cuticles, which make for a shinier finish.
4/15
MiroPure Enhanced Hair Straightener Brush
This brush from MiroPure seals your hair at the cuticle, which helps in reducing the look of split ends and keeps hair looking smooth and shiny all day long. The high-density comb also works seamlessly on curly hair!
5/15
Conair Infiniti Pro Gold by Conair Straightening Comb
I know this is technically a straightening comb and not a straightening brush, but it's still a great option if you need to touch up your style throughout the day or to keep your bangs in place when you wake up in the morning. It heats up in 30 seconds and features gold plating that will give your hair a smooth, shiny look.
6/15
Revlon XL Hair Straightening Heated Styling Brush
The Detangling Brush
Revlon's heated brush has built-in ceramic, detangling bristles that are extra long to guarantee smooth strands from root to tip without heat damage. The adjustable settings feel like a luxury because they allow you to control which temperature works best for your hair type.
7/15
Northern Response Dual Extreme Hair Straightener
Cut your styling time in half with this Dual Extreme Hair Straightener from Northern Response. The double ceramic brush head tackle hair from both sides just like a traditional straightener would, and is designed with all hair textures in mind.
8/15
Infiniti Pro by Conair Hot Air Multi-Styler in Rose Gold
Need an all-in-one option? This Multi-Styler from Conair is here to help. This four-in-one tool comes complete with a paddle brush for straightening, a curling iron, a round brush that will keep hair smooth, and a multidirectional brush that promises to add volume and shine.
9/15
Eva Nyc Mini Healthy Heat Thermal Straightening Brush
This mini brush from Eva NYC is great for travel, or just for keeping in your handbag for when you need a quick midday hair touch-up. It uses negative ions to lock-in your hair's moisture as it straightens.
10/15
GHD Glide Professional Hot Brush
The Versatile Brush
When it's day two and your salon blowout needs some saving, put these ceramic bristles to work. The bristles, which are both short and long, are designed to work well with high-density hair types, meaning you can trust that this has the versatility to smooth fine and thick textures.
11/15
Moroccanoil Smooth Style Ceramic Heated Brush
This Universal Choice
There are two things we like about this sturdy unit. First, cool-tip bristles mean that the piping hot ceramic plate is at no risk of scalding your scalp. Second, the beveled edge is also heated, meaning that smoothing your roots is actually possible. (Raise your hands if you've ever had springy roots and smooth strands with regular flat irons...)
12/15
Bed Head Ionic + Tourmaline Straightener Brush
The Speedy Choice
At a very appealing price point, this tourmaline ionic version has a cheery color palette and one fun little bonus feature: The brush remembers the last heat that it was set to, meaning once you've found the sweet spot between smoothing and scorching, you can return to it with ease time and time again.
13/15
Conair Infinitipro By Conair
The Wide Paddle Brush
Trust me: Wide paddle brushes will cut your styling sessions in half. This brush can hit so much of your hair at once with its diamond-infused ceramic plates, which doesn't just sound fancy—it also works to unravel kinks in no time.
14/15
Dyson Airwrap Complete Styler
The Magical Transformer
In case you're unfamiliar with the do-it-all Dyson Air Wrap styler kit—"do-it-all" is a nickname I've dubbed the brand because every single styling product is so legit—this is the magic your hair has been waiting for. Available in several innovative bristle heads designed for different textures, this brush literally wraps your hair to transform your texture into ultimate sleekness. You just have to see for yourself.
15/15
Remington Pro 2-In-1 Heated Straightening Brush
The Gentle Brush
Tugging and pulling at your hair with poorly made brushes is only going to result in hair loss and damage. All brush bristles are not created equal, but this guy have an anti-static coating and a cool tip feature for the smoothest, heat-safe glide ever.
Hannah Morrill is a writer and editor based in Portland, Maine. She's an avid reader, an indifferent face-washer and a sunscreen/retinol evangelist.