30 Pretty Middle Part Hairstyles That Come Gen Z-Approved
It's a middle part world—we're just living in it.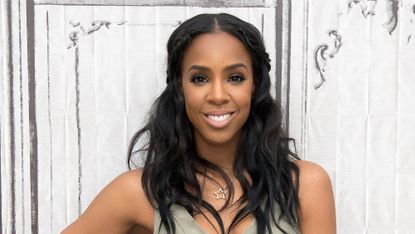 (Image credit: Mike Pont)
Marie Claire Newsletter
Celebrity news, beauty, fashion advice, and fascinating features, delivered straight to your inbox!
Thank you for signing up to Marie Claire. You will receive a verification email shortly.
There was a problem. Please refresh the page and try again.
If you're on TikTok, you've probably seen teenagers and young adults who are not only styling their hair into middle parts, but also judging the millennials who remain dedicated to the side part. We already know that fashion, like history, is destined to repeat itself—I mean, come on, even Dunkaroos are back!—and my fellow Gen Z have made it official: The middle part hairstyle has made its triumphant return.
Old trends that become new again bring up a lot of nostalgia and feelings, but they also spark rivalries between generations. Specifically, Gen Z versus millennials, with Gen Z arguing that, with respect, the middle part is supreme to the side part. Now I am not biased at all, it's not like I spent high school with a permanent middle part trying to "train" my hair to fall into a side part, but I digress. As a Gen Z/Millennial cusp, I see the beauty in both the middle and side part—but as celebrities continue to hit the red carpet with the perfectly straight part and designers send their models down the runway with their hair also in this illustrious style, it's easy to see why Gen Z is calling for the middle part supremacy. Scroll on for your middle part lookbook.
1. Zoe Kravitz's Micro Braids Top Knot
We already know and love Zoe's hair in braids, but she took it one step further with this seamless braided topknot at the 2021 Met Gala.
2. Beyoncé's Brushed Out Ends
If the middle part is good enough for Beyoncé, it's good enough for me.
3. Barbie Ferreira's Jeweled Part
Barbie understood the assignment. Where to even begin? The stunning light auburn hair that is carefully pulled back with loose ringlets framing her face? The pearl pieces pointing out the much-beloved middle part? Hairstylist Malcolm Marques outdid himself in this "gotta-recreate" hair look, using amika products.
4. Normani's Long Ponytail
Even back in 2019, the middle part was a statement-maker. Normani shows us that all you need to set a tone is a good long ponytail.
5. Kerry Washington's Senegalese Twists
Middle part and twists? Yes please! These twists on Kerry Washington are a statement on their own with the metal charms added throughout the style. Besides, who doesn't love a good protective style?
6. Billie Eilish's Famous Green Roots
I know, Billie is blonde now and I'm Happier Than Ever, but nothing can top the lime green roots that were her signature hair look for quite a while. This look from the Grammys may have been a wig, but the green middle part flowing into deep black strands is every e-girl's dream.
7. Dove Camerons's Long Waves
She might not have invented being blonde, but she sure knows how to perfect it. Emmy-winning actress Dove Cameron opted for a more mature blonde, ditching the platinum for this gorgeous wavy pale ash shade.
8. Jessica Alba's Studded Headband
Do you wear headbands because they make you feel like royalty (hint hint: Blair Waldorf) or are you more low-key? Jessica Alba upped her look with this detailed accessory that raises the glam for any middle part hairstyle.
9. Kesha's Powderpuff Pink Dreams
This is your sign to dye your hair. Kesha would approve, don't worry!
10. Victor Glemaud's Quarter Twists
If this model's twists reminds you of how your mom would do your hair as a kid, plastic ball hair ties included, then take this as your chance to post the most epic throwback.
11. Katie Holmes' Bed Head Lob
Okay, so Katie Holmes definitely doesn't look like she just rolled out of bed, but her messy waves are finessed to make it look like she did—in the best way possible.
12. Olivia Rodrigo's Pulled-Back Sleek
The Gen Z Queen herself was all elegance at the 2021 Met Gala. Her hair was pulled completely back in a spiky bun, making her face the star of the show.
13. Bella Poarch's Double Ponytail
We've already established that we're bringing back trends from when we were younger, so why not pigtails too? This grown-up version has become Bella Poarch's signature look and is glammed up with rhinestone hairpieces.
14. Jennie Kim's Full-On Shine
I've truly never seen shinier hair. If you're in need of some shine, try the Briogeo Strengthening Treatment Oil, designed to repair your hair while adding a non-greasy sheen.
15. Camila Mendes' Framed Strands
Another example of using front strands to frame the face while embracing an updo. A simple style that escalates to badass professional with the flick of a comb.
16. Amandla Stenberg's Fishtail Part
Long braid? Check. Blonde bombshell? Check. Sleek middle part? Check. The gang's all here, thanks Amandla!
17. Anna Sui's Half-Up
Another runway look, seen at the Spring 2022 Anna Sui show. This is the half-up style to end them all. First, peep the two-piece strands framing the model's face. Second. the long, loose curls/waves make for a perfect everyday look.
18. Janet Mock's Hollywood Waves
Janet Mock can do no wrong, especially with this subtle waved hair that doesn't lose body anywhere—because, yes, your hair can be straight but not flat.
19. Gigi Hadid at Altuzarra
It's a middle part (and braided front pieces) world and we're just living in it! This look on Gigi Hadid from the Spring 2022 Altuzarra is very boho, and I'm obsessed.
20. Lizzo's Glitz and Clips
Never one to be outshone, Lizzo looked gorgeous at the 2021 Grammys with her sparkly side-swept hair. The large barrette clips prove that accessories belong in the hair.
21. Rihanna's Curly Part
This was my go-to look in high school, so that must mean that Rihanna and I are both trendsetters.
22. Megan Fox's Wet Strands
Sorry not sorry, but nothing beats a good wet hair look. These tight waves cascading around Megan Fox were created by stylist Andrew Fitzsimons, who used "a lot of @livingproofinc and especially No Frizz Vanishing Oil."
23. Moschino's Beaded Fantasy
Try to resist the urge to shake your head really fast, or don't—just don't blame me if you hurt yourself.
24. Kelly Rowland's Coily Part
The bigger the hair the better—what more needs to be said? For curls that are soft, but not flat, try the Camille Rose Fresh Curl Revitalizing Hair Smoother.
25. Doja Cat's Icy Platinum
As host of the 2021 VMAs, Doja Cat pulled out all the stops and looks. Also, if this gives you inspo to bleach your hair try a wig first. (The middle part must stay though.)
26. Zendaya's Finger Waves With Length
Zendaya can do no wrong. Her gelled-down hair is taken to another decade with the finger waves stealing the scene in the front.
27. Nicola Coughlan's Blunt Bob
This very short blonde bob fits Nicola Coughlan so well, not even Lady Bridgerton can gossip about it.
28. Lorde's Solar Power
When Lorde blessed us by releasing her highly anticipated third album, she also came back into the public eye—giving us ample looks, like the beachy hair here.
29. Ilana Glazer's Slicked Front Curls
Ilana Glazer is glowing here, and not just because she was pregnant when this was taken. Her hair is kept behind her shoulders in a cascade of curls, while the front of her hair is slicked down.
30. Kim Petra's Wrapped In Blue
As seen in the front row at the Spring 2022 Christian Siriano show, electropop queen Kim Petra kept to an icy blue palette for her eye makeup and hair.
Celebrity news, beauty, fashion advice, and fascinating features, delivered straight to your inbox!
Alexis Gaskin is a Freelance Beauty Writer for Marie Claire who can often be found painting her nails to match every outfit. She covers beauty, skincare, and fat fashion and will get distracted by any and all Halsey-related content or anything glittery.