I Tried Vitamin E Oil, Dove Cameron's Skincare Secret, and I'll Never Look Back
Found: the key to glowing skin.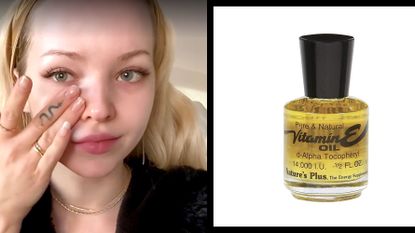 (Image credit: Courtesy/Masked and Answered/YouTube)
Marie Claire Newsletter
Celebrity news, beauty, fashion advice, and fascinating features, delivered straight to your inbox!
Thank you for signing up to Marie Claire. You will receive a verification email shortly.
There was a problem. Please refresh the page and try again.
The power that celebrities have over us is incredible. As someone who loves all things beauty, I am very easily influenced by the tips, tricks, and products used by beautiful celebrities. I shaved my head because Natalie Portman did. I used Jeanne Damas' entire French pharmacy skincare routine for a month. My contour regime when I was 18 was based on me zooming in super close to Halsey's face. But here's the kicker: Very few of the products and routines I've stolen from these women have worked for me so well that they ended up occupying a permanent spot on my shelf.
Enter Dove Cameron, the exception to the rule, my eyelash and hair icon, who seems like a genuinely good person and sings like an angel. If she has a place available on her roster, I would love to be friends with her. (Just kidding, she's too pretty, I would never be able to be in a group picture with her.) When she appeared on Marie Claire's Masked and Answered to walk all of us normal people through her skincare routine (see video above), I noticed something peculiar. She used the expensive serums and moisturizers whose names I recognized. But then she pulled out something unexpected: A run of the mill, nothing-fancy-here, Vitamin E oil.
Naturally, this caught my attention. Ask my patient boyfriend, and he'll tell you: My preferred skin state right before bed could best be described as "sticky." I lather on serums, and creams, and oils like it's nobody's business. The slicker, the better. So when I saw this Whole Foods-esque oil in Dove Cameron's bathroom, I was intrigued. And obviously, I bought myself one.
This is my opportunity to give Dove Cameron the only advice she'd ever need from me: Babe, whatever Vitamin E oil you're using, put it down and use the one I bought. Completely accidentally, I picked up the best skincare oil I have ever used. This was my criteria when purchasing: A pure, 100 percent Vitamin E oil. This was actually harder to find than you might think—half of the oils I looked at claimed to be Vitamin E oils, but the fine print noted the additional oils and vitamins that they combined. Sure, Vitamin E was the main ingredient, but it wasn't the only one. I wanted the pure stuff.
Let me tell you why the oil I chose is the best. Firstly, it's low-cost. I think of all the oils I've tried that are in the $30-$70 range and cringe. Secondly, this Vitamin E oil is thicker than most other oils I've used. It's not the kind that you can drip onto your face and move around. I've found that the easiest way to apply it is to pour a few drops onto my palms, rub my hands together, and press them into my face. Once it connects with my moisturizer, you can rub it in easily.
Most importantly, this product works. It sinks into the skin like no other oil I've ever tried. In fact, it's the only oil that I feel like I can use during the day without worrying that I'm going to look like a glistening disco-ball all day long. It also has never made any of my other skincare products pill, which most other oils I've tried inevitably do. When I use it at night, it doesn't get all over my pillow and I wake up with the most hydrated, smooth, nourished-feeling skin ever.
Dove, take notes. This is for you.
For more stories like this, including celebrity news, beauty and fashion advice, savvy political commentary, and fascinating features, sign up for theMarie Claire newsletter.
RELATED STORY
Celebrity news, beauty, fashion advice, and fascinating features, delivered straight to your inbox!
Tatjana Freund is a Beauty Commerce Writer, covering makeup, skincare, and haircare products and trends. She's a fan of vodka tonics and creepy Wikipedia pages.