The 30 Best Honey Blonde Hair Ideas for 2023
Golden and buttery blonde tones are trending for summer.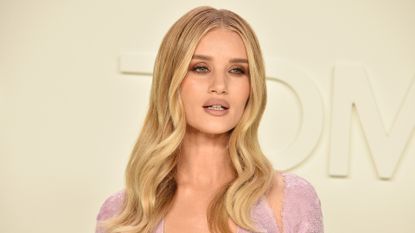 (Image credit: David Crotty/Getty)
There are few things more challenging than describing the type of blonde you want to your stylist. You can use buzzwords galore (read: warm, icy, golden), but nothing paints a better picture than, well, a picture. If you're on a mission to get a honey blonde hue for summer, we have you covered. We've scoured the internet for 30 of the best looks.
While stars have been rocking the warm, buttery blonde for years, it's having a bit of a resurgence at the moment. Not only was it named one of our biggest hair trends for 2023, but stars like Sydney Sweeney, Blake Lively, and Hailey Bieber are proving just how good the taupe-meets-tawny shade can look. It shouldn't come as a shocker that everyone is getting on board with the classic tone. At its core, honey blonde hair is multi-dimensional and flattering against the skin—but that's not to say there's a blanket formula for every person. You can play with shadow roots, chunky highlights, and balayage techniques.
When it comes to caring for you color though, Sierra Kener, stylist at 901 Salon, warns against over-doing it with purple shampoos, which are typically life-savors for blonde hair. "Purple shampoo will actually add more cool tones to your blonde," she explains. "Limiting that will help your blonde stay more honey-colored and warm." Instead, look for a brightening formula (she love the Joico Blonde Life Brightening Shampoo!) that will enhance your existing tone.
To help you decide on the perfect honey blonde shade and coloring technique before your next salon appointment, scroll ahead for our favorite celebrity styles.
1/30
Julia Roberts
Honey blonde highlights look even more multi-dimensional with a little curl.
2/30
Lauren Conrad
A taupe-y blonde has the easiest grow out—and pairs naturally with darker roots.
3/30
Chrissy Teigen
A rich russet base is lifted with chunky honey-dipped ends.
4/30
Karlie Kloss
Nothing syrupy about this sleek and streamlined take on the tone.
5/30
Mariah Carey
Streaks of tawny gold gives the elusive chanteuse a dynamic drip.
6/30
Lucy Liu
Golden and apricot-based blonde colors are ideal for rosier undertones.
7/30
Laverne Cox
Honey hair with less highlights is super summery.
8/30
Sofia Vergara
A honey-hued toner can give a light brunette a twinkly after finish.
9/30
Elizabeth Olsen
This deeper honey shade boarders on a champagne hue.
10/30
Shay Mitchell
A chocolate brown hue made brighter by honey-dipped tips.
11/30
Gwyneth Paltrow
A cool ash blonde is warmed up thanks to fine honey flecks.
12/30
Olivia Wilde
The best honey highlights in the bunch. (Dare you to disagree.)
13/30
Scarlett Johansson
A near strawberry-blonde is the perfect way to test the redhead waters.
14/30
Ciara
Dark honey highlights are a gorgeous complement to caramel skin tones.
15/30
Jennifer Lawrence
An icy honey blonde highlight atop a sunny base.
16/30
Hailey Bieber
Single process blondes have more fun. Keep the look a bit rooty for added dimension.
17/30
Michelle Pfeiffer
Honey blonde in a swingy above-the-shoulders bob.
18/30
Brie Larson
A mellow honey hue in low-key waves.
19/30
Emma Roberts
Quintessential honey blonde—a little white, a little red, and a lot of buttery goodness.
20/30
Jennifer Lopez
Olive skin tone? This blend of blonde and brown highlights is a winning combo.
21/30
Halle Berry
Make platinum tones more subtle with honey chunks.
22/30
Gisele
A darker bronde shade that still falls in the honey family.
23/30
Claire Danes
This coppery honey blend adds in hints of deep brown and red for an even warmer effect.
24/30
Beyoncé
A rich honey shade doesn't have err on the yellow side. Do like Beyoncé and balance out buttery shades with caramel colors.
25/30
Sienna Miller
The darker honey color up top contrasts the creamy blonde highlights that start at her ears.
26/30
Amber Heard
Heard's honey blonde spirals make her fair skin pop. If you're a natural blonde consider taking your hue up a couple shades near the roots for the same effect.
27/30
Rosie Huntington-Whiteley
This freshly-toned color starts off deeper at the root for a natural look.
28/30
Blake Lively
Our perpetual #hairgoals, Blake Lively wears brilliantly styled mermaid waves with balayage honey highlights.
29/30
Jennifer Aniston
Tanned skin looks much more natural with this cooler honey shade than a brighter, lighter blonde.
30/30
Sydney Sweeney
Shadow roots make for a softer feel.
Hannah Morrill is a writer and editor based in Portland, Maine. She's an avid reader, an indifferent face-washer and a sunscreen/retinol evangelist.