50 Must-See Celebrity Top Knots, from the Teeny Tiny to the Towering
Knot to be missed.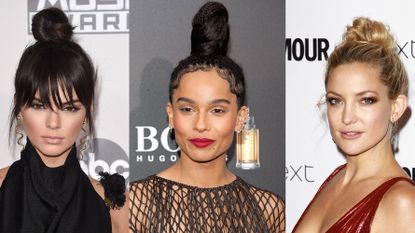 (Image credit: Design by Dana Tepper)
Marie Claire Newsletter
Celebrity news, beauty, fashion advice, and fascinating features, delivered straight to your inbox!
Thank you for signing up to Marie Claire. You will receive a verification email shortly.
There was a problem. Please refresh the page and try again.
Whether you're sloppily throwing your hair into a bun when the weather gets gross or pinning back a sleek, fly-away free topknot for special occasions, take some pause with these perfect celebrity examples.
1/50
Jaime King
The perks of keeping your roots dark with platinum ends? This gorgeous blonde top knot situation. Everything about this look is golden.
2/50
Alexandra Weaver
A round of applause for this stunning red carpet look: a flowing mane, a *braided* center part, and a twisted top knot.
3/50
Andra Day
When you're pulling out all the stops: printed head-scarf, coral lips, fleeky cat eye, and a top knot as the cherry on top.
4/50
Busy Phillips
A quick and easy topknot is a seriously underrated way to avoid doing a half up-do with long hair. Keep it loose and flowing like Busy Phillips.
5/50
Selita Ebanks
When in doubt, the best way to accessorize super cropped, blunt bangs is with a voluminous bun up top to draw the eye.
6/50
Hailee Steinfeld
So many questions about how the hair stylist responsible for this look created a beautiful floral masterpiece out of Steinfeld's own hair.
7/50
8/50
Daisy Ridley
The crown of her head is static-free, but the teeny top knot is accentuated with some on-purpose fly-aways.
9/50
Kate Hudson
The modern day version of the Marie Antoinette bee-hive: a powdered white top knot.
10/50
Freema Agyeman
A super elegant, super tall chignon that's all about the braids.
11/50
Ciara
Don't miss the wispy highlighted strands on this classic topknot style.
12/50
Michelle Monaghan
Knots on knots on knots.
13/50
Yara Shahidi
The sectioned off hair pieces contrasted with long curly side bangs are beauty gold.
14/50
Byce Dallas Howard
Bryce Dallas Howard pulling off layered bangs and a crown-like top knot.
15/50
Janelle Monáe
One of Monáe's signature elaborate hairstyles: hair jewelry is definitely one way to lend your top knot some character.
16/50
Taraji P. Henson
This edgy ultra-long fringe plus super-short-sides look is one of Henson's fiercest red carpet looks yet.
17/50
Kendall Jenner
The bangs and face-framing strands seal the deal here.
18/50
Shay Mitchell
Like a tiered layer cake (except with, y'know, hair).
19/50
Natasha Lyonne
A blunt fringe + a coiled bun = red carpet magic.
20/50
Zoe Kravitz
A taller example accentuated by Kravitz's baby hairs.
21/50
Rooney Mara
The teeniest top knot the red carpet ever saw.
22/50
Keke Palmer
We're loving the jagged edge bangs and the floppy straight-ironed bun.
23/50
24/50
Zendaya
Another mini knot for gals with shorter hair.
25/50
Dascha Polanco
If you've got voluminous curls for days, a half-up top knot can be one of the best ways to mix things up.
26/50
Gigi Hadid
Dark roots and a light braid bun are all part of the equation here.
27/50
Kate Hudson
Try a casual chignon when your face beat is on. point.
28/50
Salma Hayek
Loving this bouffant style gathered on top of the head.
29/50
Rihanna
RiRi's blunt bangs and bouffant bun deserve all the snaps.
30/50
Rita Ora
In which Rita Ora plays "matchy-matchy" with a ribbon the same color as her hair.
31/50
Kristen Wiig
A hair scrunchie to match Wiig's '80s-esque getup.
32/50
Amy Adams
A bouffant that's the height of sophistication.
33/50
Kim Kardashian
A chic pulled-back look we rarely see on Kim K. these days.
34/50
Nicole Richie
Braided and knotted.
35/50
Erin Wasson
A messy DGAF style that's perfect for dry shampoo days.
36/50
Jessica Alba
Not a hair out of place in this conservative style.
37/50
Hailey Baldwin
This wispy bedhead bangs style FTW.
38/50
Nicole Scherzinger
We love the "business on the bottom, party on the top" juxtaposition here.
39/50
Karlie Kloss
Kloss' hairstyle is a simple ponytail pulled up and pinned back that looks just as good on dry hair as it does with wet hair.
40/50
Oliva Culpo
An elegant bun that's sealed with a ribbon.
41/50
Rosie Hunginton-Whitely
The best way to accentuate a scarlet gown at the Met Gala: a chic little top chignon.
42/50
Nicki Minaj
For longer-haired gals, Minaj shows the perfect way to pile your hair on your head.
43/50
Jaime King
A classy yet simple look that you can straight-iron to subdue any staticky strands.
44/50
Taylor Tomasi Hill
Though TBH fly-aways as hair accents is a style we're 100 percent here for.
45/50
Rita Ora
In which hair chameleon Rita Ora displays a next-level silky braided bun style.
46/50
Kaley Cuoco
Exhibit A: The platinum bun.
47/50
Julianne Hough
We dub this "the ninja."
48/50
Busy Phillips
Is there any better way to show off an aquamarine dye job?
49/50
J.Lo
J.Lo at her most figure-skater-esque.
50/50
Miranda Kerr
Basically how we want to walk out the door everyday.
Celebrity news, beauty, fashion advice, and fascinating features, delivered straight to your inbox!