Katherine Heigl's Bouffant Hair: Hot or Not?
The Killers star shocked fans with her latest 'do change.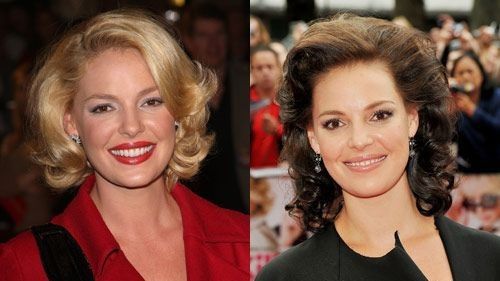 (Image credit: Jason Merritt/FilmMagic (left); Jon Furniss/WireImage (right))
Katherine Heigl is definitely making a hair-raising statement.
The 31-year-old actress — who, for the longest time, resembled the traditional Hollywood archetype of the sweet, blonde Cali girl (opens in new tab) — wore her brunette 'do in a full-on bouffant for the London premiere of Killers on Wednesday.
All day long, the blogs have been buzzing. Although some are criticizing the look (to put it lightly), Gawker.com (opens in new tab) has an interesting take, calling it "motive hair" and claiming that Heigl's decision to channel the style "your Aunt Cheryl got in the late '70s" is a completely deliberate one. But if that's the case, what might her motive be? (Gawker thinks she's hoping the look will catch on like Jennifer Aniston's "The Rachel" (opens in new tab) did back in the early '90s.)
This isn't the first time the star has made some major tweaks to her mane. This past March, she ditched her blonde locks for a role in the film adaptation of Janet Evanovich's book, One for the Money. And even more recently, she's been having fun with the curling iron. Last week, she debuted tightly-curled ringlets at the L.A. premiere of her new comedy.
Tell Marie Claire: Do you like Heigl's daring new hairstyle, or do you prefer she sticks to her blonde, er, roots. Share your opinion in the Comments section below!