Ready for a Skintervention?
When times are tough, the results are written all over your face. Here's help for the skin issues caused by the drama in your life.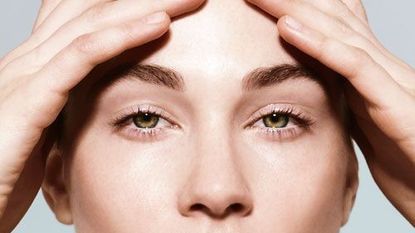 (Image credit: Manolo Campion/The Licensing Project)
PROBLEM: "MY JOB IS CRAZY-STRESSFUL"

POTENTIAL SKIN ISSUE: WRINKLES
Vying for the corner office can come with a side of premature aging, thanks to the negative effect stress has on your telomeres, the little caps on the ends of your DNA that help protect and keep cells—including skin cells—young. In fact, one study linked work-related exhaustion to shorter telomeres.
MENTAL FIX: Exercising 40 minutes a day three days a week buffers the negative effects of stress. If you can't swing a full workout, at least make time for a walk through a park—strolling in green spaces has been shown to relieve stress.
BEAUTY RX: "A low dose of Botox will stop small lines from turning into full-blown wrinkles," explains Dr. Amy Wechsler, a New York City–based physician who is board-certified in both psychiatry and dermatology. And one study showed a correlation between Botox and happiness, as freezing the frowning muscles may prevent the negative emotions that accompany the movement.
PROBLEM: "I HAVE CHRONIC INSOMNIA"

POTENTIAL SKIN ISSUE: DULLNESS
It's one thing to look haggard after an all-nighter, but weeks of sleepless nights can make dull skin the norm. "Transepidermal water loss increases if you're not sleeping," says Wechsler. In nondoctor-speak: Skin can't hang on to moisture. Cell turnover also slows, diminishing radiance.
MENTAL FIX: "No stressful TV before bed," insists Wechsler. "You can't turn off your brain after that." She also suggests reading a calming book.
BEAUTY RX: Dry air from AC units and heaters causes moisture to evaporate from your skin, so run a humidifier at night to stay hydrated.
PROBLEM: "WHEN I HAVE A BAD DAY, I REACH FOR JUNK FOOD"

POTENTIAL SKIN ISSUE: ACNE
When was the last time you saw someone stress-eat a healthy salad? "Emotions play a huge role in what, when, and how much we eat," says Dr. Josie Howard, a San Francisco psychiatrist and psychodermatologist who studies the relationship between mood disorders and skin. Comfort foods—think dairy, white sugar, and fried foods—are often acne triggers because they raise insulin levels, which makes oil production spike.
MENTAL FIX: Out of sight, out of mind: Keep "bad" snacks hidden. If you must have chips, do not do so during a Mad Men marathon. One study found that snackers watching TV ate 28 percent more.
BEAUTY RX: To help prevent acne, wash anything that comes in contact with your face so you're not spreading bacteria. Makeup brushes and pillowcases are the biggies, but wipe down your cell phone, too.
PROBLEM: "I'M DEALING WITH A BREAKUP"

POTENTIAL SKIN ISSUE: SAGGING
In a study of twins, women who went through a divorce looked two years older than their identical twins who hadn't. Relationship drama elevates levels of cortisol, a stress hormone that can degrade the collagen that keeps skin plump.
MENTAL FIX: Research shows meditation may lower cortisol levels. "Even five minutes a day helps," says yoga instructor Kristin McGee. "Sit, close your eyes, and pay attention to your breathing. Don't judge yourself—there's no wrong way to meditate."
BEAUTY RX: Eat a kiwi, the perfect anti-sag beauty food. It delivers more than a daily dose of vitamin C, which plays a key role in collagen synthesis.
PROBLEM: "I HAVE FINANCIAL ANXIETY"

POTENTIAL SKIN ISSUE: PICKING
Anxiety can manifest itself as obsessive skin-picking of pimples and scabs and squeezing of pores. "The trigger can be anything emotionally overwhelming," says Howard.
MENTAL FIX: Step one: Throw out the magnifying mirror. No one needs to see her skin that closely, says Wechsler. Next, put a sticky note on the bathroom mirror that reads Don't Pick! "It sounds stupid, but sometimes you just need a reminder."
BEAUTY RX: Let the spots heal—no scrubbing or aggressive antiaging products until they're gone. After that: Hands off! And apply sunscreen every day, even cloudy days—UV rays can turn scabs into scars.