Joey King's Hair Was Covered In Actual Gold for a Schiaparelli Celebration
Gold leaf was the accessory of choice.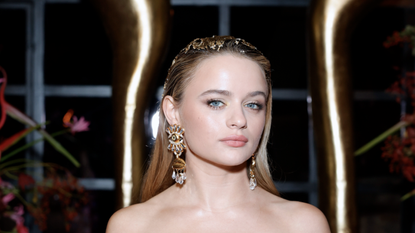 (Image credit: Getty)
Did you know Harry Styles' "Golden" was actually written for… Joey King? Actually, that's not true at all, but the 24-year-old is pretty golden. Having been in the spotlight since childhood, the actress has turned out hit after hit for fans, receiving a Golden Globe nomination in 2020 for her work in The Act. And, in early September, she was the very glowiest bride as she married director Steven Piet in Mallorca, Spain. Still, her shine has never been more physically evident than with her most recent hairstyle.
On Thursday, October 12, King showed up drenched in gold for a cocktail event hosted by Schiaparelli and Neiman Marcus in Los Angeles. Wearing the metallic shade from her crown to her literal toes, a quick Glance at King's hair was all you needed to understand the outfit's thesis. As envisioned by stylist Dimitris Giannetos, the Kissing Booth star's warm-blonde hair was worn down with a slick, wet look on top that cascaded into loose curls behind her. The top of her head was then covered (like, really covered) in gold leaf.
"I wanted to keep the hair very simple. Pushed back just adding a gold element," Giannetos wrote in an Instagram post. The hairdresser began his process with towel-dried hair, eventually blow-drying with a round brush and adding some curls with a 1.5-inch curling iron. "After I shaped the hair. I sprayed more with Uberliss hair spray in order to stick some golden leaves on the crown of her hair. After I placed the gold leaves I sprayed more hair spray and dried the leaves."
With her hair setting the tone for the rest of her look, King wore golden eye makeup and highlighter by makeup artist Allan Avendaño. To get the look, Avendaño used Makeup by Mario's Master Mattes and Master Metallics Eyeshadow Palettes and Katie Jane Hughes' new Hyper Shine High Lite Kit in the shade "Lite Bronze." Per the event's host, King was dressed in Schiaparelli, sporting a golden corset, gold surrealist face earrings, black pants (with a gold-accented belt!), and black shoes (also decorated with a gold accessory). Later, she seemed to change into new shoes that featured gold toe details. Like, it appeared as if her toes were cast in gold. It's a gold ensemble fit for a King after all.
Celebrity news, beauty, fashion advice, and fascinating features, delivered straight to your inbox!