Beauty Around The Clock: Julian Addo, Founder of Adwoa Beauty
The beauty founder discusses why she only uses skincare products with ingredients can recognize, her obsession with Beyoncé, and why she always strives to be her most authentic self.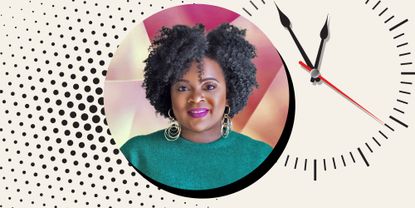 (Image credit: Future)
Welcome to Beauty Around the Clock, Marie Claire's weekly peek into the daily lives of some of the most game-changing men and women in their industries. Ever wonder how they get it all done in a day? Here's your answer.
"Race is a social construct. Hair isn't. When we formulate products, we take a problem and try to solve it" is the saying Julian Addo lives by. In 2017 Addo founded Adwoa Beauty, a non-toxic, gender-neutral beauty brand to help people manage their multi-cultural hair textures—not just Black women.
"People believe because I'm a Black woman I can only make products for other Black people," says the Liberian founder. "But, I make products for textured hair. If a green person has textured hair, I want them to buy the product. I was just so fed up, so I wrote that mantra."
Since launching Addo managed to have multiple products sold in Sephora and—in her words—she's "not looking back." She's following the path she creates for herself. "I don't have to be pigeonholed into what the world thinks that I should do," she says. "I just have to be authentic to myself and to my voice."
Here, the beauty founder dives into what makes her look and feel good while managing her multi-cultural haircare brand.
Rise & Shine
When I wake up, I let my dog out to go to the bathroom. And then once I do that, I rinse my face with just water. And then I'll make my morning smoothie, which is just in my personal size blender and it's kale or some sort of mixed greens that I'll get from Trader Joe's and peanut butter protein powder, a banana and oat milk. And that's my breakfast. And then I'll take a shower and do my proper face washing.
Morning Maintenance
I wash my face with several different things. It's either fresh soy cleanser or Glossier Milky Jelly. I'm also currently testing a bar soap that I brought from Africa. Then I alternate with face masks, like a clay mask or a moisturizing mask. It really helps my skin. I'm getting older, so I'll do a clay mask three times a week. I'm also a big fan of Summer Fridays Jet Lag mask or the moisturizer from Topicals.
Signature Look
Honestly, I don't have a lot of time. Like if you look at old photos of me, I was that girl who would have really nice eyebrows. My eyebrows would be done and I'd be done up all the time. But entrepreneurship has definitely changed me because I just don't have a lot of time. So a signature look for me is a bold red lip because I feel like you look so put together. Like I have nothing on, but my red lip pops so people are like, 'oh, you look nice today!' I love this red lip called extra saucy from Dose of Colors. It really pops and it stays on all day because I'm in between meetings so I don't have time to reapply.
As for blush, I'm using LYS Beauty, which is a black owned brand in Sephora. There's another blush from Rare Beauty. It's very popular. I put them on my lip and just kind of dab it. Then, I just walk out of the door.
Fitness Fix
I have a Peloton treadmill at home and I spend 30 minutes on it every day. I honestly haven't done that in a few weeks, but I am getting over 10,000 steps in because I'm walking my puppy in the morning and in the evening. I have to take him out every two hours or else he's going to pee on something. So the puppy is keeping me fit as well. I try to get the 10,000 required steps a day just because I'm at a desk and I'm on calls all day. It's pretty easy to just sit.
Daily Playlist
I alternate between Burna Boy and Beyoncé. Beyoncé's Renaissance album has put me in a chokehold since it came out. I think if Spotify checked their streaming, I'm pretty sure I streamed it the most in the world. It's on all day in my car. I just love it. I try to listen to other things like the radio, but I just can't get into the sounds from the new kids.
Old-school music puts me in a chill state of mind. If I want to get things done and just kind of zone out, I'll put on Aretha Franklin, or the OJ's. And I love Whitney and Michael Jackson. I'm from that era.
Signature Scent
Maison Francis Kurkdjian Oud Mood Eau De Parfum is my favorite. Whenever I wear it people are like, 'what do you have on?'
Cheap-But-Chic
I don't really shop at drugstores because I'm really into products and ingredients that I can recognize. I'm also support founders I know and love. Even my toothpaste, I use a toothpaste company called Ojook. I friend of mine created the brand and the toothpaste is all natural and made in Japan. It doesn't have all the bad stuff that other American toothpastes have. It's an acquired taste. It's great.
Beauty Icon
Lisa Price from Carol's daughter. She's really amazing. She's someone who really changed the face of clean body and hair products. I really love Aunt Annie Malone, too. We hear a lot about Madam CJ Walker, but Annie Malone was there first. She had the audacity to start a hair care product line and then a school. She was the first Mary Kay.
Hair Help
I have 4A, and 4B hair type. There's no pattern to it. And the back its super loose. But honestly I love it. People complain, but I think it's fun. I think it's like a fingerprint. It's like, we're all different and everybody's different.
My hair routine is so simple. I use our baomint collection and I'll alternate with the blue tansy reparative mask. Once a month I'll do a steam treatment because I have low porosity hair. Then I'll apply the baomint leave-in conditioning styler and a gel. Once I learned how to do a wash and go, it was game over. Before I learned a wash and go, I was a twist out girl, but with that you always have to retwist, so it just doesn't work for me.
Self Care
I really try to be authentic. The world is loud—social media, family, friends, significant others. Everyone has their opinion of how you should do things. So authenticity is key. And I know it's so hard for people to be authentic because they don't wanna be judged or they're afraid that people might not like who their authentic self is. But you have to really march to the beat of your own drum. If you don't, you will go crazy.
P.M. Routine
I start with cleansing my face because it's so oily. I recently started using Augustus Bader cleanser and cream. I try to use things consistently to understand the person's formula. It's a bit difficult for me to get into because the cleanser doesn't lather. But, I know lather and surfactants doesn't mean that it's cleaning. It's a mental thing.
I rotate between that and Dr. Barbara Sturms' cleanser. At night the most important thing for me is that I cleanse my face so that I don't fall asleep with a dirty face. Then I'll wrap my hair up and slip into my pajamas.
Lights Out
This is really bad, but when I go home, I'll take a shower, cook dinner and then I open my laptop. I'm trying to get away from working at night, but I do it. When I'm done I'll either read a book on Audible and follow along with the physical book. Right now I'm listening to Michelle Obama's books.
What I make for dinner varies. Right now I'm trying to change my diet and lose some weight. Last night I had a piece of sea bass. I lightly season the sea bass and I put it in my air fryer. And then I make kale salad on the side. Yummy!
I'm in bed by 9:30 p.m. That's early but over the last few weeks I've had to get up every three to four hours to let my dog Blu potty. Blu is like an infant!
Shop Julian's Favorite Products:
Marie Claire email subscribers get intel on fashion and beauty trends, hot-off-the-press celebrity news, and more. Sign up here.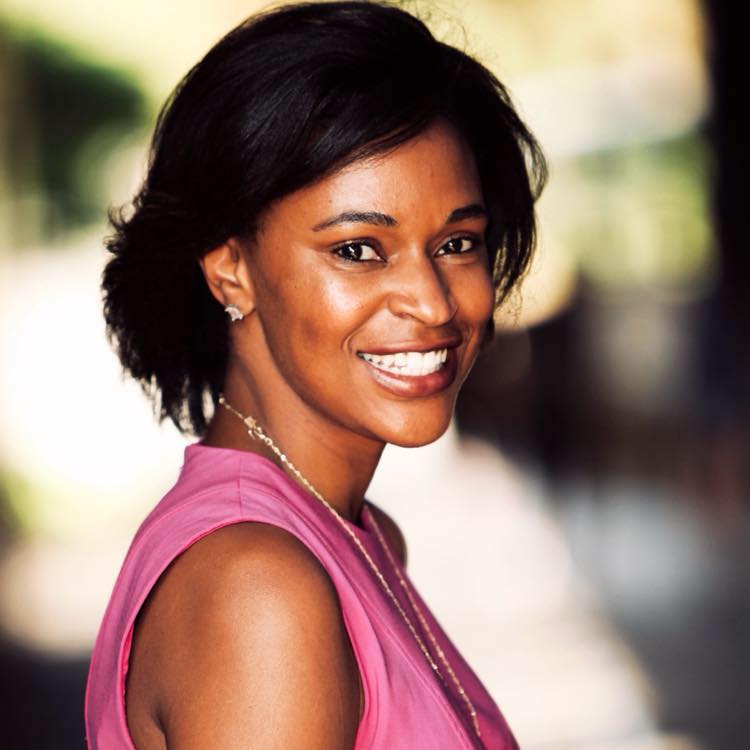 Deena Campbell is the Beauty Director of Marie Claire where she oversees beauty and health content on all platforms. Deena joined Marie Claire after a decade-long career as an editor in print and digital media. Before joining the brand, she managed editorial content for L'Oréal owned Makeup.com and Skincare.com. In 2015, she launched Essence.com's hair channel where she received Time Inc.'s Henry R. Luce Award, shortly before joining Allure.com's staff as Senior Beauty Editor. Along with her editorial positions, she also consulted on content and marketing strategies for beauty companies including DevaCurl and Dove, and has appeared at various speaking events and live television segments.