25 BIPOC-Owned Beauty Brands to Fall In Love With
An ethical, inclusive morning routine? Don't mind if I do.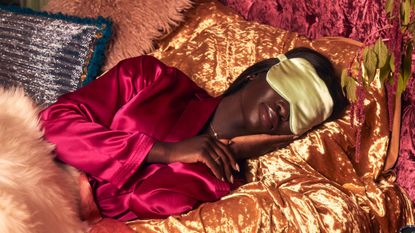 (Image credit: commonheir.com)
If you bookmarked our guide to our favorite BIPOC-owned fashion brands, we've got great news: Not only are you equipped to fill your wardrobe with clothes made by people of color, but now you can also fill your medicine cabinet and makeup bag with beauty products created by BIPOC (Black, Indigenous, and People of Color) entrepreneurs in the beauty industry.
People with deep skin tones―like many Black, Latinx, Middle Eastern, and Indigenous folks―often have trouble finding makeup that suits our skin tones. Whether we're searching for a foundation with olive undertones, a face palette dark enough to sculpt our cheeks, or a lipstick or eyeshadow pigmented enough to show on our lips or skin, traditional makeup brands often haven't risen to meet our needs.
Thankfully, brands like Fenty Beauty are addressing this struggle by producing inclusive, highly pigmented products made with all women in mind. But did you know that there's a whole world of BIPOC-owned beauty out there? Whether you're dealing with acne, eczema, hyperpigmentation, dry skin, or just trying to look glam for the day, these BIPOC-owned businesses are equipped to handle your every need.
Indigenous-Owned Beauty Brands
Indigenous or First Nations peoples in North America are among the most underfunded and structurally unequally treated populations in the United States. Entrepreneurship among Indigenous peoples can allow these communities greater self-determination and equip them with the financial freedom not only to take care of themselves, but to give back to their communities. Check out some of our favorite Indigenous-owned brands, below.
Cheekbone Beauty
Cheekbone Beauty is owned by beauty veteran-turned-CBC superstar Jenn Harper, whose products have quickly developed a loyal following. The brand stays loyal to Harper's Anishinaabe roots through its foundational beliefs in sustainability and giving back to the Indigenous community. Not only has Cheekbone developed a line of low-waste makeup, but they have also donated over $150,000 to organizations benefitting Indigenous education, clean water, and economic development.
Mother Earth Essentials
Mother Earth Essentials founder Carrie Armstrong is descended from a long line of Cree Medicine Women, so you can trust in this brand's authenticity. In addition to haircare, skincare, and soap, Mother Earth is also a lifestyle brand and sells everything from candles to tea to essential oils. Talk about a one-stop wellness shop.
Niawen
Niawen proudly blends science and ancient Native traditions. Founded by esthetician Tara-Tekahentakhwa, the brand's name means "thank you" or "to give thanks," and was inspired by Tekahentakhwa's own skincare journey. Tekahentakhwa had to cope with her acne by wearing thick, "white mask"-like makeup that obscured her Native roots and eschewed her Native heritage. In formulating Niawen's products, Tekahentakhwa embraces effective, science-backed natural ingredients.
Blended Girl Cosmetics
When Blended Girl Cosmetics founder Shí-Fawn was growing up in LeChee, Arizona, she was disappointed by the lack of Indigenous representation in the beauty industry. Thus the cult-favorite cosmetic line was born, starting out as Shí-Fawn Cosmetics before rebranding as Blended Girl. The line carries lipstick, eyeliner, accessories, beauty tools, and a liquid lipstick that's constantly selling out. The brand is also mission-driven, having donated to Navajo/Hopi Covid relief programs, Black Lives Matter, Page Outreach, and individual families in need of economic assistance.
Prados Beauty
Prados is a queer- and Xicana/Indigenous- owned brand committed to giving back. Founder Cece Meadows strives to create products with formula and packaging that are inclusive of all people. The brand also gives back, having donated essentials like clothes, shoes, and PPE to reservations around the U.S.

Black-Owned Beauty Brands
It's no secret that we all need to support more Black-owned brands. Organizations like Black Progress Matters, the 15 Percent Pledge, and the Black Economic Alliance Foundation have drawn attention to the fact that Black-owned businesses are severely and disproportionately underrepresented in terms of mainstream marketing and shelf space among major retailers.
You may have already seen our profiles of Black-owned beauty brands Katini Skin and Pound Cake, but check out a few other game-changing businesses below.
Hyper Skin
Hyper Skin was founded in response to the skincare industry's traditional focus on light skin. Through this clean, vegan beauty brand, founder Desiree Verdejo seeks to create products that focuses on addressing the unique needs of Black and Brown skin, but rest assured―these comprehensive, meticulously researched formulas work on all skin tones.
Ace Beauté
Niye Aniekan-Attang founded Ace Beauté as a means of making beauty fun and accessible for anyone and everyone interested in indulging. From nails to lashes to eyeshadows, this brand carries all of your makeup needs, and even offers a variety of eyeshadow primers so that you can pick the shade that suits your skin best (Black and Brown girls everywhere are crying with joy―IYKYK).
Bossy Cosmetics
Aisha Fatima Dozie founded Bossy Cosmetics when she realized that the beauty industry was more focused on how women looked than how they felt. Thus, Bossy is, in Dozie's words, "obsessed with how their products [make] women feel." With her ethically made products products, she hopes that self-identifying ambitious women feel "ignited" by her cosmetics, which include lipsticks, eyeshadow, eyeliners, and more. Plus, a portion of their proceeds go to a number of their nonprofit partners, which include The Women at Risk International Foundation, Women's Link Worldwide, and Girls Inc.