Loewe's Latest Perfume Launch Is a Botanical Wonderland
It's a treat for all of your senses.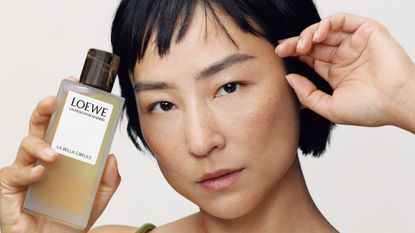 (Image credit: Loewe)
Marie Claire Newsletter
Celebrity news, beauty, fashion advice, and fascinating features, delivered straight to your inbox!
Thank you for signing up to Marie Claire. You will receive a verification email shortly.
There was a problem. Please refresh the page and try again.
Loewe's latest perfume campaign has landed, and it celebrates the last whispers of summer in perfect form. Have you ever walked through a botanical garden and allowed yourself to open up to the world around you? You really feel it all (fresh air! melancholy! your perfectly planned outfit!) and smell it all (orchids! water! the on-site cafe's signature tea blend!). Ultimately, you're enjoying the sensory overload that comes with being alive and in nature; that's exactly what's going on here.
Dubbed the "Botanical Rainbow Campaign," the launch features Úrsula Corberó, Stéphane Bak, and Greta Lee in a collection of photos by longtime Loewe collaborator Tyler Mitchell and a short film by director Albert Moya. Showcasing the actors' ultra-wide emotional ranges in screen-test inspired shots, the campaign celebrates all the ways the world transports our senses.
"Entwined with flowers, leaves, and other botanical elements arranged in the style of Japanese ikebana, the talents demonstrate a kaleidoscope of feeling, from the serene to the bold," the brand wrote in a press release. Shot in black and white, Bak's giant, toothy smile tells us all we need to know.
Besides being lovely to take in, the campaign marks the launch of the brand's new unisex fragrance, Loewe Aire Anthesis, which we named "The Best New Aquatic Fragrance" in our Best Perfumes of 2023 roundup.
"With an aquatic-meets-fruity-meets-amber profile, Loewe's Aire instantly transports me to a dock somewhere with a clear blue body of water," wrote Marie Claire Beauty Editor Samantha Holender in June. "It's one of those options that every single person in your orbit will enjoy."
Beginning with Aire, this new generation of garden-colored scents feature a signature "Loewe accord" based on Spanish rockrose, a dense flowering shrub whose gorgeous blooms last only a day. Other key scents in the campaign include Loewe's 001, Esencia, and Ella (now called the Botanical Rainbow fragrances) and Un Paseo por Madrid, relaunched and rebottled in a new, Botanical Rainbow collection-complimenting flask.
All scents feature a sleek, sensuous, block-shaped design that will look perfectly in place on your vanity—or the garden, if that's where you're headed.
Shop Loewe's Botanical Rainbow Campaign
Celebrity news, beauty, fashion advice, and fascinating features, delivered straight to your inbox!