Summer Skin Care Guide
Swimwear confidence starts with sexy, glowing, sun-guarded skin. Here, the lotions and treatments that get brilliant results.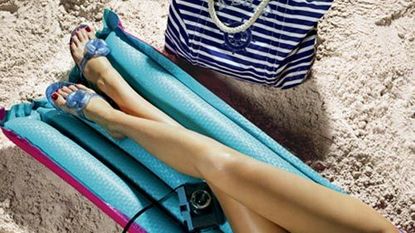 (Image credit: Lee Jenkins)
Midas Touch: Before bronzing or self-tanning, always smooth skin by exfoliating and shaving legs - even if you're a blonde. Peach-colored fuzz? No thanks.
Overexposure: 90 percent of wrinkles are caused by the sun.
Rays of Our Lives: Two-thirds of all sun damage is incidental (e.g., while driving or walking your dog, not lying by the pool).
Bright Idea: Before you choose to lunch alfresco, consider that at midday, sun rays are 10 percent UVB (the burning rays) and 90 percent UVA (the aging rays). Both contribute to melanoma, the deadliest form of skin cancer.
Skinny-Dipping: Slim and lengthen the look of legs by applying bronzer or tinted self-tanner along the outer sides of legs and thighs (from the hips down) and blending inward.
Be Firm: Ever notice how you feel less jiggly when your muscles are sore? Exercise fatigue temporarily firms up muscles, so schedule workouts and bikini days accordingly.
Hello Sunshine

Baking and (heaven forbid) burning belong in the kitchen, not at the beach. But even if you crave a sun-kissed complexion, sun-parched skin (aka wrinkles, sagging, and brown spots) is completely unnecessary. A bevy of new bronzers and self-tanners ensure the look without the damage.
Going to be in ray range? Keep your protection potent by stocking up at the start of the season. (If you're using the right amount, you should finish a 4-ounce bottle with four applications.) Sunscreens have an expiration date - typically a year, says Miami dermatologist Dr. Fredric Brandt. But if your bottle has been sitting out in the sun or heating up in the car, toss it. Ironically, some sunscreen ingredients lose their efficacy when exposed to heat.
Regardless of what the bottle claims, no formula is truly waterproof, warns Los Angeles dermatologist Dr. Ronald Moy. While water- or sweat-proof formulas last longer, "sunscreens do wash off with water - whether you're sweating or swimming," says Moy. To stay protected post-pool, reapply every two hours or after toweling off.See our favorite sunscreen and tanning products here
Bare Necessities

Sexy summer skin starts with cellulite-smoothing. While many dermatologists agree that topical treatments are unlikely to produce permanent results, massaging in a caffeine-infused cream can temporarily boost circulation and plump skin to make cellulite less visible. Regular exfoliation and moisturizing also help improve skin texture to minimize lumps and bumps.
As for removing unwanted hair, new regrowth-inhibiting creams and at-home bikini groomers buy you more time between waxing, depilation, or shaving. Lasers offer a permanent option but should be avoided even if you have the slightest tan. "Lasers target pigment, and since tan is pigment, it's a potential competition for the laser and could cause problems, like burning," says NYC dermatologist Dr. Bradford Katchen. If you're planning on going out in the sun, he suggests de-fuzzing at least a day before hitting the beach, especially if you use a depilatory or wax. "Both can make skin sensitive, and sun exposure will increase the irritation," he says. Yet another reason to spend some quality time under your big beach umbrella. See a selection of summer's best skin care products here