Makeup How-To: Wear Light Purple Eyeliner for Brown Eyes
Make your brown eyes sparkle with these light purple shadow and eyeliner combo.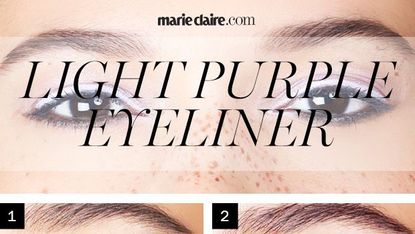 (Image credit: Kathryn Wirsing)
Step 1. No need for a brush. Using your ring finger, press on a lavender shimmer shadow all over the lid to the crease.
Step 2. Use a soft kohl eyeliner for the thickest application. Then apply a light purple eyeliner from the inner corner of the eye to the outer corner.
Step 4. Using a black kohl eye pencil, fill in your waterline and lower lashes.
Step 5. Make the light purple liner pop. Wing the black liner out in one stroke, starting from the bottom outer corner or your eye.
Step 6. (Optional) Apply a purple mascara to really bring out the color.
More Makeup How-Tos: