10 Best Fall Lipstick Shades
Mouth off in one of fall's new statement shades.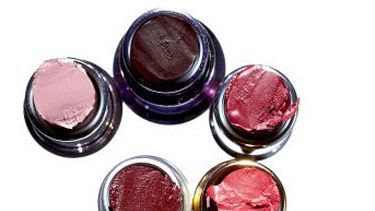 (Image credit: Jeffrey Westbrook)
Top Row from Left
1. UNCORKED Pure pigments for lasting color, champagne essences for tingle. Too Faced Lip of Luxury in Centerfold, $18.
2. TOUGH COOKIE Sweet crème-caramel flavor belies the almost-black shade. Urban Decay Lipstick in Apocalypse, $22.
3. CRIMSON PRIDE A red that's equal parts proper and playful. Bourjois So Rouge Lipstick in Trendy Rouge, $15.
2nd Row from Left
4. HOT WAX Flower extracts add moisture, while bran wax creates a protective seal. Origins Flower Fusion Hydrating Lip Color in Peony, $16.
5. CHERRY BALM The shade is girly, but the silk moisturizers and vitamins are all business about combating dry lips. Revlon Super Lustrous Lipstick in Cha Cha Cherry, $7.99.
3rd Row from Left
6. DARK ANGEL A devilishly deep burgundy to enhance a vintage lip look. MAC lipstick in So Scarlet, $14.
7. NATURAL-BORN FILLERS Spherical powders fill lines and add a dash of sheen. Sally Hansen Natural Beauty Inspired by Carmindy Lip Color in Sparkling Berry, $9.95.
4th Row from Left
8. PEARLS RULE Vitamins A, C, and E and microsize pearls boost shine. Elizabeth Arden Color Intrigue Effects Lipstick in Cayenne Pearl, $19.50.
9. PINK BIG Hyaluronic acid smooths and plumps. Yves Saint Laurent Rouge Volupté in Fetish Pink No. 8, $34.
Bottom
10. DREAM CREAM A mineral-based lipstick with rich, creamy texture. Bare Escentuals 100% Natural Lipcolor in Bavarian Crème, $15.