Murad's New Retinal ReSculpt Overnight Treatment Is a Mini Facelift in a Bottle
These before-and-after photos are wild.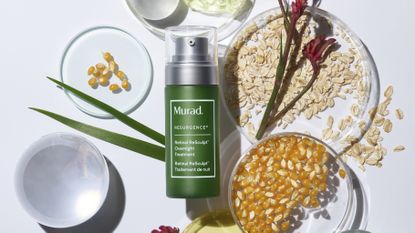 (Image credit: Courtesy of Murad)
If you know me, you know I'm oddly passionate about retinoids. I'm a firm believer that every single person over the age of 25 should be using one—and pretty much every dermatologist will agree with me. The vitamin A derivative is an anti-aging powerhouse that speeds up cell turnover, reduces fine lines and wrinkles, and boosts collagen. One benefit you typically don't see listed on the label? The ability to sculpt, which is in part why Murad's brand-spanking-new Retinal ReSculptTM Overnight Treatment, which starts working in as little as two weeks, is about to shake up the status quo.
Consider this the official announcement, because the $105 product *literally* just launched—and we have all the exclusive details, before and after images from clinical trials (the proof is in the pudding, so to say), and the breakdown on how the sculpting process actually works (I promise, it's not just a marketing ploy). To read up on the details, and shop, scroll ahead.
What's the Deal With This Retinal Anyway?
If you want to do a deep dive, you're going to want to check out our one-stop-shop guide to retinoids and retinol that gets into all the science-y, nitty-gritty details. But for now, I'll go over the SparkNotes version. A retinoid is what you get from your dermatologist—it's prescription only. If you want to buy something from Sephora, Ulta, or the drugstore, you pretty much have two options: Retinol and retinal. The latter, which is used in Murad's new product, has been clinically proven to work nearly 11 times faster than traditional retinol.
But, there are plenty of retinal products on the market, some of which are extremely effective with five stars across the board. The differentiating factor between those products and Murad's is the delivery system. "Our retinal is encapsulated in an exclusive delivery system for enhanced stability and targeted delivery deep within the skin's surface, allowing for 2.5 times more effectiveness versus free retinal," says Dr. Howard Murad, the founder of Murad. To put it simply, the encapsulation protects the power of the retinal until it works its way all the way down to the spot in the skin where retinoid receptors are located. "Not all encapsulates are created equal and the encapsulate we use for our formula is a highly specialized liposome, custom designed for retinal, to not only help drive it deeper into the skin but to target its release where it is most needed," adds the brand's VP of Research and Development Andrew Koenig.
So, Can Murad's Treatment *Really* Sculpt in Two Weeks?
I'll admit, I was skeptical. If retinal has the power to sculpt in 14 days, it would have been listed in the "benefits" section of every product, right? Wrong. After consulting with Dr. Murad, Koenig, and board-certified dermatologist Dr. Karan Lal, who is unaffiliated with the brand, it became clear how this technology is different from the competitors.
It boils down to two things: Kangaroo paw flower extract and the retinal delivery system. "Kangaroo paw flower extract helps improve the appearance of sagging skin and smooths wrinkles, giving a sculpted and lifted look to the skin," says Dr. Murad. It's rich in ferulic acid, which has been proven to firm the skin, and as a result, tighten the area along the jawline.
Then there's the encapsulation of it all. While a prescription product is still stronger, the encapsulation of the retinal does result in enhanced efficacy when compared to other retinals, a quicker turnaround time, and less irritation. Plus, the before and after photos, which were taken four weeks apart, are hard to question.
Will I Get Irritated?
Irritation is always a possibility, so I won't sit here and tell you that you're 100 percent in the clear. That being said, retinal is inherently less irritating than a prescription option, and encapsulated retinal minimizes your chance for dryness, redness, and flaking. The product also contains a handful of calming, soothing, and hydrating ingredients to mitigate the drying effects. "Olive leaf extract, oat lipids, and alpha glucan work together to support skin's resilience, boost moisture, restore the skin's barrier, and counter traditional vitamin A drawbacks," says Dr. Murad.
My Review
I'll be honest: I've been on a prescription-strength retinoid, at the highest strength, for over a decade. For some reason, I'm able to tolerate it. But because it goes so heavy on the exfoliation, my skin is wildly sensitive and extremely reactive to every other product. I test new skincare products sparingly—I'm not trying to live in a constant state of redness and irritation. But when this landed on my desk a few weeks ago, I decided to give it a real go. I'll never part ways with my prescription retinoid, but I scaled down my usage to every other day in order to test the Retinal ReSculpt Overnight Treatment.
My first thoughts were pleasant: Nice texture, no oily residue, a simple and fairly nonexistent scent. There was no tingling, tightness, or irritation off the bat. Quite frankly, I had no notes.
As the queen of the sensitive skin club, though, I thought I was just biding time until irritation, flakiness, and dryness set it. But fast forward two weeks and somehow, someway, I completely side-swept all three. Chalk it up to the encapsulated retinal delivery system or the inclusion of olive leaf extract and oat lipids, but my skin felt balanced and looked hydrated.
I admittedly don't have fine lines or wrinkles yet, so I wasn't expecting to see any dramatic shift on that front—I'll let the before and afters speak for themselves. That said, my skin did look bouncier, more radiant, and if I'm being completely honest, less irritated after the four-week mark. In fact, I'm planning on sticking with this every-other-day routine.
Celebrity news, beauty, fashion advice, and fascinating features, delivered straight to your inbox!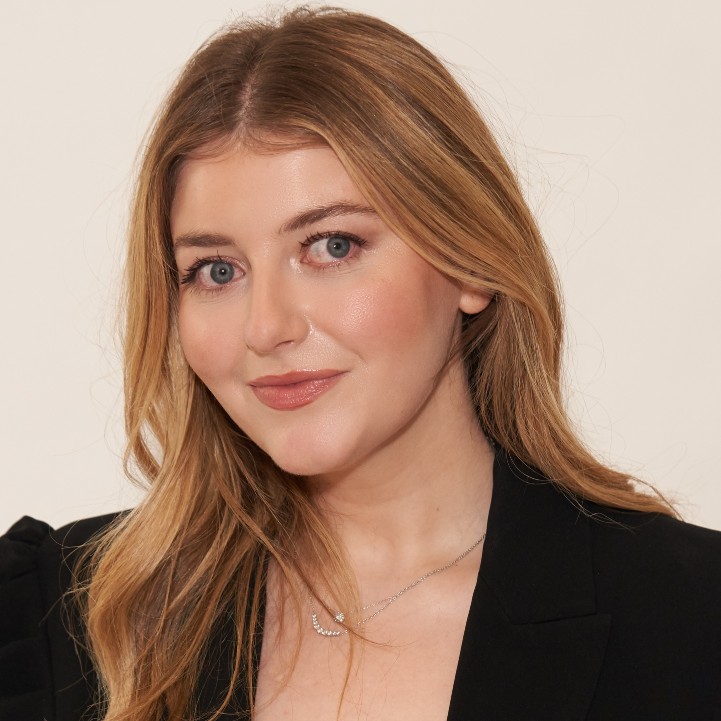 Samantha Holender is the Beauty Editor at Marie Claire, where she reports on the best new launches, dives into the science behind skincare, and keeps up with the latest trends in the beauty space. She has previously written for Us Weekly, Popsugar, Makeup.com, Skincare.com, and Philadelphia Wedding. Follow her on Instagram @samholender.