I Wore Pat McGrath's Cult-Status Glitter Lips for 12 Hours Straight and Here's What Happened
✨✨✨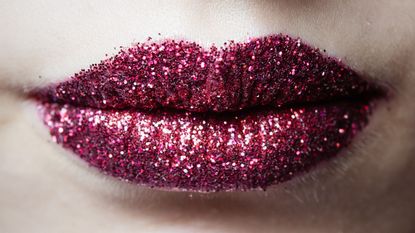 (Image credit: Getty Images)
Earlier this week I found myself in the presence of greatness, her majesty of makeup Pat McGrath, who, under lock and key, presented a handful of beauty editors her next hotly-anticipated product launch: Labs Lust 004, a lip kit that literally leaves all others in its magical glitter dust.
Much like a greatest hits album, the 11-piece collection contains all the ingredients behind McGrath's most iconic lip looks to date, from the molten gold pouts at Prada Spring 2016 to the ruby-slipper-like lips at Atelier Versace month.
During the preview, one of McGrath's pro artists graced me with my very own red glitter lip. It was so epic that I decided to keep it on all day. I'm talking 12 hours, business as usual, without reapplying. Here's how things played out:
Morning
The glitter lip (a hybrid of two matte shades with a top coat of the microfine glitter) was surprisingly easy to get used to. Though in the first hour or so, I had to be veeeeery conscious of the fact that the glitter was going to get all over my teeth. And let me just say, to anyone who wants to rock this look IRL: Swallowing sparkles is just something you're going to have to get used to.
Sparkle status: ✨✨✨✨✨
Early Afternoon
I spent the first part of the day going out of my way to keep my mouth in tact. That meant: limited talking, limited smiling, limited mouth-touching of any kind. Still, I was surprised at how well the lip was holding up. The trick? Sipping everything through a straw.
And just to give you an idea of the office's reaction: My colleagues are used to seeing me try all kinds of crazy hair and makeup looks in the name of beauty, but this got a whole new kind of attention. My boss stopped mid-work-convo to discuss the lips. She pulled her boss over to see them. People wanted to get all up in my grill, even going so far as to literally *touch my lips*. But instead of going all hands-off-my-sparkles on 'em, I let it go, because let's be real, I'd totally do the same thing.
Sparkle status: ✨✨✨✨✨
Late Afternoon
Things were crazy at the office (leave me alone, gawkers!), so I didn't get to eat lunch until late in the day. I bought a wrap and took one bite—mistake! Then, in my newfound glitter-lipped wisdom, I put the wrap down and instead went at it with a fork and knife. It helped, but chewing carefully was a sport in and of itself. I had to open my mouth extra wide (attractive, I know) to be sure those pesky leafy greens didn't sideswipe my pout.
Sparkle status: ✨✨✨
Evening
After a coffee run (during which all the baristas collectively swooned over my shimmery lewk), I examined my lips and found that they were starting to pill a little around the inner corners. But only someone obsessively staring at them (ahem me ahem) would notice. Not too shabby considering it had been over seven hours since my initial application...
Sparkle status: ✨✨✨
Late Night
A shadow of my former sparkly-lipped glory—but a really pretty shadow, no? The glitter was definitely more sparse, but overall the look was very solid considering the wear and tear of the day. Emboldened, I decided to do something crazy in glitter-lip land: eat a burger for dinner.
Sparkle status: ✨✨
After burger...
PSA: An oversized, drippy burger will be the death of your glitter lip, so just save it for the end of the night after you've slayed for 12 hours straight!
Sparkle status: ✨
Slay status: ✨✨✨✨✨✨✨✨✨✨✨✨✨✨✨✨✨✨✨✨✨
The lip kits are $60 each, and include two complimentary lip shades (either Bloodwine, Vermillion Venom, or Flesh), a high-shine gloss, micro-fine glitter, and molten gold pigment, but if you want, nay NEED every single offering, there's the Everything Kit that has it all for $150. Additionally, each lipstick will be sold separately for $25.
Lust 004 will be available at 12 p.m. on Tuesday, August 30th at patmcgrath.com, with a national release on Sephora.com and in select Sephora stores on Thursday, September 8th. Each kit is $60, and the Everything Kit is $150.
Follow Marie Claire on Facebook for the latest celeb news, beauty tips, fascinating reads, livestream video, and more.
Celebrity news, beauty, fashion advice, and fascinating features, delivered straight to your inbox!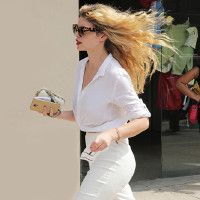 Lauren is the former beauty editor at Marie Claire. She love to while away the hours at coffee shops, hunt for vintage clothes, and bask in the rough-and-tumble beauty of NYC. She firmly believes that solitude can be a luxury if you've got the right soundtrack—that being the Rolling Stones, of course.