Hailey Baldwin Reveals the One Hairstyle She'd Wear Every Day If She Could
For this model, social-media star (9.7 million Instagram followers), and face of L'Oréal Professionnel, new hairstyles are just part of the gig.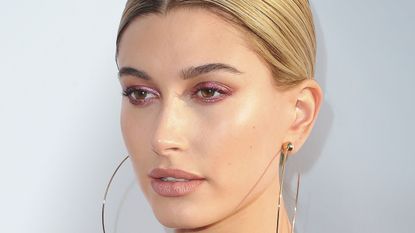 (Image credit: JON KOPALOFF/FILMMAGIC/GETTY IMAGES)
I started coloring my hair when I was 14 and have tried everything. I've gone light to dark to light again. I've dyed it gray for Coachella; I've chalked it pink for a music-video shoot—and if I had it my way, it'd be baby pink every day.
It's all taken a toll on my hair. Right before I began modeling, at 17, it was the longest it had ever been without extensions. It basically hit my waist! But I wanted a more fashion-forward cut to start my career, so I chopped it off to my shoulders.
The aesthetic I'm going for now? Healthy. But it's hard to keep it that way because I put my hair through so much for my work with the extensions, styling, hot tools, and blowouts. It gets so thinned out. I can tell it's time for a salon visit when I brush through it and there are damaged little blonde wisps that break off on the brush. I get the L'Oréal Professionnel Pro Fiber Re-Create ($40; lpsalons.com) treatment. Then I use the Re-Charge at home for a boost. Other than that, I use a lot of coconut oil to keep it hydrated—and, to be honest, I use that from head to toe.
My mom has really thick Brazilian hair. But nope, I got mine from my dad. We jokingly call it "chicken feathers." Still, my mom has influ- enced how I treat my hair: She likes to use only natural or not-too-processed products. For the L'Oréal Professionnel campaign, designer Vanessa Bruno created these soft, beautiful tones for the INOA It Looks collaboration. It's ammonia-free and has an oil-delivery system, so even though we dyed my hair three different times for the shoot, it was so gentle, and my hair didn't feel damaged after.
Being in the spotlight, I think it's important to look put together and maintain a nice persona. My look is something that I definitely think about. Sure, there are times when I'm out in sweats, but I never want to look sloppy. My inspiration comes from models like Claudia Schiffer and Christy Turlington Burns; they always look amazing. I want to be like that in my career. I've had a lot of "pinch me, is this really happening?" moments, like shooting with Karl Lagerfeld or, last year, when a campaign I was in was all over the billboards. But there's still so much more I want to accomplish.
1. My first beauty memory was playing with stage makeup, since I grew up as a dancer—I remember having to go crazy for performances. HAILEY BALDWIN FOR MODELCO Kiss Pot Rose Lip Balm, $26; modelcocosmetics.com.
2. My perfume is from Bond No. 9 New York. I'm from New York, so I like to go to the store right on Bond Street in Noho to get my fragrances. BOND NO. 9 New York Signature Scent Perfume, $370; bondno9.com. 2.
3. "I have to be diligent with my hair: I use this line and regularly cut off the dead ends to make sure it feels healthy. The struggle is so real." L'ORÉAL PROFESSIONNEL Pro Fiber Re-Charge $36, and Pro Fiber Re-Create Shampoo, $32; lpsalons.com.
Go behind the scenes at Hailey's Fresh Faces cover shoot:
This article appears in the June issue of Marie Claire, on newsstands now.