Olympians Gabby Douglas and Jordyn Wieber Share Their Hard-Working Beauty Routines
Two of our favorite gymnasts from the Fierce Five shared with us their beauty routines and what they really thought of that whole hair controversy.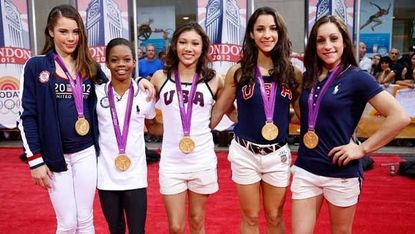 (Image credit: Marie Claire)
It's been a few months since the world was captivated by the 2012 Summer Olympics, but our our gold-medal girl-crushes on the Fierce Five — the gymnastics team that won the second-ever gold for the U.S. in the women's team competition — have yet to wane. So, when we got to meet two-fifths of the team, Gabby Douglas and Jordyn Wieber, we tried to, in the spirit of the London games, stay calm and carry on.
We asked the ever-adorable Gabby, 16, and Jordyn, 17, all about the competition, their rise to fame, and their makeup routines (come on, they are teenage girls after all!).
You guys are kind of a big deal. Were you aware of the fame that was building up around you while you were in Olympic Village?
Jordyn: I think the biggest thing we noticed from Twitter was that people were really excited, but other than that, we didn't know what things were like back in the United States because we didn't have access to anything.
Gabby: We were disconnected.
Jordyn: Now it's so surreal. After the team competition, we got so many tweets from celebrities. It was really cool to know they were out there watching us and supporting us.
It's quite incredible, too, that you all worked so well as a team but also had to compete with one another individually. Is it difficult to operate on those two levels?
Jordyn: It's not hard for us to separate, you know? But even though we compete against each other, we're really just so close-knit that we're able to cheer each other on and support each other no matter what. We've been training together for a few years now at training camps at the national team center. We just got to know each other over the years and now we're even closer.
Okay, now on to the important stuff. What's your pre-competition beauty routine?
Jordyn: A couple of hours before we start getting ready, we set out our leotards and then we start doing our hair and makeup. I always make sure that my hair is straightened because I like to put it back in a ponytail. My hair's pretty wavy. Then, I make sure it's really neat with spray. For makeup, I usually do the same thing as any other day but with a little bit more accentuating of my eyes with a lot of mascara and eyeliner. We like experimenting with makeup together — I like to match up my eyeshadow with my leotard — and just making sure that we feel confident. The more confident you feel the better you look and if you like the way you look, you're able to be more confident on the competition floor. I think that plays a huge role in gymnastics.
Gabby: I like to go for that bun look with my hair slicked back. I finish it off with Pantene hairspray. It really holds your hair in place, and it's all stable. For the makeup, I like to go for the natural look, and I use a base and a bit of blush. I like to play with different eye shades. I love the Covergirl mascara — it really defines your lashes. That and a little bit of eyeliner is very classy. I finish off with my lips. I usually go for the glossy look.
We know that you all did your own makeup for all of your meets and events, which is so impressive, what with all the HD cameras and the fact that the Olympics weren't even just a national TV event, but a global one. But for all your post-Olympic appearances, have you gotten the start treatment?
Jordyn: Yeah, I love it! I'm like, "Can I take you with me?"
While you all are training, you are working out all day, every day. What's your beauty regimen like then?
Jordyn: It's a little bit different. For competitions, I usually try to put more makeup on but for everyday it's a little more natural, not so much caked-on because we go to work out straight in the morning and you don't want to sweat all your makeup off. So, I just try to put a little Covergirl mascara on or if I'm going out to dinner, I accentuate my eyes a little more. Keeping it natural, but I like the glam.
Gabby: You sweat, so I use Olay's deep-cleansing face wash and get really deep into my skin and just rinse it all off. You definitely want to go to sleep with a clean face and you want to start off with a clean face in the morning.
Do you use a moisturizer?
Gabby: I just wash my face, and that's it!
Ah, to be young! Speaking of, some of the best makeup tricks a woman learns, she discovered from one of her girlfriends at a sleepover. Do you all share tips with one another?
Gabby: We do each other's hair and makeup. Kyla did Aly's hair — she did the fishtail ponytail so everyone was digging that. I'll be like, "Jordyn, does this eye shadow go with my shirt?" And she'll be like, "Ummm, go a little darker." And when we all wore red leotards for team finals, we were all like, "let's wear red lipstick!"
Jordyn: McKayla gave me a tip to put eyeshadow underneath your eyes, so I tried that and I really liked it!
Gabby, you became the first African-American woman ever to take gold in the all-around individual title in gymnastics. It was a huge achievement, but for some reason, the internet was focusing on something else entirely: your hair. We still don't understand why the style of your bun is so controversial, so what were you thinking when all that went down?
Gabby: I really don't know. It was this little thing that became a big conversation. I think they were saying things about the clips and the little stub of the ponytail at the bottom, but I just like to focus on the positive side. I wasn't going to let them drag me down.
We really liked how you said that this isn't a beauty pageant and that you're an athlete. It's so true — you don't see people criticize marathoners or divers about their hair.
Gabby: Yeah, like, we can't carry brushes in our bags because they're full of more important stuff!
What is in your bag?
Gabby: We use our grips for bars to have our wrist support, and we have to take rollers with us to massage our legs and roll out before we start. Makeup-wise, just Covergirl mascara and lip gloss. We've got our phones, our iPods to listen to music.
What music do you listen to pre-meet?
Gabby: I always have my iPod on shuffle and I'll skip through all the stuff I don't like. I just look for anything that will get me pumped up.
Jordyn: Upbeat music gets me going.
So, you are probably still reeling from the Olympics, but what's next? Any time to just sit back and relax after all your hard work?
Gabby: You have to squeeze in vacation time. If you want it, you have to do it now. You can't do it later because 2016 is going to pop up right around the corner.
Jordyn: We're only home for about two weeks and then we get back together and are going on tour for three months. That'll be fun. It's the Kellogg's Tour of Champions, so we go to forty different cities just to perform for our fans that didn't get to come see us in London. They're not necessarily intense routines, but they're going to be fun.