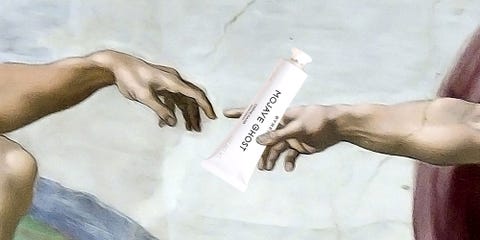 Getty + design Bridget Burns
Let's be honest: Most hand creams are boring. You rub 'em around your skin for a few seconds, curse the fact that your hands are temporarily sticky, and then immediately forget about it—until you need to reapply again in 15 minutes, because the crappy formula already evaporated.
But this isn't the part where I tell you that I found a bunch of magical, awe-inspiring formulas that shoot rainbows and grant wishes, because at the end of the day, it's still just hand cream. I will say, however, that the product you choose really does matter, unless you're into greasy fingers, headache-inducing fragrances, or, god forbid, surprise glitter.
So rather than leave you to play a game of chance in the skincare aisle, I've rounded up a mix of the most effective hand creams you'll actually want to slather on every day.