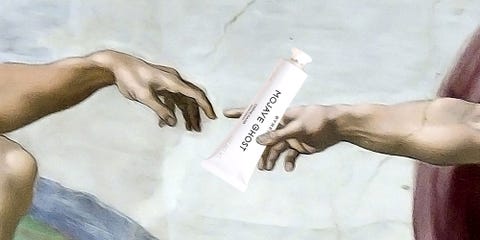 Getty + design Bridget Burns
Let's be honest: Most hand creams are boring. You rub 'em around your skin for a few seconds, curse the fact that your hands are temporarily sticky, and then immediately forget about it—until you need to reapply again in 15 minutes, because the crappy formula already evaporated.
But this isn't the part where I tell you that I found a bunch of magical, awe-inspiring formulas that shoot rainbows and grant wishes, because at the end of the day, it's still just hand cream. I will say, however, that the product you choose really does matter, unless you're into greasy fingers, headache-inducing fragrances, or, god forbid, surprise glitter.
So rather than leave you to play a game of chance in the skincare aisle, I've rounded up a mix of the most effective hand creams you'll actually want to slather on every day.
1
This Lanolin-Filled Cream
Lano Coconutter Hand Cream, $14
Lanolin, meet hands. Hands, meet the best thing to happen to you since nail polish. This coconut oil–based cream is filled with lanolin—an incredibly rich, protective ointment made from sheep's wool—so it smells like a piña colada but hydrates skin like gallon of water.
Clinique Deep Comfort Hand & Cuticle Cream, $24
Most hand creams seem to evaporate from your skin by the time you snap the lid closed, but this rich, buttery formula hydrates with squalene and locks in moisture with meadowfoam seed oil, so your hands stay soft for a full 12 hours.
3
This Powder-Soft Ointment
Neutrogena Norwegian Formula Hand Cream, $6

This fragrance-free ointment dries down to an astoundingly non-greasy, powder-like finish, so your hands will immediately be free to check Twitter, without worrying about smudging the screen or, worse, dropping the phone.
Byredo Mojave Ghost Hand Cream, $36

Yes, this is expensive, but the price is easier to stomach once you realize it not only smells exactly like an earthy, intoxicating summer night, but also looks like a million dollars on your vanity (and your Instagram).
Kiehl's Ultimate Strength Hand Salve, $16
This avocado oil–based salve (which, in terms of thickness, is a step up from an ointment and two steps up from a cream) forms a protective, glove-like barrier around your damaged skin—or, as the tube states, around your "active hands," even if the most exercise your hands get is opening a bottle of wine.