Editors handpick every product that we feature. We may earn commission from the links on this page.
The 5 Best Peel-Off Face Masks That Won't Destroy Your Face
Because raw, ripped-off skin is *so* last year.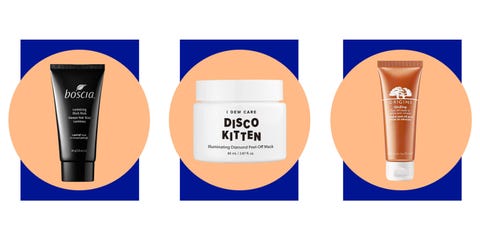 Courtesy of Brands/Design by Sierra Piland
Okay, we're not going to pretend that we love peel-off masks, because most peel-off masks are actually awful for your skin—they adhere to your face like glue, forcing you to rip off the top layer of your skin barrier, while doing nothing for your pores. And if you've ever seen the recent horrifying trend of painful peel-off mask videos, you know exactly how awful they can be.
But that's not to say all peel-off masks are inherently terrible, as long as you choose the right formula for your face and know your limits (once a week, and nothing more). Which means sorry, sensitive- and dry-skinned butterflies—this is not the mask you're looking for. But if your skin tends toward oily and can pretty much survive a nuclear war, then go forth with these five masks, and enjoy the smooth, matte face of your dreams.
This content is created and maintained by a third party, and imported onto this page to help users provide their email addresses. You may be able to find more information about this and similar content at piano.io