The 14 Best Clay Masks of 2023
Excess oil doesn't stand a chance.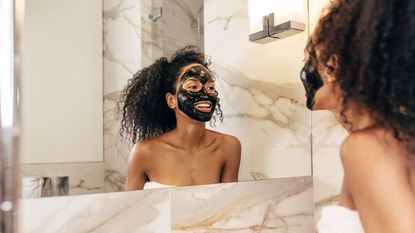 (Image credit: Artem Varnitsin / EyeEm / Getty Images)
If blackheads, large pores, and a wildly oily, borderline slippery complexion tops your list of skin concerns, it's due time to take a *really* close look at your skincare routine. Blackhead removers might be able to de-gunk your T-zone and it's possible a well-vetted pore vacuum can just suck the pus out of those nasty whiteheads. But when it comes to a do-it-all solve? The best clay masks reign supreme—they're the MVPs for oily and acne-prone skin. "Clay masks are known for their oil-absorbing qualities, which makes them helpful in both removing excess grease from the skin's surface and giving the skin a matte texture," explains board-certified dermatologist Dr. Viktoryia Kazlouskaya. "They also have an anti-inflammatory effect and may be used for acne-prone skin."
The power of this kind of face mask lies in its ingredients. Some heavy duty options will be loaded with various clays that quite literally extracts the dead skin cells and grease out of your face. Others will be infused with salicylic acid to fight blackheads, while some will have a touch of glycerin to amp up hydration. The moral of the clay mask story: There's something for everyone. And to help make picking the best option for you a heck of a lot easier, we've rounded up the best clay masks for every skin type and concern, ahead.
Should I Use a Clay Mask?
Clay masks are going to be best for oily and acne-prone skin. That shouldn't come as too much of a surprise given their job is quite literally to remove oil and reduce the look of large pores. That said, other skin types may want to proceed *extra* carefully. "Clay masks may slightly dry the skin out, therefore people with dry and sensitive skin should use them with caution," says Dr. Kazlouskaya.
That said, clay masks are by no means off limits to sensitive skin types. "Even sensitive skinned patients can benefit from the benefit of a clay mask formulated for sensitive skin," notes Dr. Lian Mack, board-certified dermatologist and founder of GlamDerm. "However, this is where it becomes important to check ingredients. For example, if you are sensitive and are prone to redness or rosacea consider looking for a clay mask compounded with gentle ingredients like niacinamide, chamomile and aloe."
What to Look For
Charcoal, kaolin clay, or bentonite are typically going to be the baseline for a clay mask. They're the foundation and you'll probably find at least one, if not a combination of 'em, on the INCI list. But everything that comes after the base is what's really important. "The ingredients that you look for in a clay mask depend on your skin and its needs," explains Dr. Mack. For example, if you need a little extra moisture, Dr. Kazlouskaya recommends looking for glycerin, petrolatum, or panthenol. Want to reduce inflammation and amp up antioxidant protection? Search out ingredients like green tea or jojoba oil. And if exfoliating dead skin cells is your main concern, then salicylic acid is going to be your BFF.
How Often to Use a Clay Mask
There's no cut-and-dry formula on how frequently you should use a clay mask—it honestly is up to you. Just listen to your skin and don't overdo it. As a rule of thumb, one time a week is going to be plenty. "Clay has a natural exfoliative property. In addition, most clay masks are made with other active ingredients like alpha hydroxy and beta hydroxy acids. Too much exfoliation can lead to a rash or irritant contact dermatitis," explains Dr. Mack. "Moreover, clay helps to minimize oil or sebum production and if you are not naturally oily, the drying effect of clay may over-dry you, creating an eczema-like reaction in the skin."
The Best Clay Masks
The Best Moisturizing Clay Mask
Cetaphil Dermacontrol Purifying Clay Mask
Cetaphil knows a thing or five about sensitive skin. Seriously, they kind of have a trademark on the whole non-irritating thing. So rest assured when developing a detoxifying clay mask, they were going to do so in a way that doesn't strip the skin. "This contains additional moisturizers like glycerin, petrolatum, shea butter, and avocado oil to keep skin moisturized," points out Dr. Kazlouskaya. There's also apple fruit extract in the mix to provide gentle exfoliation and get rid of any dead skin cells, dry spots, or rough patches.
Pros: Derm-approved; Hydrating; Affordable
Cons: Stronger options for non-sensitive skin
The Best Clay Mask for Irritated Skin
Vichy Mineral Pore Purifying Clay Mask
You know those days where you feel like your skin just hates you? Yea, same. Maybe your redness is acting up, maybe your acne is feeling particularly vengeful, or maybe it's just all out of whack with the season's change. Regardless, this is a skin-balancing savior. "Vichy's clay mask is formulated with volcanic water that was proven to strengthen skin barrier function," explains Dr. Kazlouskaya. "It additionally contains aloe vera to soothe the skin." Pair a healthy and strong skin barrier with the calming effect and your skin will be in a happier, less inflamed state after one use.
Pros: Derm-approved; Affordable; Soothing
Cons: Slight scent; Hard to wash off
The Best Clay Mask for Fine Lines
Strivectin Multi-Action Blue Rescue Clay Renewal Mask
Detoxing the skin is the main goal—that's obvious. But this specific clay mask has loads of other benefits. As Dr. Kazlouskaya explains, the blue algae, which transforms into a blue shade once it's massaged in, is able to amp up radiance, soothe the skin, and even reduce the appearance of fine lines. So far, so good, right? Still, there's more to love about this fun-to-apply product. Red seaweed hydrates the skin and locks in moisture, which is in large part why this mask won't leave your skin feeling tight, dry, or itchy after use.
Pros: Derm-approved; Hydrating; Anti-aging
Cons: Contains fragrance
The Best Charcoal Clay Mask
Monat Be Purified Cold Charcoal Mask
"In selecting a blackhead removal mask, I recommend choosing one that has an alpha or beta hydroxy acid like Monat's Cold Charcoal Mask," explains Dr. Mack. "This mask is infused with mineral-rich clays, charcoal, and salicylic acid. It gently helps to unclog pores and has an instant mattifying effect." The standout feature? This clay mask gives a refreshing cooling sensation as it works.
Pros: Great for blackheads; Mattifying
Cons: Drying for some
The Best Clay Mask for Uneven Texture
Tula Detox in a Jar Exfoliating Treatment Mask
If you want to target clogged pores, oil, and rough texture all with one product, this pretty blue jar should be your go-to. "Tula's Exfoliating Treatment Mask has lactic acid and bentonite clay," notes Dr. Mack. "Lactic acid, a milk derivative, helps to subtly exfoliate the skin, while the bentonite clay helps to remove impurities from the skin, leaving the skin looking brighter and less congested." Rice extract is also in the mix to smooth out skin texture.
Pros: Balancing; Improves texture
Cons: Messy to use
The Best Clay Mask for Large Pores
Aztec Secret Indian Healing Clay
With over 12,000 five-star reviews on Amazon, you can be confident that this mask is the real deal. It's a no-frills option that delivers results. With just one ingredient, natural calcium bentonite clay, it's able to powerfully clear out clogged pores and control oil. All you have to do is mix the powder with equal parts apple cider vinegar and you're good to go. Feel free to apply it to your face, or, if you're feeling wild and crazy, use it for a clay bath, a foot soak, or even to soothe a bug bite.
Pros: Affordable; Multi-purpose
Cons: Too drying for some
The Best Glow-Boosting Clay Mask
Charlotte Tilbury Goddess Clay Mask
If Charlotte Tilbury knows how to do one thing, it's how to make skin glow. And sure, Flawless Filter and highlighters galore can amp things up, but real radiance starts with skincare—and this clay mask can't be beat. It uses Spanish clay to draw out oil and dirt, but is largely focused on restoring hydration, softening the skin, and boosting collagen and elastin production. Just use a thin layer, leave it on for 10 minutes, and rinse off with warm water. Trust me: You'll be amazed by the results.
Pros: Hydrating; De-puffing; Glow-boosting
Cons: Fragranced
The Best Clay Mask for Blackheads
Kiehl's Rare Earth Deep Pore Cleansing Mask
If you've thrown every acne-fighting mask at your face in an effort to get rid of blackheads and have little to no progress, I challenge you to give this powerful face mask a go. Powered by Amazonian white clay, this insanely effective product absorbs extra oil and sucks gunk out of pores in just about 10 minutes. Once it's washed off, you'll be left with a matte complexion (no oil in sight, I promise), smaller, tighter-looking pores, and noticeably fewer blackheads.
Pros: Great for blackheads; Mattifying
Cons: Some say it's irritating
The Best Clay Mask for Oily Skin
Caudalie Vinopure Purifying Clay Mask