Worth It: Pavise UV Camera
Why, yes, I'm obsessed with sun protection.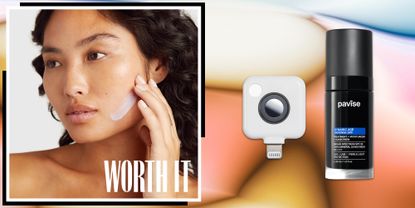 (Image credit: Future)
Welcome back to Worth It, our weekly seal of approval on noteworthy launches and bespoke collaborations in the worlds of beauty and fashion. If it's featured here, consider these investments worthwhile.
The Promise
When I was first introduced to Pavise, founder and CEO Sophie Bai said, "Wrinkles are optional," while talking about her just-launched biotech company focused on broad-spectrum UV protection and photoaging. I raised an eyebrow at the statement. Wrinkles are a natural part of getting older. That said, genetics really only account for a very small percentage of how our skin ages. It's UVA exposure that's the real enemy, accounting for up to 90 percent of how our skin ages. So theoretically, if skin is protected to the utmost degree 100 percent of the time, her statement checks out. That's the mission of her line—to give consumers the tools and products to deflect exposure. The solution is twofold: there is the Dynamic Age Defense SPF, and the UV Camera.
The former, which is formulated with 100 percent zinc oxide and has a PA++++ rating, claims to be five times more effective than other leading mineral formulas. How? It utilizes an entirely new UV filter (aka the UV deflection mechanism) called Diamond Core Shield Technology. This lab-engineered design gives the zinc oxide active a uniform molecular shape and size—something lacking in other mineral filters. It's this clean, gap-free molecule formation that not only allows for a more elegant formula, but also provides more complete and even broad-spectrum defense. The third prong of the design is its ability to prevent Reactive Oxygen Species (ROS) from taking hold of skin. I'll spare you the intense science, but essentially ROS and free radicals can penetrate the skin, causing aging, inflammation, and other kinds of skin damage. The Diamond Core Shield Technology, paired with other ingredients like niacinamide, tranexamic acid, and licorice root extract, work to actually get rid of current damage (read: dark spots) and prevent new ones from forming.
The second sun protection entity, which just so happens to be my personal favorite, is the UV Camera. It's an itty-bitty camera that plugs directly into your phone charging port. It then changes the skin to different shades of blue—dark blue means your skin is fully covered in sunscreen and has maximum protection. Light blue means you either missed a spot or your SPF's efficacy has worn off. The goal? To optimize sun protection at all points of the day. If you look at the camera with a makeup-free and sunscreen-free face, you'll also be able to see sun damage, such as sun spots, hyperpigmentation, or melasma. The technology isn't new per se (it's widely available in doctor's offices and labs), but this portable, hand-held option is quite frankly revolutionary.
Why I'm Obsessed
Being obsessed with sunscreen is kind of a beauty editor prerequisite. It's part of my job description to preach the importance of SPF and scold those who don't comply with reapplication guidelines. It's all well and good, but I like to think my passion exceeds the normal scope. You see, I'm allergic to the sun. No, that's not an exaggeration. I have something called polymorphous light eruption, which essentially means my skin is so photosensitive that I get a nice itchy rash on my face when I'm exposed to too many UVA and UVB rays. Fun stuff, really; but that's why I take sunscreen very seriously.
You can imagine how intrigued I was by the Pavise launch with its lofty promises of extreme protection and its UV camera, which seemingly hacks the reapplication system. When my shiny little package arrived on my desk, I got right to testing. I downloaded the Pavise app, plugged in the camera, and found myself starring at a very scary photo of my now-blue filtered complexion. I was a pale blue, which I thought was A-OK. I applied my SPF 40 in the morning, which was just around five hours prior. But oh, how wrong I was. Upon doing some further investigating, I realized that the pale blue indicated my protection wasn't very strong.
With that, I grabbed the Pavise Dynamic Age Defense SPF (note: the camera works with any sunscreen) and started to apply a fresh, highly potent layer to my forehead. Now excuse my crazy-looking complexion and baffled expression, but the video I captured of the color transformation was simply too wild not to share.
As I spread the sunscreen, the affected skin transformed into a deep, deep, borderline navy blue hue in the camera. That was what full protection looked like. I could see what spots I missed (cough cough: my scalp line) and make sure I actually applied enough sunscreen to get the SPF 30 protection (you need a full teaspoon on your face alone, FYI). I was able to check in an hour later—still dark blue. Two hours later—looking a little spotty. Three hours later—time to reapply yet again. My excitement about this pocket-sized camera was through the roof. Think about the possibilities! I can bring it to the beach! I can stop reapplying SPF every 45 minutes out of fear! I'll never miss a spot and burn again!
That brings me to the sunscreen of it all. I won't lie: For a while I was simply so mesmerized by the UV camera that I failed to actually register how the SPF formula felt on my face. But after further review, I can confirm it's good. Like, really good. The formula is pretty lightweight, extremely hydrating, and rubs in quickly and without a white cast—or pilling. It does have a bit of a sticky finish (be warned), but I personally prefer that kind of tackiness under makeup.
It felt calming and even a little cooling on my inflammation- and rosacea-prone skin. I didn't experience tingling, stinging, or dryness. Overall? I was a big fan. Now the major test will be if this limits my seemingly never-ending bout of rashes come summer. But rest assured, I'll report back.
Celebrity news, beauty, fashion advice, and fascinating features, delivered straight to your inbox!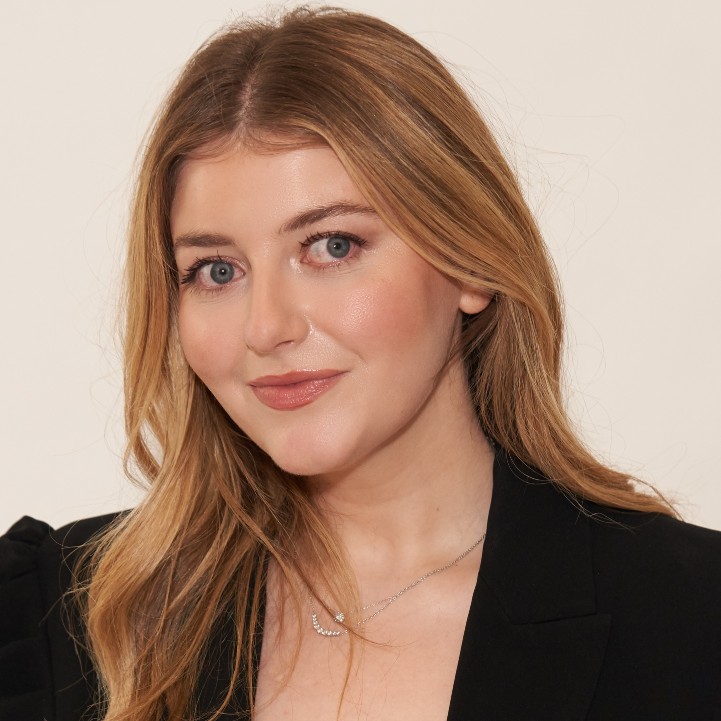 Samantha Holender is the Beauty Editor at Marie Claire, where she reports on the best new launches, dives into the science behind skincare, and keeps up with the latest trends in the beauty space. She has previously written for Us Weekly, Popsugar, Makeup.com, Skincare.com, and Philadelphia Wedding. Follow her on Instagram @samholender.