Princess Diana Once Helped Create a Helicopter-Proof Hairspray
Now, the cosmetic chemist behind the coveted product has released a thoughtful haircare line.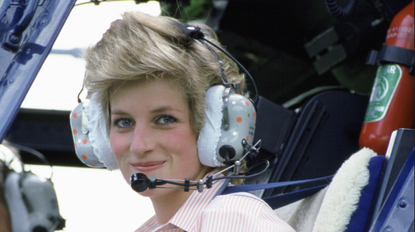 (Image credit: Getty)
When you have a signature hairstyle, you have to make sure it stays put—come rain, sweat, or whipping winds. This is a concept that Princess Diana knew quite well. If people expected her iconic blonde pixie cut, they were going to get the iconic, not-a-hair-out-of-place blonde pixie cut…even in the crazy wind tunnel of a helicopter.
As it turns out, the late royal enlisted the help of cosmetic chemist Sheree LaDove Funsch to create a helicopter-proof hairspray designed to withstand high winds as Diana traveled across the world. Dubbed "helicopter hairspray" by Diana, LaDove Funsch and hairdresser Richard Dalton created a formula with an ultra-strong that still managed to maintain the soft appearance the Princess was known for. To get there, the then 20-something LaDove Funsch personally engaged in the formulation process.
"It demanded meticulous experimentation to determine the resin's melting point and consistency—striking the balance between avoiding stickiness and preventing hardening," the chemist, now CEO of her family's beauty company, LaDove Inc., exclusively explained to Marie Claire. In the end, the formula resembled an "intricate recipe" with worldwide inspiration drawn anywhere from culinary studies to unique botanicals.
With the major success of helicopter hairspray, a separate formula was also concocted for Diana to wear with tiaras: the "jewel version" that wouldn't leave any residue on her plentiful diamonds.
"She had two options for the tiara: one designed for helicopters and another adorned with valuable jewels," LaDove Funsch said. "Wearing a tiara loaded with millions of dollars' worth of jewels on her head presented a unique challenge. Standard hairspray wouldn't suffice in this situation. We had to develop a product that could offer a gentle hold for the tiara without risking any damage to the precious jewels."
While the royal and chemist never talked about selling the hairspray, LaDove Funsch went on to share her brilliance with the world. She teamed up with her daughter, Samantha Kent to found The Cleanest Lab, a brand that emphasizes the need for both pure intentions and pure ingredients in beauty products.
Today, the Cleanest Lab boasts five products: Pure Hydration Shampoo, Hydrating Daily Hair Mask + Conditioner, Leave-in Conditioning Spray, Miracle Balm face moisturizer, and a Notox Daily Cream that mimics the effects of Botox.
Naturally, their products exhibit the same beauty philosophy Diana originally resonated with.
"Our approach involves a meticulous analysis of the product's function, the nature of its ingredients, and ensuring their gentleness and safety," Kent shared. "While pursuing these ideals, we maintain a commitment to high performance, because you want your hair to look its best, and you want to feel good."
Marie Claire email subscribers get intel on fashion and beauty trends, hot-off-the-press celebrity news, and more. Sign up here.