The Rise of Scandinavian Beauty
Hydrated-focused and conscientious, Scandinavian beauty philosophies are more popular—and timely—than ever.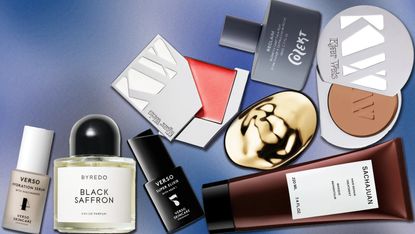 (Image credit: Future)
If you've been to Denmark, Norway, or Sweden, you know that Scandinavian street style is all about comfort and simplicity—and that philosophy translates to skincare, too. Scandinavian beauty is built around the principles of hydration at every turn (thank you, cold temperatures), sustainable packaging, and practicality—all of which can be appealing to those looking for the opposite of Korean beauty's multi-step approach to skincare.
In recent months, Nordic beauty brands have made headway on the other side of the pond. There are myriad reasons for this surge, but one primary reason sits within the northern region's heritage. "Scandinavian practices are becoming more mainstream in North America because their heritage beauty principles are closely connected to the trends we have seen evolve after the pandemic," says Maria Osorio, director of marketing and product development for Cosmetica Labs, a manufacturing company responsible for manufacturing top beauty brands around the globe. "Many of these trends began as stay-at-home habits but became staples in the consumer's day-to-day while adapting to their new normal."
To understand Scandinavian beauty principles, you must acknowledge that Nordic beauty is a lifestyle—it's more than a range of products and benefits. These principles fall into three factors: conscientiousness, nature-inspired, and hydration-focused.
Scandinavian Beauty Is Conscious Beauty
A key principle within Scandinavian beauty is the usage of naturally derived ingredients from sustainable local sources. "As consumers become more educated and mindful of their product choices, hyper-localism is adopted to better control their supply chain and environmental impact, creating narratives that are aligned to their consumers' values," says Osorio.
Scandinavian Beauty Is Nature-Inspired
Scandinavian beauty is also rooted in nature, and American consumers are looking for products that deliver a natural glow with minimal effort. Ironically, the auto industry has adopted that same approach to clean, natural looks. "Scandinavian beauty brands don't use colors in their packaging," says Cecilia Stark, senior design manager for color and material for Volvo Cars. "It's very black and white with a big focus on nature and we take that same approach when designing Volvo cars, such as the new fully electric, Volvo EX90. The calmness and coziness of the outdoors inspires our design."
Scandinavian Beauty Is Hydration-Focused Skincare
Take a walk down any aisle in Sephora or Ulta, and you'll notice the rising demand for science-led products that deliver hydration—even in the sweltering summer months. "Hydration-focused products account for 80 percent of the skincare category as they are the base of an effective routine for any skin type," says Osorio. "As Scandinavian countries have very cold temperatures, traditional beauty rituals have in turn revolved around hydration. Moisture-first ingredients are rising across the category winners."
Ahead, we break down a few Scandinavian beauty products taking center stage on American soil.
"I think Scandinavian basic culture has a natural approach and is very focused on being practical, reducing necessary fuss, being direct, and choosing an approach of whispering and not screaming," says Sacha Mitic, co-founder of Sachajuan. This mindset is the root of the Sachajuan brand, whose philosophy is to reduce superfluous products, ingredients, and routines.
Danish-born makeup artist Kirsten Kjaer Weis had a vision to fuse Scandinavian beauty with the edginess of New York. Thus, Kjaer Weis was born. "Scandinavia has a calmness, a minimalism; New York City is fierce," she says. "They seem like they are so different but they can work together. Kjaer Weis is both." The Cream blush—the brand's pride and joy— was spotted on Kate Hudson's whimsical, fairy glam Oscars look.
Byredo Mixed Emotions Mascara
When Ben Gorham launched Byredo in 2006, he had one goal in mind: to translate memories and emotions into products and experiences. Now, the Stockholm-based brand innovates fragrances, makeup, home, leather goods, and accessories, that are sold in more than 40 countries around the world. Its Mixed Emotions Mascara comes in a deep burgundy, giving subtle sophistication to the eye.
Colekt La Chambre Scented Candle
Colekt is a Stockholm-based brand inspired by Scandi nature, and according to its co-founder and creative director, Ellen Af Petersens, "it is also inspired by cultural impressions and expressions around the world." She adds: "I have my eyes open for fashion, arts, architecture, and design and I translate my vision through Scandi and international inspirations." The emerging clean beauty brand recently partnered with Saks, marking its first major North American department store retailer to carry the Scandinavian assortment.
Verso is a Swedish skincare brand based on three key principles: simple, minimalistic, and qualitative. Its headquarters are located in close proximity to the University of Stockholm's campus, which is an essential factor in Verso's product development approach. The Hydration serum is a best-seller that's rich in avenanthramides, ceramides, beta-glucans, and fatty acids.
The inspiration for Unifrom isn't your typical botanic gardens or Parisian sultry nights, it is instead the scent of high-rises in Stockholm when families from the diaspora blend spices, burn incense, and cook food. The scents are conceptualized in Stockholm by founder Haisam Mohammed, developed in Paris, and made in Grasse. Roll on the Dawn fragrance for a mash-up of Sichuan pepper and cinnamon.
Deena Campbell is the Beauty Director of Marie Claire where she oversees beauty and health content on all platforms. Deena joined Marie Claire after a decade-long career as an editor in print and digital media. Before joining the brand, she managed editorial content for L'Oréal owned Makeup.com and Skincare.com. In 2015, she launched Essence.com's hair channel where she received Time Inc.'s Henry R. Luce Award, shortly before joining Allure.com's staff as Senior Beauty Editor. Along with her editorial positions, she also consulted on content and marketing strategies for beauty companies including DevaCurl and Dove, and has appeared at various speaking events and live television segments.