The 12 Best Shampoos for Colored Hair in 2023
Cop your best color yet.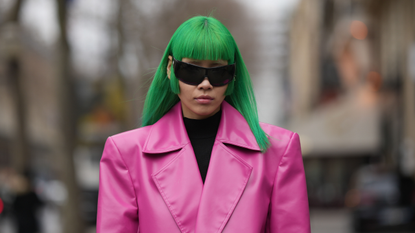 (Image credit: Edward Berthelot/Getty Images)
As anyone's who's ever colored their hair knows, once dye has been added to the mix, your regular haircare becomes a little more complicated. Colored hair—especially when it's been bleached—can become dry, limp, or brassy, turning your dream 'do into an occasion to hide under a hat. But with the right products, from shampoos and conditioners to leave-in conditioners, you can foster a healthy mane and keep your dream color as vibrant as the day you left the salon. The right shampoo, in particular, can ensure that your hair stays clean, buildup-free, and moisturized—it all starts with looking for the right ingredients.
"The best thing you can do for your colored hair is to avoid shampoo with sulfates," advises Connor Daniels, professional hairstylist with Mirror Mirror Salon in Austin. "Sulfates are meant to cut through grease and create a foamy lather, but this will also strip the color from your hair much quicker than shampoos that are free from sulfates."
Thus, sulfate-free shampoos are often the way to go for those with colored hair. But there are also a number of other special formulas, from purple shampoos for blondes to blue shampoos for brunettes, that go a long way in terms of cleansing, preserving, and enhancing color. Below, how to identify the best shampoo for your colored hair, along with the most effective options that will preserve that straight-from-the-salon look for as long as possible.
What to Look For in Shampoo for Colored Hair
Daniels reiterates that sulfate-free formulas are best for those with colored hair. In addition, he says, "Someone with dyed/colored hair should look for more natural ingredients in shampoos such as bond-repairing agents coconut oil or oat extract." These ingredients—particularly coconut oil—moisturize hair as well, which can help repair bleached hair.
"An additional ingredient that is good to look for is Phytantriol," Daniels adds, "which preserves the color of hair and reduces damage."
Washing Colored Hair
But once you have your perfect shampoo, you may still need guidance on how to wash your hair without stripping or fading your color. Depending on your hair type and color, you may need to adjust the manner and frequency with which you wash your hair.
"If someone has artificially colored hair, every time that person washes their hair a little color will be lost," Daniels explains. "This means the more often that you wash with shampoo, the quicker the color will fade."
So how often should you wash your colored hair? "Two to three times a week is often a good goal in order to maintain color," he answers. "Fewer washes is ideal, but you want to make sure you aren't neglecting your hygiene for the benefit of your color." And if you're worried about an oily scalp, he says, "Dry shampoo is a great choice if you are trying to lower the amount of washes per week."
As far as your in-shower routine itself, Daniels instructs, "Wash your hair first and then condition right after. Shampoo will open the cuticles of the hair where the color is held which will, in turn fade your color. The more water hitting your hair while the cuticles are opened, the more color is lost—so close the cuticles back up using conditioner." In other words, a traditional hair wash rather than a reverse wash is preferable for those with colored hair.
Finally, Daniels says that when it comes to temperature, you're better off keeping it cool.
"There is no specific or optimal temperature to best maintain the color in your hair," he concedes, "but a good rule of thumb is the colder the better. Since hair color is absorbed into the cuticle of your hair, cold water will keep the cuticles of your hair closed which will keep the color of your hair where you want it."
The Best Shampoos for Colored Hair
Best Shampoo for Maintaining Colored Hair
"You really can't go wrong with any of the shampoos or conditioners from the Italian company Davines, but their Minu shampoo and conditioner is specifically made to help maintain color without drying out your hair or making it feel too heavy," explains Daniels. "This is one of my go-to products whenever I am washing colored hair."
Pros: expert-approved; works well on all hair types; free of sulfates and parabens; contains natural ingredients like castor oil; a little goes a long way
Cons: none found
Customer Review: "Love this shampoo. Just need a small amount add water and it suds up nicely. Smells great too." -Walmart
Best pH-Balanced Shampoo for Colored Hair
KEVIN. MURPHY. Everlasting. Colour Wash
"I recently re-dyed my hair to red and I've been super careful about the products that I use to maintain it. Red dye tends to fade faster than other colors, and I don't want to spend even more time in the salon chair than I already did having it done. I use cold water to rinse this shampoo from KEVIN MURPHY (sorry, but my stylist recommended it!) and I've noticed that my color still looks vibrant. It's pH-balanced and sulfate-free to protect my strands as it gently cleanses. I have hair that gets oily quickly and I've been able to go up for four days when using this, twice the length of time I was able to go before." -Julia Marzovilla, E-Commerce Editor
Pros: editor-approved; shine-enhancing; gentle cleanser; protein-infused
Cons: contains silicones
Customer Review: "Have this shampoo all the time and it keeps my colour longer. Lovely lather and smells divine. I get lots of compliments about how glossy my hair looks." -Bath and Unwind
The Best Volumizing Shampoo for Colored Hair
David Mallett Shampoo No.2 Le Volume Shampoo
"This is a great shampoo that will make blonde hair healthier while maintaining color," raves Daniels. "This whole range makes it feel like there is nothing in your hair, but it will leave your hair feeling moisturized and healthy."
Pros: expert-approved; moisturizing; lightweight; volumizing
Cons: high price for a small bottle
Best Shampoo for Vibrant Colored Hair
Biolage Color Last Shampoo
"While I don't always have a dye job, I always use Biolage Color Last shampoo and conditioner. I've noticed I've been able to go so much longer in between salon visits and it really extends the life of my color. I also love how this set makes my hair feel so soft compared to other shampoos and conditioners I've tried. What I love most about it, however (and why I use it every single wash day), is because of its smell. Its floral, citrusy smell is one I wish I could have constantly in my nose, it's just that good." -Brooke Knappenberger, Editorial Fellow
Pros: editor-approved; cruelty-free; vegan; recycled bottle
Cons: some users find it drying
Customer Review: "I have purple and blue hair and this shampoo really helps in keeping the colors vibrant. When I wash my hair very little of the color comes out. The smell is also very nice and not overwhelming." -Ulta
Best Color-Correcting Shampoo for Colored Hair
Mr.Smith Balancing Shampoo
"A vegan option, Mr. Smith Balancing Shampoo is perfect for correcting your hair after heavy bleach treatments," says Daniels. "This option not only soothes your hair and helps correct frizz, but it also moisturizes the scalp and keeps color looking fresh for much longer than many alternatives."
Pros: expert-approved; balancing; works on bleached hair; moisturizing; vegan; free of parabens, silicones, and sulfates; cruelty-free
Cons: none found
Customer Review: "My hairdresser used this shampoo on me and instantly I was sold. My hair gets quite oily and this shampoo allows me to go an extra day without using shampoo. I do double shampoo in order to get the 'balancing effect.' With the second application, I lather [the formula] in my hands to get more spread. This shampoo is sulfate-free which prevents my hair from being as oily." -Adore Beauty
Best Shampoo for Colored Blonde Hair
KEVIN.MURPHY BLONDE.ANGEL.WASH
Hairstylist Kevin Kelly highly recommends this shampoo for colored blonde hair that's fine, because the formula highly moisturizing without causing greasiness. He also reassures that "it's not going to overtone your hair and make you super ashy or gray like some others might."
Pros: expert-approved; works well for thin hair; moisturizing
Cons: contains silicones
Customer Review: "I noticed a difference after my first wash! Not to mention, the smell of the products are a bonus! It's a little more on the expensive side, but totally worth it." -KEVIN.MURPHY
Best Blue Shampoo for Brown Colored Hair
Bondi Boost Brunette Booster Shampoo
Reviewers say that this blue shampoo helps reduce brassiness on colored brown hair almost immediately. Plus, they write that the formula washes off of the tub easily, so you can enjoy all of the color vibrancy without any of the mess.
Pros: fast results; easy clean-up; vegan; clean; cruelty-free
Cons: none found
Customer Review: "I bought this for my mom since she dyes her hair regularly and doesn't want to have her hair get brassy so quickly. She really likes this product. Don't be scared of the bright blue color, it will help tone your hair and keep it looking nice for longer!" -Ulta
Best Clarifying Shampoo for Colored Hair
adwoa beauty Blue Tansy Clarifying Gel Shampoo
I love a good clarifying shampoo for banishing buildup and revitalizing hair shape and curl bounce. However, clarifying shampoos can dry out hair and strip it of its color. This formula is specially made for colored hair to ensure that it's cleared of dirt and grime without being cleared of color. Countless reviewers attest to this, with several adding that the formula smells divine.
Pros: shine-enhancing; clarifying; clean; free of silicones, sulfates, SLES, and SLS
Cons: some users find it doesn't banish enough buildup
Customer Review: "I've washed my hair four times now and it has helped so much. I can go two days before it gets greasy now! My ends don't feel any drier either." -Sephora
Best Moisturizing Shampoo for Colored Hair
amika Hydro Rush Intense Moisture Shampoo with Hyaluronic Acid
This vegan formula is made with thick and natural hair in mind, and is particularly great for those whose hair has been dried out and damaged as a result of bleaching and/or coloring. However, reviewers with thin hair or already greasy scalps found it too thick—so be sure to keep your hair type in mind when purchasing.
Pros: vegan; clean; moisturizing; cruelty-free; made with natural and thick hair in mind
Cons: not as suitable for thin hair; strong fragrance
Customer Review: "Since switching my hair has been less greasy consistently! I used to only be able to go one day before my hair looked beyond rescue. Now I can go 4 days between washes. Everyone keeps asking if I recently got my hair done, only thing different is my shampoo and conditioner!!!" -Sephora
Best Drugstore Shampoo for Colored Hair
Biotera Color Care Shampoo With Grapeseed Extract
Reviewers love how well this shampoo lathers, writing that it cleanses the scalp thoroughly without irritating sensitive skin. Plus, they say it has a lovely—but not overpowering—scent.
Pros: free of parabens, phthalates, and gluten; supports scalp health; clinically tested; vegan; cruelty-free; lathers well
Cons: contains silicones
Customer Review: "This shampoo cleanses my hair without stripping it and leaving it feeling dry. Also, it has a pleasant smell." -Sally Beauty
Best Shampoo for Colored Hair for Daily Use
Fable & Mane HoliRoots Hydrating Shampoo
This shampoo can be used on all hair types, but it's made with colored hair in mind. Reviewers love its softening effect and its ability to thoroughly cleanse their hair and scalp without stripping color.
Pros: vegan; clean; free of sulfates, SLS, and SLES; hydrating; works on all hair types; supports scalp health; lathers well
Cons: strong fragrance
Customer Review: "The first thing that hit me was the amazing coconut smell. I loved the way it smelled and loved that my hair smelled like it after using it. The viscosity of the shampoo was perfect for my thick, coarse hair – not too thin and not to thick." -Sephora
Best Protein-Infused Shampoo for Colored Hair
We all know that coloring hair can result in damage, frizz, and split ends. This shampoo from Virtue seeks to reverse that, using a protein-infused formula to strengthen hair from the inside out. Customers say they saw results from the very first use.
Pros: protein-infused; contains natural ingredients; free of sulfates, parabens, phthalates, and gluten; cruelty-free
Cons: high price for a small bottle; strong fragrance
Customer Review: "Wow, I've seen such a difference in my hair. Hydrates my hair, smooths out frizz, and makes my hair feel so much healthier." -Dermstore
Meet the Experts
Connor Daniels is a hairstylist originally from San Diego who specializes in dimensional color, with an interest in unique cuts. Currently, he works with Mirror Mirror Salon and is based in Austin, Texas.
Kevin Kelly is a hairstylist specializing in color and hair extensions. He runs his own salon in Keyport, New Jersey, and also works as a partner with Glam Seamless Hair Extensions.