Beauty Around the Clock: Ziwe
The comedian on dewy skin, her must-have fragrance, and why 'Real Housewives' is her favorite pastime.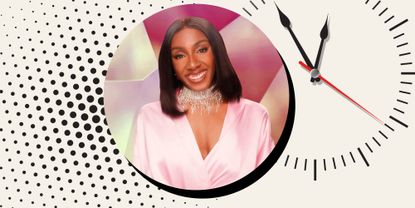 (Image credit: Future)
Marie Claire Newsletter
Celebrity news, beauty, fashion advice, and fascinating features, delivered straight to your inbox!
Thank you for signing up to Marie Claire. You will receive a verification email shortly.
There was a problem. Please refresh the page and try again.
Welcome to Beauty Around the Clock, Marie Claire's weekly peek into the daily lives of some of the most game-changing men and women in their industries. Ever wonder how they get it all done in a day? Here's your answer.
Ziwe Fumudoh is the queen of keeping it real. Known as Ziwe, you may have seen her hilarious appearances on The Daily Show, The Colbert Report, and more recently a cameo on season three of Succession, but she's commonly celebrated for her forward-thinking, out-of-the-box interviews she delivered on her recently canceled, self-titled Showtime show.
Ziwe thrives off of white privilege and allyship banter—just check out her interview with Julia Fox if you ever need a laugh. But there's more to the 31-year-old comedian than you might assume. Spend 30 minutes with her and you'll pick up on her love for makeup (yes, even body glitter, although she confesses its not good for "the turtles") and how her face is always "tight, right, with goo goo ga ga vibes."
Although her show is canceled, she's still making her rounds telling it like it is. More recently she made an appearance on e.l.f. Cosmetics' Vanity Table Talk where she was put on the spot to discuss all things beauty. When Marie Claire caught up with her, she confessed her love for fragrances runs deep. "I famously smell really good," she stated with great certainty. We believe her.
To get the complete breakdown of how the comedian maintains her look behind and in front of the camera, read on.
Rise & Shine
When I wake up, I immediately drink a gallon of water because I saw that Gabrielle Union does that. I also hike every day. I have a dog named Celine Dion and he loves to be outside. If he could be outside 14 hours a day, he would, so I start my day with a mile and a half hike. It really helps get the blood flowing.
Morning Maintenance
Most days I moisturize my face beyond reproach using lotions, serums, and sunscreens. I'm really big on sunscreen. Interestingly enough, I didn't even know that I was supposed to wear sunscreen until I got my first sunburn in 2017. And I thought, wow, what is this monstrosity? Why does my skin hurt? And then I realized that I should be wearing it every day, and now I am religious about it.
Power Start
Most mornings I eat sunny side up, runny eggs with avocado. It's a nice, light, good protein, but it's a clean, healthy fat.
I also garden. It's so funny, because I started growing spinach and arugula and peas to save money, but I found that I'm spending lots of money on soil and pesticides. It costs exactly as much as it would cost to go to the grocery store. But it still feels really good to be like, wow, I have homegrown, organic, Ziwe-approved produce for breakfast.
Signature Look
Dewy, dewy, dewy, Huey, Dewey and Louie! Ha! Honestly, I have eczema. I've had eczema since I was a kid, and so I have to be hydrated. And so part of the dewiness is just having as many lotions on my face as humanly possible. My face is slippery. That is the fundamental of my skincare look. But if we're talking actual makeup, I actually go for a matte in awe of the 1990s supermodel. I'm really into that look, but if it's just skincare, wet.
I just live having hydrated lips so they're not cracked and dry. Squeeze Me Lip Balm is great—I always return to.
In terms of lipstick, I'm a nude lip girl with an over-lined lip. That's where I like to exist. I have a thing for O FACE Satin lipstick. It's a nice brown nude, and I absolutely adored it.
My look also includes a blush, too. My friend Emily taught me that people do blush on the nose in addition to the cheeks to give it the sunkissed look, and so I've been really into that lately. I use this nice dark purple blush to make me look like I was sleeping in the sun, even though my skin looks like it's six years old.
Self-Care Ritual
When I want to have fun, I like to watch The Real Housewives. I specifically like episodes where women are screaming at each other. I'm into Vanderpump Rules, too. I've been a Vanderpump Rules fan since the beginning when Stassi backhanded Kristen, and it's glad to see that I've been rewarded for my faithfulness as we see Raquel cheat with all of her best friends.
Fitness Fix
I swim on the weekends at my friend's house or I go to the beach. There's this island in New England where I grew up called Plum Island, and the sand is purple and it has lots of snails. That's where I would go swimming as a child. In New York I go to Rockaway Beach. When I lived in Chicago, I would just go to literally Lake Michigan. There's a beach everywhere.
Mindset Mastery
My mantra is wild. I even stole it from Succession. It's: "talent wins!" I say it to myself often. Sometimes what you have is enough and it's okay. It may not be flashy or splashy, but just do work hard, just be yourself. That's cool!
Signature Scent
I wear Estee Lauder a lot. I wear Estee Lauder's Beautiful to feel beautiful, and that is my signature scent. I don't even know how I would describe it. It smells like flowers. My mother wore it, and so it passed down to me, so I wear it because it reminds me of her.
Daily Playlist
If I'm cleaning around the house, I'm listening to the news. I'm listening to The Daily and Wall Street Journal's What's News podcast. But if I'm listening to actual music, it's Beyonce. I'm going to the Renaissance concert in New York in July and I am so excited.
I'll also listen to classical music. I listen to a lot of scores from movies like, Phantom Thread.
Beauty Icon
Naomi Campbell is a huge influence on my clothes and my beauty looks. Sometimes if I'm wearing an outfit, I'll Google "Naomi Campbell purple dress" just to see what she did with her styling. But it really depends. Sometimes I'll just see an iconic movie, like Valley of the Dolls and I'll say, "Wow, that woman looks awesome. I want to pull that look," so I let the world influence me. Sophia Loren is also a big impact, as well as Iman. It just depends on where I am that day.
P.M. Routine
I use a bunch of Korean moisturizers, but I'll wash my face with a gentle cleanser and then I'll do a night serum, and then slather with cocoa butter lotion. Then, I'll cover up the parts of my face that are especially dry with a cortisone. I'm also obsessed with Oral B floss.
And, if I'm doing my hair, I'll use Carol's Daughter products for wash days.
Lights Out
At the end of the day I'll walk my dog and cook dinner. I love making a fresh arugula salad from my garden for dinner. I'm trying to become more of a vegetarian, although I was raised by Nigerians, so that's a struggle. Every day, I grow closer and closer to cutting meat out of my life, but I'll make a salad with some sort of protein, like chicken or tofu. I'm not a huge tofu person, but again, I'm trying hard each day.
Afterwards, I love to read. I'm currently reading Luster by Raven Leilani. It's really, really good. She is evocative of Toni Morrison. She's a young, modern writer who came out of the NYU program, I want to say, but she's a really compelling writer. I was really into the Theranos book, and then I was really into the Uber book. I like that kind of reporting.
In terms of skincare, I'm into the SuperHydrate moisturizer—it's pretty cool and beneficial. I'm also into the night cream because it's blue and it matches with my armor.
Shop Ziwe's Favorites
Celebrity news, beauty, fashion advice, and fascinating features, delivered straight to your inbox!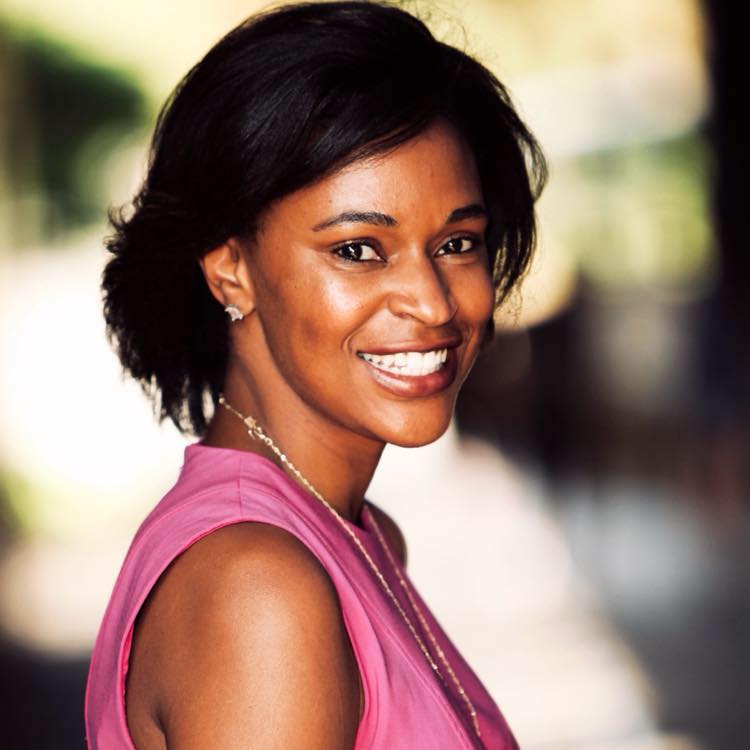 Deena Campbell is the Beauty Director of Marie Claire where she oversees beauty and health content on all platforms. Deena joined Marie Claire after a decade-long career as an editor in print and digital media. Before joining the brand, she managed editorial content for L'Oréal owned Makeup.com and Skincare.com. In 2015, she launched Essence.com's hair channel where she received Time Inc.'s Henry R. Luce Award, shortly before joining Allure.com's staff as Senior Beauty Editor. Along with her editorial positions, she also consulted on content and marketing strategies for beauty companies including DevaCurl and Dove, and has appeared at various speaking events and live television segments.