The 12 Biggest 2023 Makeup Trends, According to Makeup Artists
Grab your favorite demi-matte lip and read on.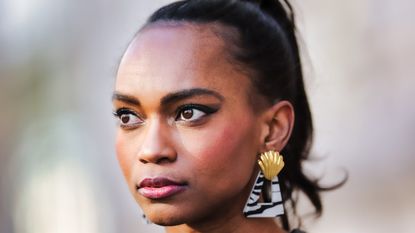 (Image credit: Getty)
Marie Claire Newsletter
Celebrity news, beauty, fashion advice, and fascinating features, delivered straight to your inbox!
Thank you for signing up to Marie Claire. You will receive a verification email shortly.
There was a problem. Please refresh the page and try again.
Say "'80s makeup" and my mind goes straight to neon everything. The '90s? Overlined lips—easy. Early 2000s? Frosted shadow and Juicy Tubes—the end. Makeup trends have and always will have a huge impact on their respective eras, and 2023 is no exception. "This year is all about the ism; minimalism and maximalism. There is no in between," says makeup artist and executive director of creative beauty at Too Faced Elyse Reneau. "You are either simplifying and going for the effortlessly gorgeous aesthetic or leaning into bright colors, metallic shifting pigments and glitter in unexpected ways for an instant dopamine hit."
The extremes are taking shape in a wide range of looks. On the one hand, there's the underpainting foundation technique, which was coined by Mary Phillips and made possible by the launch of dozens of lightweight, sheer coverage formulas. "We're finally embracing skin and products that enhance our skin and leave a skin-like finish versus aiming to have a more full-coverage finish," says celebrity makeup artist and CCO of CTZN Cosmetics Sir John. "The vibe is definitely much more natural, dewy, and fresh."
On the other end of the spectrum comes intense lips and eyes—and the bolder the better. There's a hint of grunge going on, lip liner is all the range, and shimmer has a spot on the stage. "We are definitely seeing makeup trends circling back around from the '90s and early 2000s," says makeup artist Tobi Henney. "There are lots of brown-toned lips, white eyeliner has made a comeback, pastel blues are big, and feline cat eyes are back."
To get a more intense breakdown of the 2023 makeup trends, along with some tips from the pros, scroll ahead and prepare to screenshot.
The "French Riviera" Face
Coming off the heels of Sofia Richie's wedding extravaganza and the Cannes Film Festival, it's no surprise that French Riviera-inspired makeup looks are taking over the summer beauty scene. Think: Fresh skin and a bold lip. "Start with a weightless complexion using a sheer tint or opt for just a dab of concealer where needed," says makeup artist Jason Hoffman. "Apply a liberal amount of bronzer to give the effect of a rich tan and finish with a sultry, high-impact matte lip. My current favorite, the Rose Inc Lip Cream in Mortal Flame, is a new vivid coral that pops against the warmth of a tanned complexion. It all gives the vibe of yachting in the French Riviera."
Cloud Skin
"Soft focus skin with natural radiance is definitely having a moment," says makeup artist and beauty brand founder Danessa Myricks says about summer makeup trends. "The key to get into the Cloud Skin trend is by tapping into that delicate balance of a refined, natural matte finish to the skin while preserving a life-like, skin-like dimension." Achieving the look lies heavily in the skincare stage, so start with a hydrating serum and seal the deal with a second skin foundation and soft-focus, blurring blush. "My go-to products are the Yummy Skin Glow Serum paired with Yummy Skin Blurring Balm Powder."
Bold, Blurred Blush
"People have been wanting more and more blush and I am here for it," says Sara Smith, Bobbi Brown Cosmetics National Makeup Director. "It's the perfect way to build natural warmth on the skin." Textures will continue to be uber-creamy and blendable (the Bobbi Brown Pot Rouge is a favorite), with the new addition of blurring formulas that make pores disappear. As Reneau puts it, "Filters may be out, but looking like your skin is filtered will be in—in a really big way." To get the look, she recommends Too Faced's Cloud Crush Blush, "which has blurring technology that softens pores and texture."
As for how to apply blush this year? Steer away from applying product on the center of the face and go for a more sculpted look. "Blush placement will shift away from high up on the cheekbone and do more of a sculpting thing on the apples of the cheeks, wrapping it underneath the cheekbone," says Half Magic founder and lead Euphoria makeup artist Donni Davy.
Soft Focus Skin
Everyone from Makeup by Mario to Kosas and Jason Wu Beauty has come out with light coverage, barely-there formulas in recent weeks—and it's right on cue. "Clean girl makeup was popular last year, but barely-there complexion is going to be popular this year," predicts Jason Wu, fashion designer and founder of Jason Wu Beauty. "People aren't as interested in those full-coverage foundations and are swappling them out for skin tints or nothing at all." This adoption of lighter, serums and tints goes hand in hand with embracing imperfections. Davy says, "We're going to see more real skin. There's less acne scar shaming and more of an unapologetic attitude about breakouts—especially when breakouts are coexisting with cool makeup." If you're in the market for a dewy serum, allow us to direct your attention to the Philosophy Dose of Wisdom Bouncy Skin Reactivating Serum. It'll leave your complexion with a reflective, radiant finish that's right in line with the soft focus trend.
Pop on the Pout
'Tis the era of bold lips. "Bold lips are back and can stand alone. Pair this trend with clean fresh skin and a groomed brow," says Smith. In addition to rich reds, browns, berries, and mauve lipstick shades, it's important to call out that lip liner is going to have a major moment too. On the one hand, there's going to be a resurgence of using a lip liner that's a shade or two deeper than your actual lipstick. One the other, lip liner is going to be used in place of lipstick altogether. Wu recommends using his Stay In Line Lip Liner all over the base. It can be worn solo, or, if you decide to layer lipstick on top, will make your color last longer.
Brow Experimentation
Bleached brows have continued to dominate runways, Julia Fox continues to rock the look, and according to Davy, it's not going anywhere any time soon. "The bleached brow is having a moment and I think it's given people the confidence to experiment more with their brows. I'm thinking we'll see a lot more thinly plucked eyebrows and people experimenting with the shape of their brows. Maybe even people swinging in the opposite direction and going for dark and thin brows."
Just don't pluck away unless you're *really* sure you want to get onboard the thin eyebrow train—there's no going back. "I think it's important to ask yourself: Do I want thin eyebrows forever? Because that is what you are deciding when you start tweezing your brows," warns Reneau. "Instead, I am leaning into the lifted and arched trend—let's call it glamination. It's lifted (but not straight up!), and defined and natural looking."
Subtle Shimmers
"Whether it's chrome, metallic, or a sheer wash of shimmer, sparkle will be back in a big way this year," confirms Smith. "What I love about this trend is you can wear it in so many different ways." Do a soft wash of sparkle across your eyelid (we rounded up the best glitter eyeshadows!) or up the ante with a straight up metallic liquid (I love the Half Magic Glitter Pill for this). Essentially, have fun and party on.
The Cat Eye Resurgence
"The eyes are your canvas for self-expression this year and you don't have to be an artist to get creative," says Reneau. "Using a liquid liner, like Better Than Sex which has a super sharp tip, lets you easily create double winged liner, faux lower lashes, and feline inner corners that will draw attention right to the windows of your soul." In short: Eyeliner is back to being beginner friendly. Impossible-to-do graphic eyeliner is taking a backseat in favor of kitten flicks and classic cat eye wings. (Pro tip: "When applying your eyeliner, be sure to pull it upward and outward," says Smith.)
Grunge Glam
Chalk it up to Wednesday-core or call it a makeup evolution, but grunge glam is where it's at this year. For some, that may look like a deep lip. "Edgier, everyday makeup, like a more elevated version of Wednesday Addams makeup is big," says Davy, noting that plum stains, burgundy lip creams, and dark brown glosses are going to have a moment. "It's a more fierce everyday look that is less about being soft and pretty and more about embracing your edgier side."
If you want to translate the trend to your eye makeup, take a page out of celebrity makeup artist Dani Parkes' playbook. "Put on black eyeliner and then wash your face—it's perfect for going out if you don't want to wear a lot of makeup," she says. "It's going to sharpen the color of your eye and make your lashes look better. It gives you that '90s glam look."
Underpainting
We're only a few weeks into 2023 and underpainting, a term coined by makeup artist Mary Phillips, has already gone viral. "Start by applying your concealer and contour before foundation to easily achieve this look," Parkes explains. "It defines your natural features and brings out your natural, glowing skin. The less makeup, the better." While the excitement around the technique may be new, it's been in makeup circles for years. The technique is commonly used on stars like Hailey Bieber, Kendall Jenner, and Jennifer Lopez.
Faux Freckles
This goes hand in hand with the beauty community's preference for lightweight foundation. If you don't have any freckles to shine through, why not draw them on a la Alix Earle? "It makes your nose look smaller and your makeup look more natural," says Parkes. "The best product to use for this is Freck. It's a fake freckle serum that looks real when applied." Just poke on a few dots and diffuse the product with your finger.
Dopamine Glam
In the same way that dopamine dressing dominated 2022, we're going to see dopamine makeup leading the charge in 2023. "People are craving color in their beauty beats," says Sir John. "Whenever I'm working on a client and looking to make them feel confident and to set their vibrations high, I use color." This can take the form of denim liner, a dark red lip (Sir John love the CTZN Cosmetics' Code Red collection), or funky eyeshadow.
Meet the Makeup Artists
Elyse Reneau is an accomplished makeup artist with more than 20 years of experience in the industry. Her artistry has been showcased on stars from the hit shows SNL, Orange is the New Black, The Big Bang Theory, The Walking Dead, E! Network's Fashion Police, and The Bachelorette. Her passion in life is empowering people through makeup and inspiring confidence. Her tips and tricks have been featured in Allure, Glamour, The New York Times, The Zoe Report, Bustle, Birdie, and more.
Sir John is a world renowned celebrity makeup artist with an impressive client list that includes Beyonce, Karlie Kloss, Chrissy Teigen, and Kim Kardashian, just to name a few. He is a beauty consultant for several beauty brands, and has been a long time L'Oreal Paris celebrity makeup artist. Sir John is not only on call for Hollywood and Entertainment royalty, he's also become a favorite among fashion's elite thanks to his signature versatility. Sir John's trailblazing within the beauty industry has made him one of the most sought-after artists around, and he continues to expand his style by his creative use of color and the ability to transform women without masking their natural beauty.
Tobi Henney is a bicoastal makeup artist who originally hails from Sydney, where she was previously the L'Oréal Paris Makeup Director for Australia. She is known for flawless, glowing skin and signature red carpet looks created for clients such as Megan Fox, Ashley Graham, Charlotte Lawrence, Poppy Delevingne, Ellie Golding, Sara Bareilles, Bambi Northwood-Blyth, Barbara Palvin, Georgia Fowler, and Shanina Shaik. Henney's worked with major brands including Diane Von Furstenberg, Victoria's Secret, Chanel, Dior, Louis Vuitton, Miu Miu, L'Oréal Paris, Clinique, Maybelline, Nike, Anthropology, and Coach, and her editorial talents can be seen in Vogue, L'Officiel, RUSSH, Elle, Grazia, Harper's Bazaar, Schön! and more. Henney is a natural on camera, sharing tutorials and how-to videos frequently with outlets such as Byrdie Beauty and Who What Wear.
Sara discovered her passion for beauty more than 15 years ago while doing makeup for her clients as a headshot photographer. Now she represents our brand in San Francisco, teaching customers how to achieve their best complexion and master the art of natural-looking makeup.
Doniella Davy is an American makeup artist and film/TV makeup department head. She is most known for her work on HBO's epic teen drama Euphoria. In 2022 she co-founded cult beauty brand Half Magic Beauty along with A24 Films.
Jason Wu is a leading New York-based fashion designer. The Jason Wu brand stands for American luxury with a sense of sophistication, glamour, and refinement. Jason's meticulous approach to design and impeccable attention to detail is applied to everything he creates and has established himself as one of this generation's most talented fashion designers in just over ten years. Since debuting his namesake company in 2007, Wu currently offers a signature Jason Wu Collection along with the Jason Wu contemporary line dedicated to making clothes that are beautifully crafted from the inside out with a focus on modern luxury and effortless elegance. Jason has received numerous awards, including the Swarovski Award for Womenswear, The Fashion Group International Fashion Star Award, and Canadian International Designer of the Year.
Self-taught makeup artist Dani Parkes, also known as Faces by Danii, started doing makeup at the age of 8. At 18 years old she moved to New York knowing no one and started to build her network. Dani is passionate about all things makeup. Her goal is to highlight and extenuate the natural features on one's face, rather than completely changing the way they look. She creates new ideas and draws inspiration from a lot of artists based in the UK and Europe. Their effortless glam and technique is what has shaped Dani's makeup style. She continues to grow as an artist and hopes to continue to build her network of clients. Dani has glammed up some of your favorite influencers and celebrities including Natalie Noel, Lea Michelle, Emily Lind, and Lauren Wolfe.
Celebrity news, beauty, fashion advice, and fascinating features, delivered straight to your inbox!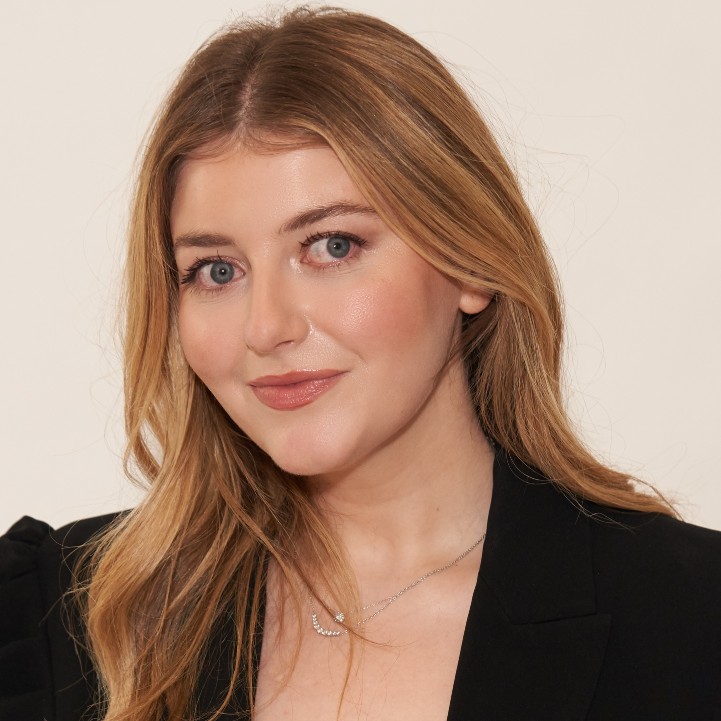 Samantha Holender is the Beauty Editor at Marie Claire, where she reports on the best new launches, dives into the science behind skincare, and keeps up with the latest trends in the beauty space. She has previously written for Us Weekly, Popsugar, Makeup.com, Skincare.com, and Philadelphia Wedding. Follow her on Instagram @samholender.