Inside Marie Claire's Second-Annual Power Trip
36 hours of non-stop networking 🙌.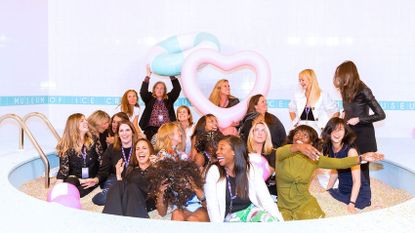 (Image credit: Kathryn Wirsing)
This time last week, 100 New York-based female execs, founders, and influencers were flying high on a Jetblue chartered flight leaving San Francisco. They had just spent two action-packed days with 100 west coast boss ladies. And to think Marie Claire editor in chief Anne Fulenwider, clad in a fluorescent orange safety vest, had toasted the women in JFK's Jetblue terminal only 36 hours earlier, signaling the start of the start of MC's second annual #PowerTrip.
We wish the fun never had to end—and we're already counting down the days to Power Trip 2018. Until then, we'll relive every amazing moment by scrolling through fellow Power Trippers Insta feeds, playing the onstage sessions on loop, and getting major inspo from the content session recaps.
DAY 1
The Jetblue terminal at JFK, where the New Yorkers gathered before flying to San Francisco, was appropriately decorated for #NationalBossDay.
The all-female JetBlue team—from the pilots to the ground crew—got us takeoff ready
When we hit 10,000 feet, Dell gifted everyone with an XPS 13 2-in-1
And the Mint pods transformed into photo booths, mini-MDNA spas, bra fittings with La Perla, de-stress consultations with Dr. Samantha Boardman, and meet-up spaces for all attendees.
When we landed, we headed straight to the W San Francisco to hear from Power Trip's first speaker Taraji P. Henson, interviewed by NBC's Natalie Morales.
Followed by a conversation with three tech bosses—Cowboy Ventures' Aileen Lee, Uber's Bozoma Saint John, and 23andMe's Anne Wojcicki—about following their guts and building kickass careers.
And Mila Kunis closed out Day 1 of Power Trip's onstage program with MC's Anne Fulenwider—and a little help from Jim Beam.
We rounded up all Power Trippers, hopped on a bus, and headed to cocktails at Ken Fulk's Magic Factory.
Then we hosted our Power Player dinner at the center of San Francisco's field of dreams.
And what better way to cap the night with dessert at the Museum of Ice Cream?
DAY 2
The day began with The Class by Taryn Toomey, followed by a dive into the future of work with Kendra Scott, Dell's Liz Matthews, and Intel's Becky Brown.
Then Salesforce's Suzanne DiBianca, Project Include's Ellen Pao, and Friends at Work's Ty Stiklorius tackled the wage gap.
Instagram COO Marne Levine and Emily Ratajkowski dissected the power of social media and the #MeToo campaign.
And global phenom Priyanka Chopra closed #PowerTrip with an empowering conversation about feeling confident with your femininity.
Until next year, Power Trippers!
View more #PowerTrip pics here
Celebrity news, beauty, fashion advice, and fascinating features, delivered straight to your inbox!