Exclusive: Why these Gold Medal–Winning Hockey Stars Are Still Fighting for Women
"For all the young girls who might not have a voice or feel empowered or someone who is not earning a fair wage, we hear you."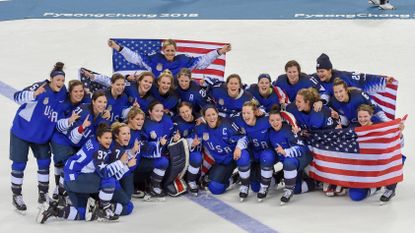 (Image credit: Getty images)
At the 2018 PyeongChang Winter Olympics in South Korea, the U.S. women's hockey team bested longtime rival, Canada, in an ultra-dramatic shootout to end a three-hour game and a 20-year gold medal drought. The epic victory was arguably the greatest game in U.S. women's hockey history, and it happened on the 38th anniversary of the 1980 "Miracle on Ice" game (inspiration for the 1981 movie), when the U.S. men's team defeated the Soviets, who were going for a fifth straight Olympic gold—just like the Canadians attempted to do in Korea.
Seems it was meant to be.
The team's success was even sweeter than all that, though, as it came after a months-long battle with their sport's governing body for equal treatment off the ice. "Everyone on this team has their own specific role in the rink, but it's important to unite to get the ultimate goal done," says goalie Maddie Rooney. "And that's what we did."
In March 2017, the players announced their decision to boycott the International Ice Hockey Federation world championship. Negotiations with USA Hockey for support equal to the U.S. men's hockey team had come to a standstill. Despite being ranked number one in the world (and having three world championships to boot), the female team members were barely paid a livable wage. The women, back-to-back silver medalists at the time, requested equal treatment to their male counterparts, including fair investments in marketing and promotion, according to TIME. And until they got what they deserved—they refused to play.
It wasn't an easy fight, but they found that there is strength in numbers. "The biggest thing for us and the reason we were successful with everything we went through, was that we stayed together and united," team captain Meghan Duggan tells MarieClaire.com in an exclusive interview. "It's not always easy, with groups of women you go through ups and downs, but we were able to find a common ground by communicating with each other. It's important for strong and powerful women to have unity in order to get what they want to achieve."
USA Hockey listened. They reached a four-year agreement that provides the team with resources previously unavailable to them. Terms included an annual compensation of about $70,000 per player (though players don't have official salaries, this includes things like training stipends), and performance bonuses of $20,000 or $15,000 for medaling at the Olympics. Plus, marketing and public relations improvements, according to ESPN.

"You have to be tough and you have to believe in your cause and continue to push," says Duggan. "In this day and age, we have a lot of work to do on our end and we feel strongly about continuing the conversation and asking questions and going after what we want, and that's what we'll keep doing in sport and outside of sport."
Ahead of International Women's Day, which centers around a push for gender parity this year, the team says they will keep up the fight they ignited a year ago.
"What was so empowering with that battle is it transcended just our sport," forward Hilary Knight says. "It affected people in other industries. Equality should be a thing we don't even have to talk about anymore. But it's a conversation that we've taken on and will continue to hold others accountable for and build others up who might not have our platform."
"We need to continue this conversation and keep supporting women," adds Duggan.
"For all the young girls who might not have a voice or feel empowered or someone who is not earning a fair wage, we hear you," says Knight. "This is so much bigger than ice hockey, but we can impact people through our sport, which is a beautiful thing."
After the Olympics, the team spent time in Los Angeles, where they appeared on Ellen and gifted the adored host with a signed stick and No. 1 Team USA jersey. Then they headed to their pre-Olympics training facility in Florida, where they were honored before a Lightning-Sabres NHL game last week. Two days later, it was off to D.C. and then New York, where they visited Jimmy Fallon on The Tonight Show.
The historic win still feels "like a dream" they say, and the victory tour has been an unforgettable (albeit "a little exhausting") journey and platform for them to inspire other women looking to close gender pay gaps.

"After we're done with our victory tour, we'll go get some sleep and celebrate with our families and friends," says Rooney. "After that? We'll see what's next. We'll continue to expose the world to women's hockey and inspire that next generation of female athletes to do great things."
MORE ON INTERNATIONAL WOMEN'S DAY
Celebrity news, beauty, fashion advice, and fascinating features, delivered straight to your inbox!
Rose is a Staff Writer at ELLE covering culture, news, and women's issues. She is an accomplished and compassionate storyteller who excels in obtaining exclusive interviews and unearthing compelling features.