5 Things You Must Do Before Asking for a Raise
Professional advice on how to ask for a raise at work and what you should do in your job to get promoted.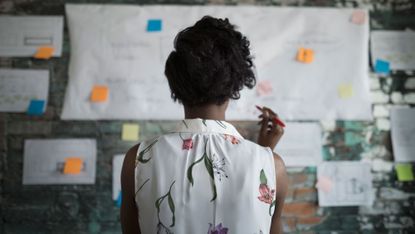 (Image credit: Hero Images)
Since all women should feel empowered and confident when asking for a raise, we're partnering with Secret—a brand that's been supporting women and their strength since 1956—to deliver the below tips on what you need to know before talking to your boss.
If there's any silver lining to the gender pay gap, it's that talking about it—and how it's time to shut it down for good—is sparking conversations about how to speak up and get paid. Equally.
"Some leaders say that the reason there's a gender pay gap is because men tend to ask for raises more often than their female counterparts," says Maggie Mistal, a career and executive coach in New York. "You've got to ask if you want to get a raise."
To that end, we went to the experts—career gurus and kickass women in senior positions who've fought for (and given) their share of raises—for advice on the five things you should do before asking for a raise. Take notes, and be prepared to add a few percent to your paycheck.
1. Take More Responsibility
Before you can ask for a raise, you've got to earn it, so in the months leading up to your review, start taking on more responsibility at the office. "Volunteer to lead a project or serve on a special task force, attend a conference and bring back specialized knowledge, or come up with a solution to a team problem and lead the change," says Alyssa Gelbard, founder and president of Point Road Group, a global career consulting and personal branding firm.
Another approach: Take a look at the job description of the role you're gunning for and see if you can start working some of those responsibilities into your own role, she adds. "Go the extra mile in everything that you do."
2. Join In.
Another item on your agenda in the months leading up to the big ask? Raising your profile. "When you're attending meetings, especially with senior people, make sure you speak up or contribute more," says Gelbard. If you don't get a lot of face-time with the higher-ups in your day-to-day tasks, "make an effort to network with those at the senior level, whether it's at meetings, a company event, or a lunch," she says.
Create opportunities by signing up for things like company volunteer days, office committees, and optional offsites.
3. Talk Yourself Up.
While you're doing all this great work, keep track. Keep a folder on your computer filled with emails praising your awesome work, office wins, and a running list of things you've accomplished and cases where you've gone above and beyond. It's important to know your own worth.
Use your list as inspo to talk yourself up to your supervisor—who, after all, might not be CC'd on every glowing client email or see every presentation you put together. "Your boss may not be aware of all the good you're doing. It's up to you to enlighten him or her on your successes, achievements, and wins," says Mistal. "If you have a hard time tooting your own horn, act as if you're negotiating on behalf of someone else who's relying on you to make the best possible case for a raise."
4. Do Your Homework.
When you have the raise conversation with your boss, you want to know your stuff. Research a reasonable amount to ask for, checking sites like Glassdoor and Payscale to get a vibe for the average salary of roles like yours.
Next, make sure that number makes sense within your company, says Gelbard. "You have to know if what you have in mind is reasonable within your department, for the title, and the time you've been in the position or the company itself." Talk to coworkers you can trust about any office politics that should be on your radar—for example, if HR tends to be stingy with mid-year raises but is more open to one-time bonuses.
Finally, "learn and understand how the industry, company, and your department are doing," says Mistal. When business is good, you're more likely to be successful in bumping up your paycheck.
5. Practice Makes Perfect.
To make all your prep work really sing, practice what you're going to say before you walk into the meeting with your boss. Grab your work wife or a friend—someone you trust to give you honest feedback—and run through the conversation, including how you'll start the conversation and any potentially challenging questions your boss might ask. "Practice allows you to create more polished and logical answers," Mistal says.
It's also worth running through a plan B if your boss initially says no. Think about creative compensation options, such as more vacation days or a budget for professional conferences you've been wanting to attend. "If you don't research, plan, and practice, you're not going to come across as confident as you could—and your boss is going to pick up on that," says Gelbard. "If you're prepared and have a well-thought out approach, you show results."
Celebrity news, beauty, fashion advice, and fascinating features, delivered straight to your inbox!