I Respect Jessica Mulroney's Hustle—and Her Loyalty to Meghan Markle
The royal stylist-slash-BFF has carefully charted a path to greatness.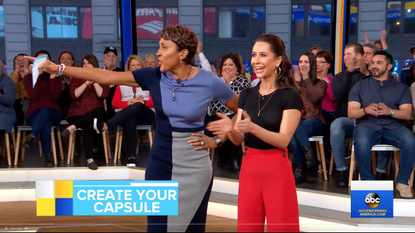 (Image credit: ABC)
Marie Claire Newsletter
Celebrity news, beauty, fashion advice, and fascinating features, delivered straight to your inbox!
Thank you for signing up to Marie Claire. You will receive a verification email shortly.
There was a problem. Please refresh the page and try again.
Madonna's "Express Yourself" pours out of the sound system at Good Morning America's Times Square studios on Monday, October 29, as Robin Roberts gives the show's newly-hired fashion contributor a booming introduction: "Please welcome stylist, Jessica Mulroney!" Roberts pronounces it more like "Malrooney," but the assembled crowd doesn't seem to notice.
In her first-ever segment, Mulroney seizes this national TV moment like a pro, schooling the audience on the art of the six-piece capsule wardrobe…and quickly establishing herself as someone with whom you'd want to have an al fresco glass of rosé. She is sunny and smiley, wearing red, TV-friendly wide-leg sailor pants (a signature style, as her 269,000 Instagram followers well know). She gestures animatedly at the models and clothes, pinching her fingers together like an Italian grandma commanding you to "mangia," except she's enthusing about power blazers in "pops of color" (preferably pink or red) and her favorite pair of high-waisted vegan leather leggings that double as Spanx. "Every woman wants that!" Mulroney says—twice—through laughter.
But what Mulroney doesn't say in her first GMA appearance is of equal, if not more, interest. At no point in her 7-minute-23-second segment—not in Roberts' intro, nor in any chyron (the technical term for the descriptions that appear at the bottom of the screen during a news show), and certainly not from Mulroney's own pink, pouty lips—is there a single mention of the fact that she is Meghan Duchess of Sussex neé Markle's official best friend and unofficial stylist, potential mastermind behind all of the newly married royal's bateau necklines and sky-high stilettos; or that Mulroney was the de facto matron of honor and child-wrangler at the Royal Wedding, where her own seven-year-old twins John and Brian (the one who photobombed Meghan with an adorable "OMG" face) were pageboys and her four-year-old daughter, Ivy, was a wee bridesmaid.
Nope, Mulroney didn't mention any of that—and she very likely made sure that ABC didn't bill her as royal-adjacent, either—which is part of why I and many other scrupulous royal-watchers have begun following her in addition to her best friend, looking on with a mix of fascination and admiration. Mulroney, 38, is becoming increasingly famous due to her close relationship to the duchess, but Meghan is also the one topic she won't—and perhaps can't—talk about. (Save for some Instagram odes that she can't seem to resist, like the one she posted and quickly deleted calling Meghan her "angel" after her stunning appearance at the British Fashion Awards.) That means walking a tightrope-thin line: self-promoting to advance her career (as she should), while still remaining loyal to the bestie she bonded with on the Toronto red carpet circuit circa 2011, during Meghan's pre-Harry Suits days.
"The 'Markle Sparkle' has shone upon her," Abby Gardner, a freelance writer and editor who covers the royals often, including in her newsletter, We Have Notes, tells me of Mulroney. "And why shouldn't she, to some degree, take advantage of it?" And yet, all the while, Mulroney has proven "she belongs to the Doria Ragland School of 'I don't talk about Meghan," adds Leslie Carroll, author of American Princess: The Love Story of Meghan Markle and Prince Harry.
Even before Meghan joined The Firm, Mulroney was a kind of Canadian Stacy London. She's a longtime fashion commentator on the Canadian morning show Cityline, a fashion and bridal brand partner at Canadian department store Hudson's Bay, and an independent bridal stylist, as showcased on her second Instagram account, @jessicamulroneyweddings. (Mulroney—maiden name Brownstein—formerly worked in marketing at Kleinfeld.) She is a former stylist to Canadian First Lady Sophie Trudeau. She's also the founder of a charity called The Shoebox Project, which donates gifts and toiletries to homeless and at-risk women. Boosting her profile: She is married to Ben Mulroney, co-host of Your Morning (Canada's version of The Today Show) and son of former Canadian prime minister Brian Mulroney.
"I thought I was a hard worker," Cityline host Tracy Moore tells MarieClaire.com, "and then I met Jessica."
Mulroney's star is rising, as is often the case these days, because of her Instagram, which has a distinct, lovable Real Housewives of Toronto vibe: She wears a great many jewel-colored jumpsuits; she goes to grueling Pilates reformer and barre classes; she drinks wine in the bathtub to decompress; and she is a pretty big fan of in-the-mirror, outfit-length selfies with subtle duckfaces. (There are cute pics of her kids, too, and posts about career achievements—catch her on the cover of North Toronto Post magazine as one of the most inspirational women of 2018.) Yes, like most great Instagram personalities, Mulroney is an active over-sharer—and she's not always polished about it, especially by royal standards. Palace aides may or may not have felt for the nearest fainting couch when an October paparazzi photo showed Mulroney crouched on the street in New York, sneaking a cigarette.
Not that Mulroney's growing fanbase minded. "It was like, 'Mom's away on a business trip and wanted a cig,'" Gardner says. "That is very relatable to me."

This is part of why Mulroney is emerging as a cult favorite among royal fans. She's just like us! Even if she happens to be living the plot of a Hallmark Channel movie (tagline: What happens when your best friend marries a prince?). She is also a glimmering, irresistible window into Meghan's past life—back to the days when the pair were chasing their dreams, hanging out at Toronto's Soho House, going to yoga, and traversing Italy on a 2016 bestie-moon (replete with custom hashtag, #JxMItaly). Now that we can't follow Meghan (R.I.P. The Tig), Mulroney is the next best thing, a vessel for royal fans' active imaginations.
"We talk about Jessica quite often," Susan Courter, editor of What Meghan Wore, says of herself and Susan E. Kelley, editor of What Kate Wore. "People who are less obsessed than you or me, my casual friends…kinda know who Jessica Mulroney is," Gardner echoes.
And yet, even as Mulroney totally goes for it, she is careful not to explicitly or publicly use her relationship with Meghan to advance her career. It's a delicate balance: She is the rare stylist who doesn't tag her star client and her many outfit credits; the unicorn bridal expert that doesn't mention that she had a role in styling one of the weddings of the century. After Meghan and Harry said "I do," she shared an understated "proud friend, proud mom" post on Instagram. Since Meghan and Harry got together, Mulroney has never granted a media interview about the couple.
Mulroney's silence is both admirable and, at times, awkward. There is often an elephant of sorts in the room; we know that she knows we know that her nebulous role as Meghan's stylist has pushed her to a new level—but Meghan has almost become She Who Shall Not Be Named. At Mulroney's GMA debut, for example, "I really thought that the hosts were going to jump on her and bring up the whole Meghan topic right away," Courter tells me. "When they didn't, I was surprised." Though, Courter notes, "they were smart on both sides for doing that, because it would not have looked good at all."
Part of Mulroney's discretion is due to just how close she is to Meghan. "She's like the sister Meghan didn't have," Carroll says, noting that Meghan is also tight with Ben and their three kids. ("She's their Auntie Meghan," Carroll says.) It was the Mulroneys who provided a secret hideaway for Meghan and Harry when they were camped out in Toronto after news of their relationship first broke in 2016. Meghan is reportedly still seeking refuge at Jessica's: This past August, she is said to have jetted to Toronto for a "secret" girls' trip with Mulroney.
But Mulroney's silence on her surrogate sister is also presumed to be in keeping with Palace rules. Though Mulroney is free to overshare about herself on Instagram, Meghan is now subject to staid and stringent protocol. Mulroney posting or otherwise speaking publicly about Meghan would be delicate at best, potentially scandalous at worst. Recall that when Kate Middleton's hairstylist, Amanda Cook Tyler, posted an Instagram of the veritable buffet of products she uses—including 13 hair brushes—"she had to rip it down," Courter says. "She got slammed for that."
When Mulroney posted photos of herself and Ben from Australia during Meghan and Harry's recent royal tour, she made no mention of the royals. Officially, she was accompanying Ben, who was reporting on the Invictus Games for Your Morning. Unofficially, she was believed to be giving Meghan wardrobe advice. "It's all done with that 'wink, wink, We're in Australia!'" Gardner laughs. Meanwhile, she jokes, "We all know how you got your press pass."
There are times when it seems Mulroney simply can't resist: There's the aforementioned post/deletion of bump-clutching Meghan under the caption, "My angel. Beauty, grace and strength personified." Similarly, last August, Mulroney posted—then quickly deleted—a Happy Birthday message to Meghan. That same month, she shared her son, Brian, making another "OMG" face, akin to the much-memed one. "That face Brian is making reminds me…" Mulroney wrote, but she later edited the caption, reportedly after commenters chimed in.
Of course, the less Mulroney brazenly mentions Meghan, the less she'll be attacked online (a sad reality). There are already some Mulroney haters, though the skepticism is about her role as stylist, not friend. One recent online headline blamed her for the tag still dangling from Meghan's red Self Portrait dress in Tonga, blaring, "WHERE WAS JESSICA MULRONEY WHEN MEGHAN'S TAG WAS SHOWING?!," adding. "Best friends don't let best friends have wardrobe mishaps."
At What Meghan Wore, "a lot of followers feel that...Meghan needs a stylist in the U.K…. and that Jessica is not the one," Courter says. Courter shrugs off the Self Portrait tag faux pas as inevitable in the cycle of 76 royal engagements in 16 days. But when it comes to glitches like Meghan's own extra-long Veronica Beard sailor pants (where ever could she have gotten the idea?) pooling on the ground at a February engagement, Courter concedes: "If Meghan had somebody there in London with her…maybe she would spot those little tweaks right away."

Still, Mulroney's loyalty may be king—she is someone Meghan can trust as the duchess navigates a new life and family. It's a virtue that may be a draw for potential business partners, too. "[Mulroney's] discretion is part of the allure," says Carroll. Companies know that "if you become her client, she's not going to blab about you," either.
At this point, Mulroney probably doesn't even need to explicitly tout her friendship to Meghan as a means of advancing her career. Bridal and fashion clients alike know exactly who she is and what she's done.
In her subsequent appearances on GMA, Mulroney has been similarly silent on the topic of Meghan, even if, "the relationship is so clear," Gardner says. "Her profile has been raised because of the association, even if they can't put it on the chyron."
Unsurprisingly, a rep for Jessica Mulroney did not respond to MarieClaire.com's request for comment.
For more celebrity news, beauty and fashion advice, savvy political commentary, and fascinating features, sign up for the Marie Claire newsletter.
RELATED STORY
Celebrity news, beauty, fashion advice, and fascinating features, delivered straight to your inbox!