How This Powerhouse Turned Her Fashion Styling Business into an Empire
It's not just about dreaming big (but it helps).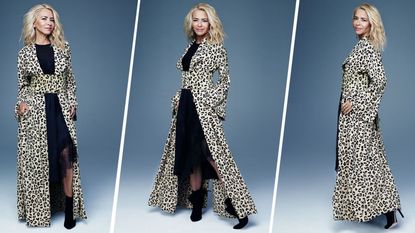 (Image credit: Jason Kim)
Irma Martinez is the biggest Latina stylist working today—from album and magazine covers with stars like Pitbull and Sofia Vergara to the Latin Grammys to the Latin Billboard Awards, she's done it all. But decades ago, when she was laid off from her job working in public relations (and eventually the wardrobe department) at a national Spanish-language television network, the role of "stylist" wasn't an option because the job didn't exist yet—at the time, stars typically dressed themselves with the help of their managers or agents. Martinez knew if she wanted a big job in fashion she was going to have to carve her own path. "I started making some calls to producers. At that time they didn't even call it a 'stylist'—but I said, 'If you need wardrobe for anything, call me and I can do it for you.'"
And call they did, allowing Irma to build Trendy Group., a Miami-based styling company she runs with her husband and business partner as vice president, which, among other things, focuses on styling artists and stars for large-scale events like awards shows and magazine covers, mostly within the Latin community. She also recently released a styling guide called El Manual Del Estilista, opened a styling school called Trendy Academy, and was named a part of Activia's "It Starts Inside" campaign celebrating female trailblazers making a mark in their fields.
"They tell me that I monopolize the industry. It's incredible," she says. She didn't know she could dream this big when she came to the United States in the 1980s. "As a lady who came from Colombia without speaking the language, if I can make it, anybody can." Here, her wisest advice for anyone looking to turn a budding dream into full-fledged empire:
Create the job you want
In the beginning, Martinez had to define her role herself. "Today, every star has a glam team, but back then, people would say, 'What, you want to dress me and I have to pay for it?' People didn't get that it was a service." But she kept at it, and slowly stars and producers saw that hiring her wasn't just a good idea, it was an absolute must for pulling off a successful show, album or magazine cover.
Find a niche
Martinez first started working the Latin Grammys when executives realized they needed a team that was familiar with the culture: "The Latin market is different, they want different things. You have to understand that to be successful in it." Fifteen years later, she's still the go-to for the show and a whole host of other Latin awards, artists, and magazines shoots. "I meet with the producers and directors and I'm part of the creative process because I know each artist. When they come with an idea, if I say 'I know so-and-so is not going to go for that,' they appreciate that."
Think bigger
"Every time I got to a given place [in my career], I started thinking about the next step," she says, "They'll close the doors, but you just have to keep going." Once she switched to focusing on big projects rather than one-off clients, things started to fall in place. "I love doing shows. It's intense—a two-month project. You have 15 artists, and they all have to look good together. It's fun!"
Discover balance
Martinez knows to be a successful entrepreneur, she also has to be successful in other areas of her life. "I believe accomplishing balance is the holy grail of life. [When I was younger,] I was putting myself last because my kids were growing, my company was growing. But now, I'm in the stage in my life where I'm really taking care of myself," she says. And that means watching what she consumes (she eats Activia yogurt every morning), exercising more and making time to do the things she loves. And when she strikes this balance? She gets more done. "My day just goes more smoothly when I eat well in the morning and work out. I have a lot of energy. I can accomplish what I set my mind to, because I feel full and [energized]."
Listen to your gut
Rather than get sidelined by criticism, Martinez considers the source. If it's an outside critic, she brushes it off. "If my client is happy, I've done my job. Besides, whether it's called 'best dressed' or 'worst dressed,' it's the same dress. You can't listen to that! You have to listen to yourself."
Pay it forward
She strives to be the example for younger women that she wishes she'd had when she started. "I want to teach [young stylists] what it's like to be on set, what it's like to have an emergency on set, to work on deadline." Between her book and her academy, she's doing just that. "I enjoy mentorship, and when I see someone I helped succeeding, that makes me proud." Plus, working with new talent helps keep her mind in the game. "They refresh me. They're the next generation. I have to learn from them too!"
Never get too big to get your hands dirty
Despite having a team of helpers, Martinez will jump in to do any job that needs to be done. "Even now, I sew, I put the clothes on so we can see what they look like. I lay on the floor cleaning shoes." Her philosophy: "You can't have a big ego. You have to keep your feet on the ground."
Follow Marie Claire on Facebook for the latest celeb news, beauty tips, fascinating reads, livestream video, and more.
Celebrity news, beauty, fashion advice, and fascinating features, delivered straight to your inbox!