Everything That Happened at Marie Claire's First Power On Event
Gabrielle Union, Taraji P. Henson, and more of MC's guests shared powerful takeaways.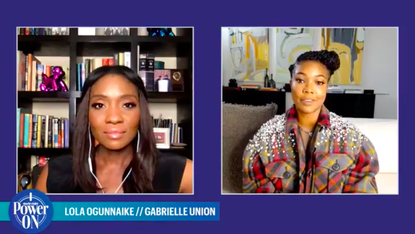 (Image credit: Marie Claire)
This month, Marie Claire hosted its very first Power On virtual summit. The new work-from-home-life answer to our annual Power Trip event (at this time in years past, I'd be on a United flight with 75 or so female founders, CEOs, and power women headed to MC's 36-hour in-person event), Power On had all of the networking, inspiring panels, celeb appearances, and, of course, surprise-and-delight moments that the IRL event is known for. Despite the challenges 2020 has presented, we were determined to bring our Power Trip community together and, thanks to some amazing partners—the United Explorer Card, Dell and Intel, Dermstore, Simon G. Jewelry, Soma, White House Black Market, and Sarah Flint—we were able to make it happen.
Here, the most inspiring moments from our very first Power On event:
On taking care of herself: "Twenty-twenty has been about taking better care of myself and understanding that I'm more than just my career. And not just saying that, but actively trying to do that—I'm working out more, I'm eating healthier, my boyfriend and I are making time for date night. I'm trying to be kinder to myself."
On setting boundaries: "After 8 p.m. I'm not working anymore...unless the Obamas are calling. Just save the emails for another day. "

On how she picks her projects: "I choose the projects that scare that hell out of me. On the other side of fear, there's growth. Through that growth as a character, someone in the audience will grow."
On stigmas that Black women are facing and how she's combatting that: "You have to be careful with the term 'Black Girl Magic.' It dehumanizes our pain—we're not fairies. I have to be quiet and forgive and be nice...that's not fair to me. I'm human and I hurt. Terms like that are the reason why Black women die in emergency rooms or giving birth because we are known to be strong. You don't know how other people take that term out of context."
On her goals for 2020 and 2021: "In 2020, I'm looking for a new administration in that White House. I'm voting early and I'm encouraging everyone I know to vote. I'm scared for 2021. We still have hurdles and obstacles in our way. I just want to continue to champion for honest conversation so we can heal the trauma that everyone in this nation has experienced over the past decade. I want to push for open, honest, compassionate conversations that will get us on the right side of history."
On self-affirmations: "'I'm enough.' In the world of social media, you have to wake up everyday and look yourself in the mirror and tell yourself that. If you fall into the trap of the facade and the smoke and mirrors of people's photoshopped lives on Instagram, it can do a lot of damage. You have to find that balance. I wake up every day and fight for me."
On what it means to be one of the only Black female anchors: "When I got the call that I was going to be given this spot to host, it was a little intimidating. When I was growing up, all of the news was being given to me by white guys. I feel like I need to represent really well. Gwen Ifill and Carole Simpson and Connie Chung were my role models growing up. For some little girl, I might be Gwen to them, so I have to represent."

On amplifying voices: "When we're building our episodes at The ReidOut, we want to balance the gender, race, ethnicity, and background of people to bring a little chunk of what America is in this broadcast. One of the biggest lies is, 'Well, I just couldn't find a woman.' 'Well, I just couldn't find a person of color and that's why we just hired all of these white guys.' There's a smart lawyer who's Asian-American and LGBTQ—find them."
On pivoting: "You learn who you are in a crisis. We saw basically all of our demand disappear in March when people were sheltered at home. I was fighting not only for myself, but for every single person who has ever dedicated their heart, soul, and time to Rent the Runway. There's a greater purpose, and that greater purpose is the team—past and present. It was that team that inspired me to keep on going."

On the criticism she's received: "Every data point shows that women are held up to different standards as it relates to being a leader. It's very difficult because when that criticism [of laying off employees via Zoom call] happened, we thought the most empathetic way was for them to be able to see us face-to-face and show emotion, have a conversation. The alternative would have been to lay someone off over the phone or email."
On adapting: "These last six months have been f*cked up. The silver lining is we're more together than ever as family and friends. We have to be physically apart, but we're in a place where we've brought people together. People need their tank filled. People are getting out of these asynchronous news feeds, and they're seeking out ways to stay connected in real ways."
On power: "Power isn't about feeling good about yourself. It's about making the rules that can make us all powerful together. That is the purpose of power, and when we exercise our power, we can change the rules that leave so many of us out and too many of us behind."
On building a female collective: "As women, we must commit to another way of power that knows we depend on each other to survive. None of us are free until all of us are free. It's time to get organized and stay organized. It's time to build a movement in the millions. It's time to knock down the walls between us and commit to never allowing another wall to be erected. It's time to take our power and transform power. We have nothing to lose but our chains."
On Black women speaking up: "The longer that we stay silent the longer we are complicit in our own pain and trauma. If you want something different, you have to do something different. You have to actually be willing to speak up, stick your neck out, co-sign. I recognize that we aren't all built to lead from the front, but there are other ways to contribute to the fight."
Sally is the Editor in Chief of Marie Claire where she oversees coverage of all the things the Marie Claire reader wants to know about, including politics, beauty, fashion, and celebs. Holmes has been with Marie Claire for five years, overseeing all content for the brand's website and social platforms. She joined Marie Claire from ELLE.com, where she worked for four years, first as Senior Editor running all news content and finally as Executive Editor. Before that, Sally was at NYMag.com's the Cut and graduated with an English major from Boston College.