Hannah Mendoza Is Coming For Your Morning Coffee
Hannah Mendoza was mixing adaptogenic lattes and mushroom coffees out of a van two years ago. Now her company, Clevr Blends, counts Meghan Markle as a fan—and investor.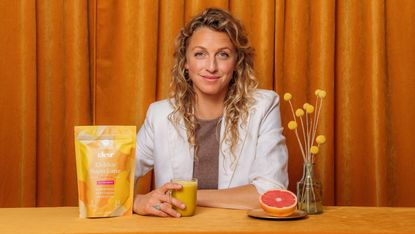 (Image credit: Courtesy)
More than 150 million Americans start their day (or, um, get through their day) with coffee. And luckily for all of us, there are options: Latte. Cappuccino. A dang Affogato (that's ice cream with a shot of espresso poured over). So, yes, consumers have a variety of blends and brews to reach for in the morning. Where someone else might have seen a crowded, if not impenetrable market, Hannah Mendoza saw one buzzing with opportunity.
In 2019, Mendoza jumped on a train that had just swept the alcohol industry: alternative beverages. But instead of a cocktail company that offer a buzz without the booz, the now-29-year-old launched Clevr Blends, a startup that serves up instant, functional latte blends packed with adaptogens, probiotics, and superfoods. Clevr says it offers a healthy alternative to your typical morning drink, like the "Matcha SuperLatte," which promises long-lasting focus, or their turmeric, adaptogens, mushrooms, and probiotics blend that boasts anti-inflammatory properties. People seem to love it: In just two years on the market, Clevr has built a loyal fan base (31,000 strong on Instagram) and can't keep their blends on the (virtual) shelves. All of the hype is owed to Mendoza (the full-time team is just three people), but support from fans like Oprah and the Meghan Markle, Duchess of Sussex—who made Clevr her first and, to date, only business investment—doesn't hurt. Consider the market disrupted.
Some might have seen the move as a gamble, but Mendoza's always been a go-for-it type of person. She moved from London, where she grew up, to California when she was 18 ("looking for something a little more sunshiny—both in spirit and in temperature") and, after graduating from the University of California, Santa Barbra in 2014, became the first employee at a small direct-trade superfood startup. But she knew she wanted to be her own boss; in fact, she had wanted to be a founder before she even had an idea for a business, citing memories of seeing women in leadership "reshape [her] own concept of gender norms" as a child. Below, Mendoza shares how she pulled it off.
Marie Claire: What inspired Clevr?
Hannah Mendoza: Growing up, I remember very distinctly seeing women in leadership roles and noting internally how that was starting to reshape my own concept of gender norms. One of the biggest reasons that I wanted to launch my own company was because I wanted to be part of that movement. Before there was a concept for Clevr, there was the foundational place that the desire came from.
Most people in America start their day with some kind of caffeine. The idea for Clevr came around at a time where there was growing awareness of these alternative, exotic ways that people could go beyond the caffeine ritual that they'd had their whole lives. [Despite the awareness,] it sill felt like there was a big gap between knowing about [adaptogens, probiotics, and mushrooms] and actually having time, energy, and space to incorporate them into your life. The idea for Clevr was to bridge that gap. What you do first thing in the morning determines how your day pans out. So, if we could make something that was a better alternative to people's regular coffee routine, we're having a direct impact on how that day shapes up. Honestly, that's what gets me out of bed in the morning.
MC: The brand has grown fast. How did you launch, pivot, and boom in just two years?
HM: The first year, 2019, was extremely grassroots. There were just two of us full-time; we had basically next to no marketing budget. We'd go to in-person events and set up a tasting bar. That was the best, rapid integration process that we could have.
Year two was 2020—it was all about making the concept scalable. With a small team, we can't be at events 20 times a year. It's not practical. Plus, with the pandemic, going to an event literally wasn't an option. [We focused on] simplifying the [user] experience on our website. That meant investing much more in the kind of content and the quality of content we were producing, plus investing in paid advertising and email marketing. That is something that is evergreen for most brands. I don't think it's pandemic-specific, but it was particularly pointed in this past year, given the lack of connection in other ways.
MC: What are some of the biggest challenges and hurdles that you faced this past year? What have been some of the biggest successes that you've celebrated?
HM: I feel incredibly grateful to be in a niche within our industry where we are protected from some of the real difficulties of 2020. We're a digitally native brand; we're almost exclusively e-commerce, and that was an intentional choice. We're also in the coffee and tea business; the product that we created is bringing comfort during a time of insecurity. So, I feel like we got off lightly compared to other businesses.
In terms of particular challenges, 2020 was such a massive year. Figuring out how to communicate around the enormity and the gravity of 2020 [has been challenging], but to do that as a brand has been a really interesting growth point. There have been such seismic shifts in our country, with the pandemic and around social justice. We're way past the point where brands, especially smaller brands like us, should be neutral about these things. We all have a role to play in bringing our voices to the table, but it's been challenging for me to figure out how much my personal beliefs and the personal beliefs of our team should be expressed through our brand. It's also been a real opportunity. This invitation to figure out, how can we use our companies to do more than just sell a product, but to also stand up for the things that we believe in? Out of that came our commitment to donating a percentage of our revenue to food justice projects and our local community.
MC: New companies want to have as wide of an audience as possible. And sometimes, expressing certain political or ideological beliefs can ostracize a group of potential customers or investors.
HM: I think where we landed is that the movements that were happening this year—and the uncovering of the deep inequity of our society—that shouldn't be controversial. Of course, it is inherently controversial because people hold different views, but that shouldn't be polemic—human rights shouldn't be polemic.
You're going to get people that are pissed off when you speak out. It is difficult as a brand, but, ultimately, we don't feel too precious about that. It's worth it. There's a lot more that we can do in speaking up; I'm definitely not [saying] we've been perfect. There's more that we can do. There's more that we can say.
MC: Did being a young founder present any unique challenges? Has it been a strength in any ways?
HM: Being younger, there's a certain read on utopianism and an almost a willful ignorance of the potential difficulties of starting a business that I think is actually incredibly helpful to get the dream off the ground in the first place. The ability to be completely and utterly, almost selfishly, dedicated to growing a business without kids, without anyone else that's dependent on me, [is a strength]. Although it's entirely possible to dedicate yourself in that way when you do have kids, for me, being able to be single-minded has been incredibly helpful to focus.
On the other end, there's been a much steeper learning curve, especially when it comes to investment. I'm still developing my thick skin. Receiving criticism and making mistakes is always going to happen. There's no way to avoid that. I'm so emotionally connected to what we're building that I really struggle to not take it personally.
MC: Speaking of raising capital: Clevr made headlines for being the first company Meghan Markle, Duchess of Sussex, has invested in. What did the fundraising process look like for you?
HM: We didn't raise before then, and we haven't raised since then. [We have not] done a more traditional raise. But I have had plenty of conversations with investors, especially over the past six months. The biggest thing that struck me is really remembering that investors are people, and we can't forget that human connection piece. It's so important.
MC: Oprah is also a big fan of Clevr. Could you have ever imagined or anticipated having two of I think the most prominent women in the world support your company publicly?
HM: I feel so deeply grateful and honored to have two of the most incredible, powerful, and impactful women supporting what we've built. It really is surreal and I'm pretty overwhelmed with gratitude for that. It's absolutely not something that we could have thought about.
We're a grassroots brand. I formulated all of our products in my kitchen, and we make everything ourselves. We were on this humble trajectory, but with a lot of passion and a lot of intention to have that recognized, and the potential recognized in what we're building is something that I will like treasure for the rest of my career, the rest of my life.
Interview edited for length and clarity.
Related Story
Related Story
Celebrity news, beauty, fashion advice, and fascinating features, delivered straight to your inbox!
Megan DiTrolio is the editor of features and special projects at Marie Claire, where she oversees all career coverage and writes and edits stories on women's issues, politics, cultural trends, and more. In addition to editing feature stories, she programs Marie Claire's annual Power Trip conference and Marie Claire's Getting Down To Business Instagram Live franchise.