How I Got Here: 'Good Morning America' Cohost Lara Spencer Explains Her Career Path
Including but not limited to: camera operating, learning Diane Sawyer's moves, and making a splash in the fast-paced world of broadcast.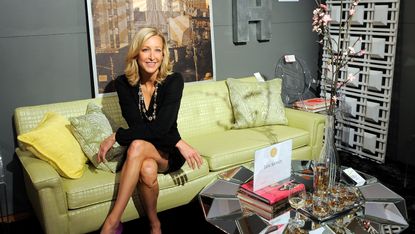 (Image credit: Getty Images)
Here, an exclusive look at Spencers's résumé:
1. Garden City High School, Garden City, Long Island, class of 1987
"I was a diver. Looking back, I realize that putting yourself out there, literally, on the edge of the platform is very similar to doing live TV. It's taking the plunge and knowing, with lots of practice, it'll work out fine."
2. Penn State, journalism major with an athletic scholarship, class of 1991
"My first taste of the business was the glamorous job of pulling camera cables so they wouldn't get tangled while the football games were filmed."
3. 1991: The NBC Page Program in New York City
"Chuck [Scarborough] and Matt [Lauer] were anchors. They were very kind, looking at my résumé tape and giving suggestions—and, sometimes, tough love."
4. 1992: Reporter at WDEF-TV in Chattanooga, Tennessee
"I was hired as a 'one-man band': I shot, wrote, and edited all my pieces. I'd be in the pouring rain, setting up the camera, and trying to look remotely attractive—it was a train wreck! The upside is that I think more like a producer now."
5. 1993: Reporter at News 12 Long Island
"It's my home turf, so I pitched lots of stories. That's critical in this industry: Successful people take initiative."
6. 1995: Morning-show reporter and weekend anchor at WABC-TV Eyewitness News in NYC
"Going from reporter to anchor is like going from wide receiver to quarterback. As anchor, you're running the plays and having the feel of the show—and knowing when to be more upbeat or slow down."
7. 1999: National correspondent at Good Morning America on ABC in New York
"Diane Sawyer called me in. Talk about having a front-row seat at a master class—there's no one more graceful in the business."
8. 2004: Anchor of The Insider entertainment news magazine on CBS in L.A.
"As a correspondent, you have a backpack and go at a moment's notice, which is hard when you're breast-feeding. This provided me with more regular hours."
9. 2011: Returned to GMA in NYC as coanchor, with George Stephanopoulos and Robin Roberts, and became cohost in 2014
"It felt like going home. The chemistry our viewers see is real. There is no way you could fake it at such an early hour. You know you have the right job when you don't mind waking up at 3:45 a.m."
10. 2014: Published Flea Market Fabulous and continues to produce two HGTV shows
"The new book made it on The New York Times best-seller list, as did my first, I Brake for Yard Sales, in 2012. I'm glad, because now I know I'm not crazy for loving vintage furniture so much. Others are as addicted as I am."
This article appears in the January 2015 issue of Marie Claire.
Related Links:
How to Completely Change Your Career
Glassdoor's 2015 List of Best Places to Work May Seriously Surprise You
Celebrity news, beauty, fashion advice, and fascinating features, delivered straight to your inbox!
Maria Ricapito is a writer who lives in the Hudson Valley.