A CEO Just Took a 90% Pay Cut So He Could Give His Employees a Ridiculously Huge Raise
Imagine a magical place where the new minimum wage is $70,000.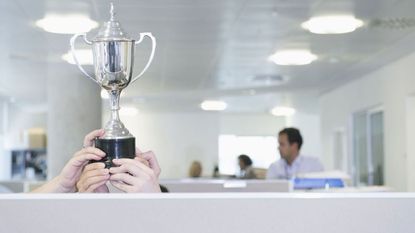 (Image credit: Getty)
Talk about a dream boss: The CEO of a Seattle company just gave himself a drastic pay cut—and shrunk his company's profits—so his employees could make more money.
CNN reports (opens in new tab) that Gravity Payments, a company that processes credit-card transactions, will now pay its employees at least $70,000 each. That doubles the salary for 30 workers, and gives many others significant pay increases. The new policy is set to take effect within the next three years.
CEO and founder Dan Price will pay himself $70,000 as well, which is a 90% pay cut. Not something you hear about CEOs doing every day.
Price announced the salary changes at a meeting on Monday, and his 120 employees were stunned into silence. Then they burst into applause. "Is anyone else freaking out right now?" he asked them, according to the New York Times (opens in new tab). "I'm kind of freaking out."
Price said he decided to take action after talking to employees and reading a study (opens in new tab) that said more money makes people happier up to the point when they make $75K a year. Seattle has the highest minimum wage in the country at $15 an hour, but it's still hardly enough to get by in an urban area.
Fun fact: The company's currently hiring (opens in new tab) a sales rep and a customer service agent, so uh, dust off your résumé?
You should also check out:
The 20-Something's Official Guide to Getting a Raise (opens in new tab)
Ellen Pao Has Eliminated Salary Negotiations at Reddit Because They Encourage Gender Bias (opens in new tab)
Hold Up—Are You Actually *Qualified* for a Raise? (opens in new tab)
Megan Friedman is the former managing editor of the Newsroom at Hearst. She's worked at NBC and Time, and is a graduate of Northwestern's Medill School of Journalism.