Trump Power: Ivanka Trump
At 25, Ivanka the mogulette is making her move; an apprentice to Daddy no longer.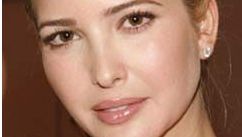 (Image credit: Mark Von Holden)
It's 10:30 on a September morning, and everyone wants a piece of Ivanka. In her office on the 26th floor of — what else? — Trump Tower, both cell phones are trilling, her BlackBerry's erupting, she has a conference call at 11, and her father, who checks in throughout the day, is right down the hall. Ivanka, the vice president of real-estate development and acquisitions for the Trump Organization, impeccably groomed and straining the buttons of her red shirtdress, picks up a fat stack of papers and slams them onto her desk.
"This is the number of proposals that have come in this morning," she says in her fetchingly husky voice. "Things that I'll need to go through and sort out and see if we want to be involved — see if they're Trump-worthy. My calendar is crazy! I work pretty much 19-hour days. A large part of my job is scouting locations for new projects, so I'm always on the road. Hey, Darce! Can you bring in one of the packets on Chicago?"
Darcy, her perky, doll-faced assistant, whisks in and hands over the info on the 92-story, 2.7-million-square-foot Trump Tower under construction in Chicago, right on the river. "I mean, it's an incredible project," Ivanka says, showing off the plans. "This is amazing, an absolutely beautiful building."
Ivanka says she gets up at around 5:30 a.m. and rarely finds time for the gym. "Typically, I'm in the office by 6:30, 7, and then that's my quiet time when I answer emails and return phone calls or leave messages. A lot of the deals we're doing are in Europe, so I'm making calls there, or to Asia. Basically until around 6 p.m., I have meetings and conference calls straight through. Then I go through my in- and out-boxes, then meet up with, you know, a hot guy or girlfriends, ha ha! Hopefully a hot guy; that's wishful thinking."
On her desk is a copy of the September issue of Trump magazine, and she's on the cover, flaunting cleavage.
"I would never have done this a year ago," she says. "I would have said, 'Oh, I should be buttoned up' and whatnot. But once I realized that, ultimately, I'm never going to blend in, and I don't need to be a guy to succeed in this world, I decided it's OK to be 25 and have a little bit of fun with it, and still unabashedly walk into a meeting with any banker and not be embarrassed. Because I am in a strange position, and I've been enjoying it."
Like Father, Like Daughter
Indeed. Besides the plump lips, Ivanka has clearly inherited a little of her father's P.T. Barnum instincts, as well as his liberal way with superlatives. For instance, the deal she's overseeing in Mexico is "major," as is a condo offering in Hawaii. The project off the coast of Dubai is "the largest reclamation job ever," and the 75 "very high-end" homes under construction in Los Angeles will be sprinkled around an "incredible property." Ivanka glances at her computer to check the time. Like her father, she claims that doing interviews is not something she really enjoys. They're often boring for her because she gets a lot of the same questions, but she's learned to accept it in order to "grow the Trump brand."
"I love the name my father has given me," she says, "but I'm also Ivanka Trump as a person. That's important to me, and I think that's sort of why the interview thing becomes tedious. It's like, how many times do I have to say, 'Barron's adorable'?" That would be the 10-month-old son of Donald and his third wife, Melania. "Of course I think my brother is adorable," she says. "But for some reason that's really intriguing to people, how adorable I think he is, and whether my dad changes his diapers."
Ivanka is in town for two days to look at a job site, then it's off to California for three days, one day in Vegas, back to New York City, Chicago for a day, back to New York again, then Thailand for three days.
"There's nothing more fun for me than being on our sites," she sighs. "I'm probably the only girl who will be in a cute outfit and taking off her stiletto heels to put on her workmen's boots. It's just fun for me." At present there are 33 Trump holdings and projects in countries across the globe, and it's up to Ivanka and her brothers, Eric and Donald Jr., to continue taking the Trump brand worldwide. Toward that end, they have accompanied their father on numerous TV appearances — The Today Show, 20/20, the Forbes.com video network, and so on. And accompanying him is perhaps a good thing: When Donald appeared on The View solo last March, he told the hosts that "if Ivanka weren't my daughter, perhaps I'd be dating her." The creepiness of that didn't go unnoticed by the press — Ivanka describes the aftermath as "a nightmare."
"I mean, I've even heard him say that before," she says. "He loves seeing people's reaction, when they're flabbergasted. Plus, he was obviously making fun of the fact that he has a tendency to date younger women."
I look around her somewhat cluttered office: There's the Trump-themed board game, the new Plum Sykes novel, golf clubs (she's a 16 handicap). "You should play sometime on one of our courses," she says. Then we check out the pictures up on the wall.
"The project in Dubai, a building I'm working on in Las Vegas," she says pointing to the framed images. "A panda bear, my favorite lawyer, my brother and me on the set of The Apprentice. Playing golf with my best friend, Christina, and her father, [pro golfer] Raymond Floyd. Me jumping out of an airplane."
I apologize for keeping her.
"I know, get the hell out of here!" she laughs, showing me out. "I have to do my conference call!
Born to Build
A few weeks later, Ivanka is racing around her two-bedroom apartment in Trump Park Avenue, not far from her office. Luxurious but far from extravagant for an heiress, it cost $1.5 million, and she paid for it herself — sort of (with "a little nest egg," compliments of her grandparents, and a mortgage). On her shelves are a half-dozen books written by her father, the same number about her father, finance and real-estate textbooks, and a well-thumbed copy of Ayn Rand's Atlas Shrugged. Tucked in halfway is a faded photograph of Ivanka being kissed by an ex on a yacht in the Mediterranean.
When Ivanka was growing up, her lavender bedroom on the 68th floor of Trump Tower had panoramic views of Central Park. Besides their 50-room triplex, there was the 45-room oceanfront country house in Greenwich, CT, and the 118-room Mar-a-Lago mansion in Palm Beach, where Ivanka's bathroom — one of 33 — was decorated with tiles hand-painted by Walt Disney. She says she wanted to be a builder from "my first cognitive thought."
Ivanka used to love to play in her father's office and listen to him negotiate. "I'd sit on the floor and hear him bid out contracts. I just liked it. I mean, I was always a feminine tomboy, like I always dressed like a girl and acted like a boy, ha ha!"
Ivana Trump, a model from Czechoslovakia whom Donald met at a popular singles hangout called Maxwell's Plum, instilled a certain worldliness in her daughter. "She was very much my cultural influence," Ivanka says, adding that Mom was also the disciplinarian, spanking her in public on a few occasions. "I guess it was for the typical stuff: I once broke a chandelier with a beach ball. That didn't go over well," she recalls. "And then I blamed it on my brother."
Donald and Ivana encouraged the competition. "It's in our blood — we're highly competitive," Ivanka says, but the idea was always "to harness that competition and use it to propel us forward together, collectively, as a team." Once, during a family ski trip in Aspen, 7-year-old Ivanka and her father were racing down a mountain when all of a sudden she felt something on her back. "I was thinking, What the heck?" she recalls. "Then I realized he had taken his ski pole, hooked the back of my jumpsuit, and was pulling me backward so he could basically slingshot himself over the finish line. It was all in good fun, but we're very much like that."
The worst issue Ivanka has ever faced actually germinated on those very slopes, when her mother famously confronted her father's mistress, Marla Maples, during Christmas vacation in 1989. "You bitch! Leave my husband alone!" Mrs. Trump supposedly told the Georgia peach. Two months later, on the morning she found out her parents were separating, Ivanka was exiting the elite Chapin School when a horde of paparazzi started chasing her down the street, asking her to comment on her father's affair. After a local tabloid famously blared, "Best Sex I Ever Had" on the front page, a reporter asked Ivanka to confirm that Marla really had said that about her dad.
"Did I want to hear that?" Ivanka asks. "No. It was a terribly unpleasant experience. It gave me a glimpse into how ugly the world can be. And I think it made me a little bit more resilient. The school of hard knocks, right? There will be more situations like that, I'm sure, but that was a big one for me, at a difficult time, because adolescence is never easy to begin with."
Model Student
Ivanka wasn't a rebel, but had her moments. "I think my mom threatened to put me up for adoption a few times," she says. At 15, she transferred to tony Choate Rosemary Hall in Connecticut. "I was all of a sudden in the prison of boarding-school life, and all my friends in New York were having fun," she recalls. Plus, her mother made her pay her own phone bills. To escape and make some extra scratch, she started modeling for Versace and Thierry Mugler; in 1997, she appeared on the cover of Seventeen.
"Modeling was not an endgame for me," Ivanka says. "I didn't particularly enjoy the act of it. It's as ruthless an industry as real estate — the people you meet in that business are just as fricking tough." She scrunches her velvety brow. "I used it as an excuse to travel. I used it as a way to break up the monotony. It was great, but it is an annoying source of confusion at this juncture in my life. People still constantly ask me, 'How's modeling going?' That's how they remember me, and I want to be a little bit more serious than that, ha ha!"
Ivanka recalls a day during high school when she was looking out of a friend's window. "It was this gorgeous cityscape, and there was this sort of gap where there should have been a beautiful tower," she recalls. At that moment, she declared that one day she would rule the New York City skyline.
After graduating summa cum laude from Wharton with a B.A. in economics, she took a job working for billionaire developer Bruce Ratner but left after a year to join the family business. She avoided appearing on The Apprentice, despite the urgings of her father and producer Mark Burnett, but eventually gave in.
"I knew that for 'Trump' to be sustainable it couldn't just be about my father," she says. "It has to be about us as a family in some broader context, and the vehicle for that is shows like The Apprentice. That's why I did it."
She tells me that until recently, she thought she'd be hitched by 25 and have three kids and her first major building completed by 30."Totally unrealistic!" Ivanka says, laughing. "Someday I want a house full of small, adorable brats. But this is where I want to be now, working in this company, building buildings."
In November 2005, Ivanka exited a three-and-a-half year relationship with documentary producer and playboy James "Bingo" Gubelmann. She says that she's attracted to strong guys. "Typically a little bit older than myself — someone who knows what he wants. Aesthetically, Christian Bale is like a god — I find him to be so good looking. I mean, he was great in American Psycho. Very attractive."
Ivanka, the Apprentice
For our final visit, Ivanka wears a black Brioni suit and carries a red Chanel bag. When she strides into the restaurant, she offers me a social kiss. Don't mind if I do!
She's just returned from a vacation in Argentina, where she rode horses, shot skeet and trap, and tried not to think about work. She looks refreshed — early this morning she did some boxing in her building's gym. She gives me the basics on the "extremely high-end" jewelry company she hopes to start: She wants the first store to open on Madison Avenue, possibly by spring.
"It's exciting for me, particularly because it would be the first thing I've done under my own name," she says. Ivanka has had offers from the jewelry industry before, but like so many other lame or inappropriate proposals tossed her way (reality shows, movies, product promotions), she turned them all down.
"I obviously have a great love and appreciation of jewelry, thanks to my mother, much to the dismay of both my father and my boyfriends," she says, chuckling. "But it doesn't matter how much I love jewelry; I wouldn't do it if it weren't going to be successful." She swallows a forkful of foie gras. "I know people assume I could coast on what other generations have done before me," she says. "But I know I have to prove myself within the company, to my father and everyone we work with." I ask her if she is ever bothered by having to seek Daddy's approval."No, I strive for it," she says. "I'd like to say I was bigger than needing it, but I'm not. Ultimately, he is my boss, and his approval validates everything I'm working on. He is a great real-estate genius. There's no doubt in my mind."
She assures me that her father wouldn't hesitate to fire her. "It could be for anything. Why do people get fired? You mess up. But ultimately, worse than being fired would be to be demoted. To be diminished — him slowly taking control away because he didn't want to hurt my feelings. Like, I didn't do anything bad, but I didn't do anything good, either. That would be a nightmare for me," she concludes. "To have this existence of mediocrity. Everything about mediocrity kills me."
Any chance, I ask, that she'd give up working for the Trump Organization, maybe move to Tibet and take a vow of poverty? "No, no, no," she says. "But I don't do this for the money. If I weren't making money, I'd still do this."
Ivanka checks the time. "Gotta go!" she says, getting up. She offers her cheek again and is out the door in seconds. Dazed, I sit back down and ask for the check, but the waiter shakes his head. Why am I not surprised that Ivanka has already picked it up?
Marie Claire email subscribers get intel on fashion and beauty trends, hot-off-the-press celebrity news, and more. Sign up here.